At Sunset Black Ships Ate The Sky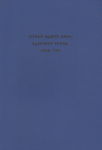 Details
2005 Book UK Durtro Press London
200 Signed and numbered copies
10 pages
1st edition
Stiff blue wrappers
With CD '
ⲚⲦⲚⲀⲨ ⲚϨⲰⲦⲠ ⲘⲠⲢⲎ ⲀϨⲈⲚⲈϪⲎⲨ ⲈⲨⲔⲎⲘ ⲞⲨⲈⲘ ⲦⲠⲈ
'
2005 Book UK Durtro Press London
23 Signed un-numbered copies
10 pages
1st edition
Stiff green wrappers
With CD '
ⲚⲦⲚⲀⲨ ⲚϨⲰⲦⲠ ⲘⲠⲢⲎ ⲀϨⲈⲚⲈϪⲎⲨ ⲈⲨⲔⲎⲘ ⲞⲨⲈⲘ ⲦⲠⲈ
'
Larger format than prior version
Chapters
Sunset
Black Ships Ate The Sky
Notes
Two hundred copies, signed by the author, have been hand-set in Bembo type and printed for David Michael and David Tibet by Alan Anderson. Coptic translation by Dr Lance Eccles, to whom many thanks are due, as they are also to Mark Logan. Frontispiece photograph by Andria Degens.
Each copy of this book is accompanied by a CD of Current 93 performing At Sunset Black Ships Ate The Sky at St. George the Martyr Anglican Church, Toronto, Canada on June 3, 2005.
Current 93 at Sunset were: David Michael, Maja Elliott, William Breeze, Ben Chasny, Simon Finn, John Contreras, Joolie Wood, Baby Dee, Andria Degens, Will Oldham.
Related Items