Current Ninety Three
Various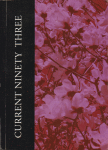 Details
2006 Book HU Mozgalom
93 numbered paperback copies
Sleeve Notes
This book was published by Mozgalom Records.
The original intention was to release it on the Pentecost of MMVI, but we were delayed a little. In the meantime David has recovered.
He supported our plans and the book all the way through and approved of its publication. We kindly thank Him and dedicate this book primarily to Him, one of the greatest explorers into the Inmost Light and the Father emanating it in this world.
There is hiding from the Blackbird and the Coal Black Smith, whatever we may call the Tempterer; there is a chance to wash your soul clean. Do not look back, and your path will take you into the Kingdom of Peace and Truth.

The translations in this book were made by:
Kálmán Matolcsy, Zsolt Scheffer, Bálint Németh, János Pánczél Hegedűs, István Bracsok, Gergely Garai.
THank yuo all, wherever you may be now.

Edited, things made up, put together, and packed together by:
János Pánczél Hegedűs.

Layout, typography, ceaseless patience, modesty, and good taste:
Mark Bodrossy

Revised by, enormous sighs, and expedition:
Kálmán Matolcsy

Published in 93 hand-numbered and 7 inscribed copies, which Edward Alexander had nothing to do with, since we only carried on with the tradition we initiated and tried to keep the remembrance of David's work.

May God's Light and Love illuminate us forever and happiness to you all!
Notes
Lyrics in Hungarian of 15 albums
Three letters of David Tibet in English and Hungarian
An essay