Hypnagogue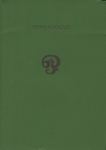 Details
2003 Book UK Durtro Press London
300 Signed and numbered copies
24 pages
1st edition
Stiff green wrappers
With CD 'Hypnagogue'
Chapters
I
II
III
IV
V
VI
VII
VIII
IX
Notes
300 copies of HYPNAGOGUE have been printed, with all copies numbered and signed by the author.

This work was started in Tallinn, Estonia on September 6, 2001, and was finished in Penang, Malaysia, on December 31, 2002.
It represents the prologue to the forthcoming album.
A compact disc of this material was simultaneously released on Durtro Records, PanDurtro 009.

Printed for David Tibet and Durtro by Alan Anderson (may God bless him) at the Tragara Press, June 2003, set in Bembo type and printed on Zerkall paper.
Related Items