Maldoror Is Dead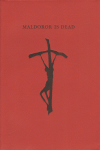 Details
2002 Book UK Durtro Press London
200 Signed and numbered copies
18 pages
1st edition
With CD 'Maldoror Is Dead'
Chapters
Notes
This edition was published in July 2002 to commemorate the twentieth anniversary of the writing of 'Maldoror Is Dead'.

It will be remarked by anyone familiar with Lautréamont's Les Chants de Maldoror how much my lyrics here rely on it, even down to almost identical lines. This was due to a chance meeting of my admiration for the novel with large quantities of amphetamine sulphate and vodka at a tender age.

It was hand-printed for myself and Durtro by Alan Anderson at the Tragara Press in Baskerville type, and is limited to 200 copies signed and numbered by myself.

David Tibet, London, 26 June 2002.

Frontispiece photograph by Ruth Bayer.
Related Items