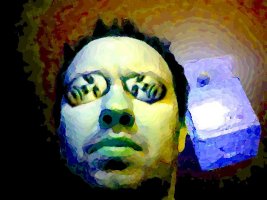 Born 1962 in Newton Abbott -Devon England
Spent 1st year in caravan, on site (bit like trailer park)
Grew up from age 1 in various parts of London, spent years 9-30 in Notting hill London
Got 1st break in Point Studio 1982, as tea boy
Spent dead studio time at Christmas 1982 experimenting with the band Savage Progress , spent 1983 producing demo's for Savage Progress, get deal with Virgin Ten label
Release 1st Savage Progress single at end of 1983, becomes hit in Germany
1985 enter Paradise Studios (Europe's first totally computer studio), meet all kinds of people here including Psychic TV, and later Coil
Work intensively with Fairlight/waveterm/emu systems.
Buy one of the 1st Akai S1000 to enter U.K, set up as pure freelance, work From Matrix studio London most of the time.
Mostly known as producer/programmer
Co-produced/programmed a few Coil things, all the Coil/Nine Inch nails remixes
Pioneer of timestretching drums, voices etc (as heard on LSD, NIN-1990+1994) - Now heard on every dance track circa 2002.
1. 1985-1989 Work with Coil, Psychic TV, etc and various others at Point and Paradise Studios
2. 1989-1992 Get involved in British rave, work on hundreds of things, put the Jew's harp into Adamski's Killer while remixing/programming the 12", also spend 7 months in Madrid producing Fangoria (a band at the forefront a movement in Spain known as Movida, which sprung up after Francos death, in this movement are various notaries as Pedro Almadova). Write and co-prod/program L.S.D. with Coil including the singles Snow, Windowpane and everything else released that year by them. I remixed Cicciolina for PWEI with the guys from Renegade Soundwave, but I was never in the band.
3. 1992-1994 Various writings with the Coil boys, remix Depeche Mode, N.I.N., write for Derek Jarman's film Blue.
4. 1994-1998 Form own project Sub Sonic Commune, remix, produce, write on NIN bits, Coil bits, Pulkas, Amar album, also do post-prod reworkings of some Black Light District pieces for the album (Stoned Circular I + II amongst others), go to New Orleans with Coil to work on album for them, also spend a year or two on Own Project Sub Sonic Commune, project consumes all my time, leads me to hang out with publishers etc., never a great move for creativity.
In semi-retirement since 1998 due to protracted grief with publishing company re: monies owed. At the moment (April, 2002) doing some little things once again with Coil, starting to get reinvigorated.