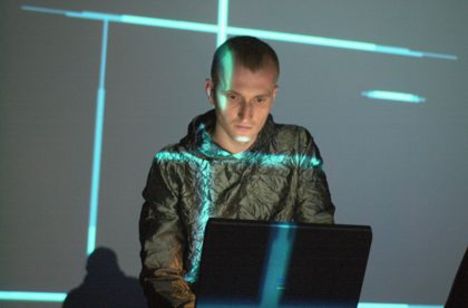 Ivan Pavlov was born in Russia, lives in Sweden and works as an acoustic engineer. He made his first appearances on the experimental electronica scene through a series of releases on Carsten Nicolai's label Rastermusic and performance showcases with Noto, Ryoji Ikeda and the rest of the label's roaster.
Pavlov performs under the name COH; the Russian word means "sleep" and should be pronounced like the english word "son".
In 1997 he recorded his first album Mask of Birth (released only three years later). Resolutely post-techno, it referenced both the disco culture and the '80s underground dance music. Enter Tinnitus, his proper debut, came out on Raster-Noton in 1999, followed by his contribution to the label's turn-of-the millennium series 20' to 2000, which featured appearances by members of Coil. The relationship carried on to 2001's Love Uncut, a tribute of sorts to the alternative '80s and COH's danciest material since Mask of Birth. Between these two EPs he released Iron, a whimsical album dedicated to heavy metal fans. 2002 brought Netmörk, his most serious work to date.
Pavlov's work has also been featured in numerous galleries and site-specific performances, most notably in collaboration with a print of da Vinci's Mona Lisa. Pavlov assigned samples and notes to the painting's RGB color values to produce music based directly on the painting's visual properties.