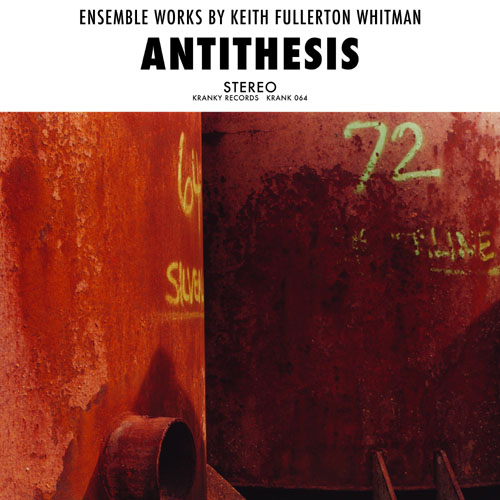 | | |
| --- | --- |
| artist: | |
| title: | Antithesis |
| catalog #: | krank064 |
| formats available: | |
| Release Date: | April 26, 2004 |
Antithesis is an LP-only release of material from Keith Fullerton Whitman's archives that doesn't fit aesthetically with his upcoming Multiples studio album. The theme for the album is "ensemble works," that is a combination of instruments played by Whitman himself with no computer interaction. Each piece was recorded in one of the different apartments Whitman has rented since he lived in Boston. The album will be pressed in an edition of 1,000. Antithesis broadens the instrumental and compositional base of Playthroughs with fender rhodes piano, viola, guitar and percussion. The four tracks on the album verge from straight up drone to what sound like lost krautrock classics.
Songs:
Side A:
Twin Guitar Rhodes Viola Drone (for Lamonte Young) (1994) time: 7:44 - [MP3]
Obelisk (For Kurt Schwitters) (1997) time: 6:13 - [MP3]
Side B:
Rhodes Viola Multiple (1995) time: 5:41 - [MP3]
Schnee (2002) time: 7:11 - [MP3]