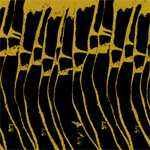 | | |
| --- | --- |
| artist: | |
| title: | Joy Shapes |
| catalog #: | krank068 |
| formats available: | |
| Release Date: | May 10, 2004 |
To say that the words "unique" and "singular" are over-used in describing music is to state the obvious.  To apply these words to the sounds created by the various duo/trio configurations of the Texas group Charalambides over the last decade plus would be understatement. To be sure there are numerous antecedents to their music; to deny this of any artist's work would be akin to saying that they are deaf. But they have surely broken new ground in the primitive/folk/mystic/improv/psych valley in which they toil. This new album is certainly not for the faint of heart.
Five songs stretch and crawl over 75 minutes, with Christine Carter finding a new fearlessness in her voice that will draw comparisons to Patty Waters or the early work of Meredith Monk. Joy Shapes is the first studio album recorded by Charalambides in a long time.  The main tracks were recorded in June 2003, with subsequent overdubs, mixing and mastering done throughout the summer and early fall of 2003 including one night of vocals recording done in what Tom Carter calls a "lost evening."
Christina Carter: electric guitar, voice, bells
Tom Carter: electric guitar, lap steel guitar, acoustic guitar, chimes, wind wand
Heather Leigh Murray: pedal steel guitar, psaltery, voice
Songs:
Here, Not Here - [MP3]
Stroke
Joy Shapes - [MP3]
Natural Light - [MP3]
Voice For You