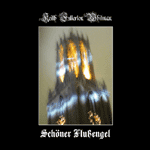 | | |
| --- | --- |
| artist: | |
| title: | Schöner Flußengel |
| catalog #: | krank071 |
| formats available: | |
| Release Date: | October 4, 2004 |
Schöner Flußengel  (pronounced "shooner  floos-engel") is the follow up to Keith Fullerton Whitman's Antithesis LP release from April, 2004.  As was the case with Antithesis LP, this is a partly archival, vinyl-only album released in a limited pressing of 1,000 copies.  Consisting of material with a decidedly dark mood overall, the new album embodies Whitman's considerable musical scope. With tracks recorded using vocals, computer, clarinet, synthesizer, record player, microphone, bell and guitar the album traverses grittier and more complex  territory  than its predecessors.   The six tracks veer from multifi drone to computer-guitar-piano trio.  The vcs3 that runs through the two "Lixus'" tracks was recorded at Soma in Chicago in 2001 with the aid of  Casey Rice and John McEntire. Packaged in a faux-dark metal album jacket with suitably intricate gothic script,  Schöner Flußengel  is a dip into a cold, stygian stream that splashes and flows around the listener.  Keith Fullerton Whitman's musical interests have taken a course towards solo experimentation of late.   Schöner Flußengel was begun as Whitman took a lecturer position at Harvard and gained access to the University's sound labs.  As Whitman worked on his Multiples album project for kranky, the material that coalesced into Schöner Flußengel required a separate album.  The album title is German for beautiful river angel.
Songs:
Side A:
Lixus (Version Analogique) - [MP3]
Bewusstseinserweiternd Tonaufnahme (Einter & Zweiter Teile)
Gravicembalo col Piano e Forte - [MP3]
Side B:
El Seny i La Rauxa
(Interlude)
Lixus (Version Numerique)
Weiter - [MP3]