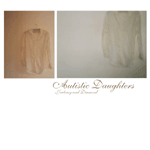 | | |
| --- | --- |
| artist: | |
| title: | Jealousy and Diamond |
| catalog #: | krank076 |
| formats available: | |
| Release Date: | Nov. 1, 2004 |
Be Mine Tonight came out in the fall of 2003 and marked the return of Dean Roberts to visibility and record store shelves. Recorded at Amann studios in Vienna with bassist Werner Dafeldecker and drummer Martin Brandlmayr (who also plays in Trapist and Radian), Jealousy and Diamond marks the return of Dean Roberts to the band format. The name of the band is Autistic Daughters.
As Roberts told dB magazine in Australia in early 2004,
"Our capabilities instrumentally and compositionally, in engineering and production match, and moreover our friendship keeps it all together. We are able to say and do what we want and the vision is entirely collective."
Created by live performance and processed and enhanced in the studio, Jealousy and Diamond builds to higher volume levels than Be Mine Tonight, and turns on a more assertive rhythm section. Basic tracks were recorded in Vienna in April 2003 by Roberts, Dafeldecker and Brandlmayer. Dean Roberts recorded additional voices, guitars and miscellaneous instruments with Valerie Tricoli (who was such a crucial part of the Be Mine Tonight recordings) in Bologna, Italy in the fall of 2003. With the members traveling and involved in multiple groups the mastering of the album was finished in early summer 2004 by Patrick Pulsinger.
All the members of the group possess extensive credentials in improvisational, electronic and rock music. Werner Dafeldecker is a member of the Austrian improvising group Plwechsel and has recorded duos with Dean Roberts released on the Erstwhile label. Martin Brandlmayr is the rhythmic anchor of Trapist and Radian, two bands mixing organic and electronic instrumentation and performance. Dean Roberts has moved from the abstract electronics of All Cracked Medias back towards song structure and an able balance between these two poles characterized Be Mine Tonight. Jealousy and Diamond represents a more confident statement of purpose by Roberts as well as the combustion that takes place in a working band. Autistic Daughters plan on touring Europe in the fall of 2004 and in early 2005. Jealousy and Diamond includes a cover of Ray Davies' "Rainy Day in June," which operates as a marker indicating the band's interest in working through and around song form.
Autistic Daughters:
Dean Roberts: guitar, vocals, harmonium, harmonica, percussion
Martin Brandlmayr: drums, vibraphone and electronics
Werner Dafeldecker: electric and contrabass
with Valerie Tricoli: loops, hand claps, campanelli and backing vocals,
Anthony Guerra: guitar, hand claps
Songs:
A Boxful of Birds
Florence Crown, Last Relay - [MP3]
The Glasshouse and the Gift-Horse
Rainy Day in June - [MP3]
Spend it on the Enemy (While it was Raining)
In Your Absence from the Street
Jealousy and Diamond - [MP3]