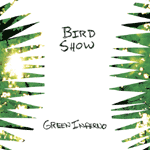 | | |
| --- | --- |
| artist: | |
| title: | Green Inferno |
| catalog #: | krank078 |
| formats available: | |
| Release Date: | Feb. 7, 2005 |
Ben Vida has lived in Chicago since 1996. Green Inferno is his second solo recording, a long-in-coming successor to Mpls., which was released on Brent Gutzeit's Boxmedia label in 1999. Boxmedia described Mpls. as "a record of delicate acoustic guitar compositions, soft melodic songs with hidden teeth." Green Inferno is a different beast, showing its teeth with dense percussive tracks and odd stream of consciousness vocal/acoustic/drone songs. Green Inferno was recorded alone at home during the winter of 2003 and 2004. Ben Vida describes it as an attempt to fuse all of his favorite aspects of the groups he has been playing in.
While working on Green Inferno, Vida had been listening to field recordings from around the world and Morocco, Zimbabwe, Japan and Pakistan in particular. He found himself as interested in the surroundings the recordings were made in as he was in the music itself. The home recording sessions were made in the attempt to retain a casual yet focused feel. Rough edges and external noises from the recordings were left in. Ben Vida recorded using vocals, violin, cornet, accordion, acoustic guitar, organ, qrareb (Moroccan castanets), assorted shakers, tambourine, mbira, field recordings from Tokyo by Atsuhiro Koizymi and from Puerto Rico by Fred Lonberg- Holm. Green Inferno was recorded and edited by Ben Vida at home on a digital 16 track and mixed with Jeremy Lemos at his apartment.
Subsequent to recording the album, Vida began Bird Show. Bird Show intend to pick up on and extend the material on Green Inferno and plan to tour as soon as the album is released. Although recorded entirely by Ben Vida, Green Inferno is being attributed to the band Bird Show.
Songs:
All Afternoon Part #1 - [MP3]
Kind Light
Green Inferno
Always/Never Sleep Part #1 - [MP3]
Always/Never Sleep Part #2
Tracers
Morning/Evening
Landlovers - [MP3]
All Afternoon Part #2