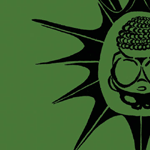 | | |
| --- | --- |
| artist: | |
| title: | Our Bed Is Green |
| catalog #: | krank080 |
| formats available: | |
| Release Date: | April 4, 2005 |
Originally released on one cassette by the band in 1992 and later reissued as a limited edition compact disc on their Wholly Other label, Our Bed Is Green was the first release by Charalambides. ákranky is proud to add this album to our Charalambides reissue series, placing all of the original cassette (with the exception of two cover songs) on a double CD set. áTime Lag reissued the album on vinyl in Fall 2004. áThis is more than a historical document, the continuing relevance of the music is self-explanatory.
Our Bed Is Green was the debut release from Charalambides. Formed in 1991 by Tom Carter (who was playing in the heavy psych combo The Mike Gunn at the time) and Christina Carter to take part in improvisational sessions at a local Houston club, the band was asked to play live on KTRU. Instead, they recorded Our Bed is Green. Although no band is totally sui generis, anyone who heard the debut recordings by Charalambides in 1992 could have been forgiven for thinking that of the duo. Our Bed Is Green was a recording that roped in folk, improvisation, psychedelia, blues and gospel into a crackling sound world utterly unlike anything else. Ranging across a 90 minute cassette and produced at home on four track, the music had only the means of production in common with the so-called │lo fi▓ scene of the time. On their debut Charalambides achieved the distinct otherness they retain to this day.
"Charalambides' first album, Our Bed Is Green (issued on cassette in 1992 and on CD three years later), interspersed droning organ instrumentals and withering psych-guitar freakouts with brooding, blues-tinged folk songs that showcased Christina╣s gorgeous voice."
á Bill Meyer, Chicago Reader, May 10, 2002
"Listening to these early recordings, you can still hear Tom Carter struggling out of the 'overly mapped song structures' he'd learned through The Mike Gunn - this music posits a fabulous tension between a history in song, and a desire to let the music flow through freely, with Christina as an all-important presence, opening up the music to other planes of where."
-áJon Dale, Signal to Noise, áSpring 2004
disc one:
Tea - [MP3]
The Treadmill
Take the Pointing Finger for the Moon
Pase El Agoa
Black Pope
Bid You Goodnight
I Don't Know You
Stuttgart - [MP3]
Silver Reeds
Our Bed is Green
faze Her
Dead Bee
disc two:
Regret
Neutron Decay
C.G.
The Core - [MP3]
Coming Out
Strange Matter
20 Hours
Cosmic String - [MP3]
Dorothy
I Don't Know What to Sing
The Bottle
The Hair on my Head (Is Brown)
Same Old Routine
Finale