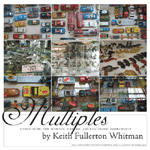 | | |
| --- | --- |
| artist: | |
| title: | Multiples |
| catalog #: | krank081 |
| formats available: | |
| Release Date: | May 16, 2005 |
Multiples was recorded at the Harvard University studios, where a stash of vintage synthesizers and electronics was made available to Keith Fullerton Whitman during his time as a lecturer there.  The eight tracks on Multiples flow through hit hat shimmer to skull-scraping electronic tones to interlocking clusters of repetition.  This is Whitman's most inclusive and developed album yet.  The limited edition Antithesis and Schöner Flußengel LPs released in 2004 showed the range of Whitman's interests, Multiples integrates them into a complete work.
Keith Fullerton Whitman has described himself as being enamored of "hyper-programmed rhythms & concrète sounds, bleeding freakout guitar, beach-boys style sweet harmony, eastern euro-prog, vintage synth burbles, classic-era minimalism, early mainframe computer music, fluxus-lineage borderline nonsense, complete and utter chaos, doomy chamber pop, and quiet melancholy."  His solo work for kranky has expanded from the processed guitar drones of Playthroughs to the tribal psych ritual of "Schnee" on the Antithesis LP and on to the ominous miasma of Schöner Flußengel. Multiples is a fusing of these strains of interest and ability into an effective whole.
Songs:
Stereo Music for Hi-Hat (6) (2:49) - [MP3]
Stereo Music for Serge Modular Prototype (6) - Part One (3:36)
Stereo Music for Serge Modular Prototype (6) - Part Two (5:39)
Stereo Music for Serge Modular Prototype (6) - Part Three (1:54) - [MP3]
Stereo Music for Yamaha Disklavier Prototype (5), Electric Guitar and Computer (3) (10:08)
Stereo Music for Farfisa Compact Duo Deluxe (18), Drum Kit (3) (6:47) - [MP3]
Stereo Music for Acoustic Guitar (8), Buchla Music Box 100 (2), Hewlett Packard Model 236 Oscillator (3), Electric Guitar and Computer (3) - Part One (5:29) - [MP3]
Stereo Music for Acoustic Guitar (8), Buchla Music Box 100 (2), Hewlett Packard Model 236 Oscillator (3), Electric Guitar and Computer (3) - Part Two (10:32)