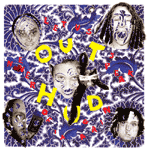 | | |
| --- | --- |
| artist: | |
| title: | Let Us Never Speak of it Again |
| catalog #: | krank082 |
| formats available: | |
| Release Date: | February 7, 2005 |
Please don't ask why or how, just be happy that there is a new Out Hud album out. Basic tracks were recorded in spring 2003, overdubs were added and Justin Vandervolgen meticulously put it all together. The time invested pays dividends to listeners. The band's fans will notice favorites from Out Hud's frenzied live shows. Powered by bubbly rhythms and leavened with sing-song vocals and sprightly humor, Let Us Never Speak of it Again is engaging on all levels. No cue cards or cheat sheets here, Out Hud nod at the past (their own past, too) and jump forward.
Songs:
This Just In (intro)
It's For You - [MP3]
One Life to Leave
Old Nude
The Song So Good They named it Thrice
How Long - [MP3]
2005: A Face Odyssey - [MP3]
The Zillionth Watt
Dear Mr. Bush, There are over 100 words for shit and only 1 for Music. Fuck You, Out Hud - [MP3]
The Stoked American