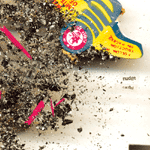 | | |
| --- | --- |
| artist: | |
| title: | Cached |
| catalog #: | krank082 |
| formats available: | |
| Release Date: | May 16, 2005 |
Nudge coalesced as a trio for the recording of Cached. Honey Owens is a member of the freeform rock collective Jackie- O Motherfucker, Brian Foote and Paul Dickow were in Fontanelle, Foote and Dickow DJ, and Dickow performs and releases music as Strategy.
Nudge have released one album on Foote's Outward Music Co. imprint, contributed Elaborate Devices for Filtering Crisis to the Tigerbeat 6 catalog, and made numerous compilation appearances. Based in Portland, OR, Nudge is situated at the nexus of a remarkable musical scene in which the divisions between electronic, improvising and rock-based musics are routinely ignored. Owens books the Dunes Club where electronic and improvising music commingle, Dickow books DJ nights and Foote is involved in the Audraglint label.
Beginning with the balanced melodies of guitar and vocal that lead off Cached on "Classic Mode," Nudge demonstrates a remarkable range and mixture of real time playing and electronic processing. Rhythms hint at dub reggae or African patterns while the accretion of electronic textures goes on above and below the melodies and beats. This interlocking of electronic and organic instrumental sounds is what sets Nudge aside from those who simply glue twee melodies onto drum machines and synth pads.
Nudge enjoys their flirtations with genre, which makes Cached a genuine look at a band in "play" mode (as opposed to po-faced "work").
"... the modulations between the organic and electronic elements are subtle, so the music retains that crucial (to some) human factor. Nudge's deft players acknowledge funk's pleasure principle, but they aren't too blatant about it. Further enhancing the collective's appeal is their affinity for Mille Plateaux-like ice-flow ambience and the ~scape label's post modern dub tropes. Nudge executes inner-space exploration with scientific thoroughness and surgical precision."
Dave Segal, Portland Mercury July 3-9, 2003
"Elaborate Devices for Filtering Crisis comes across like a dinner party heard through the walls, with the stereo on low, the wine glasses humming, the guests alternately jitterbugging and fretting over politics... It's impossible to take your ear from the wall — and impossible to shake that sense that mere feet away someone's living a richer life than you."
Philip Sherburne, XLR8R, May 2003
Performers:
Brian Foote: guitar, process, percussion, synth, program, melodica, harmonium, trumpet, trombone, saxophone, vox and trigger

Honey Owens: vox, guitar, process, bass, wineglass, percussion, synth, program, melodica and trigger

Paul Dickow: drum kit, process, bass, percussion, synth, program, trigger and organ
Songs:
Classic Mode - [MP3]
Standing on Hot Sidewalk
Contact - [MP3]
My New Youth
Remove Ya - [MP3]
Dee Deet
Parade
Blon - [MP3]
No Come Back