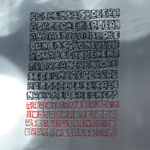 | | |
| --- | --- |
| artist: | |
| title: | The Psychic Nature Of Being |
| catalog #: | krank086 |
| formats available: | |
| Release Date: | October 3, 2005 |
Lichens is the name Robert Lowe has chosen for solo performance and recording. Using his voice, guitars and an array of devices and effects The Psychic Nature of Being was recorded at home, at Soma Studios and Camp Gay with Shelly Steffens and mastered by Griffin Rodriguez in Chicago. Each track was recorded as a one time improvisation without any overdubbing or editing. The extended tracks on The Psychic Nature of Being move from grainy shrouds of overlapping voices to shivery finger picked guitar and on into clanging percussion. It can be lyrical and mind bending, an aptreflection of Lowe's mesmerizing performances.
Robert Lowe plays bass and sings in 90 Day Men. Lichens has performed in Chicago and New York solo and as a duo and collaborated with The Castanets on tour. Lichens live is a transfixing experience, looping wordless vocals into curtains of drone Lowe adds acoustic and electric guitars, percussion and other effects to create alternately thick and delicate works. Lowe has recorded and released a Lichens CD-R on his own, each hand assembled and released in a limited edition. Lichens has played a number of shows in Chicago and New York and contributed a track to the One Bright Sunny Day compilation CD. Further touring is planned. In addition to the release of The Psychic Nature of Being, Chocolate Industries is releasing a limited edition 7 inch single by Lichens packaged inside a book of art Lowe curated with contributions by Jon Beasley, Justin Schaefer, Devendra Banhart and others. A vinyl version of The Psychic Nature of Being will be released by the estimable folk/psych/heavy imprint Holy Mountain.
Songs:
Kirilian Auras - [MP3]
Shore Line Scoring - [MP3]
You Are Excrement If You Can Turn Yourself Into Gold - [MP3]