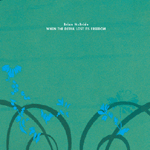 | | |
| --- | --- |
| artist: | |
| title: | When the Detail Lost its Freedom |
| catalog #: | krank088 |
| formats available: | |
| Release Date: | October 31, 2005 |
As one half of Stars of the Lid, Brian McBride has contributed to the essential drift music of our time. When the Detail Lost its Freedom was recorded mainly on an ASR X keyboard sampler. The instruments recorded were guitar, piano, vocals, harmonica, trumpet and strings. There were no synthesizers or keyboards used in the creation of the album. There's a lot of sampling in the sense of capturing a tone, isolating its tuning, and playing it on the keys of a piano. Guitars become piano-esque. Room noise becomes room noise played on a keyboard. And you can actually make out some guitars. When the Detail Lost its Freedom is a collection of individual pieces and therefore released from the Lid's uninterrupted architecture. The album was recorded somewhere in between Los Angeles and Chicago, always at home, in random moments of duress over the last four years. The final mix was arranged from December 2004 to January 2005. Music guests included two singing ladies, an ex-wife and a fiancee, two guitarists, notably Mike Linnen who did the soundtracks for All The Real Girls, Manic, George Washington, and Undertow, The Morgan Park (Chicago) Step-Up Trumpet Section and violinist Eden Batki, referred to as The Inland Empire Symphony Quartet on the credits.
When the Detail Lost its Freedom is a recording that sheds light on the notion of "picking up the pieces and moving on." It is a record of Brian McBride "getting it out" in the midst of some overwhelming situations, a recording made during a move from Chicago to Los Angeles. The strong emotions the recording sessions tried to channel do bring a sense of awkwardness here that made it through to the finished product. As McBride describes the recording process: "In retrospect, it probably has to do with some of my weaker moments. Which is all fancy code for: it was therapy during a divorce and a move to a city which thrives on sucking the life of out people's souls." As with Stars of the Lid's recordings there is a synthesis of different instruments ­ or maybe a reinvention through some gross mutation (of different guitars, violins, trumpets, harmonicas)—which then become the pooled tones for extended, and melodic development. What you get are nacreous songs that pack a real emotional wallop, are reminiscent of Stars of the Lid (and lots more), and that earn a space on your shelf all to themselves.
"It's a lovely album..." - Harold Budd
Song listing with credits:
Overture (for Other Halfs)
Piano ABG
A Gathering To Lead Me When You're Gone - [MP3]
Prelude
Our Last Moment In Song (with Cheree Jetton on vocals and Chris Linnen on Guitar) - [MP3]
Retenir (Eden Batki on violin, aka the Inland Empire Symphony Quartet)
I Will
Stringer To Light Feed Frenzy
The Guilt of Uncomplicated Thoughts (with The Morgan Park Step-Up Trumpet Section, Cheri Keating on vocals and Chris and Mike Linnen on guitar)
For Those Who Hesitate (The Inland Empire Symphony Quartet)
Silent Motels - [MP3]
Latent Sonatas (for Ebo)