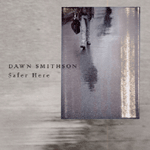 | | |
| --- | --- |
| artist: | |
| title: | Safer Here |
| catalog #: | krank089 |
| formats available: | |
| Release Date: | October 10, 2005 |
Former Jessamine bassist and vocalist and recent SUNN O))) contributor, Dawn Smithson has returned after a six-year hiatus with her new full length album Safer Here.  Smithson's bass held an anchoring position in Jessamineıs swirl of rhythm and sounds and the bandıs musical explorations took shape around her distinct vocals.  Since reentering the music world, she most recently contributed on bass in live performances and recordings with SUNN O))) (White 2, The Libations of Samhain) and on vocals in Ginnungagap (1000% Downer).
In early 2004 Smithson began working on new recordings and after listening to the songs she sent kranky, it didn't take us long to say "heck yes."  Incorporating experimental aspects of Jessamine's sound with acoustic elements and introspective songwriting, Safer Here balances melody with experimentation to create rhythmic, non-ornate songs, it's an album where every musical gesture carries weight.
As a solo recording artist Smithson's voice comes to the foreground, carefully matched by considered instrumentation.  The album was recorded alone with acoustic and electric guitar, bass, accordion and her voice, then later accompanied by contributors Jussi Brightmore (100 Pets, Iım Being Good, Baron Samedi), David Farrell (Southerning, Dormant), Rex Ritter (Fontanelle,, Jessamine, SUNN O))) ) and Brian Foote (Nudge, Fontanelle).  Smithson has this to say about Safer Here: "Because this album is so personal and intimate, I think it is best listened to alone—like watching a melancholy movie that deeply effects you."  Through careful placement of a stereo pair of Neumann mic's and a large diaphragm Rode, the recording quality reflects  the emotional intent of the music, creating the feeling that you're there in the room.  Safer Here was mixed in June 2005 by Dawn Smithson and Rex Ritter at Magnetic Park in Portland, OR.
Personnel:
Dawn Smithson  vocals, acoustic and electric guitars, bass, accordion,  keys with
Rex Ritter electric guitar on "How Thoughtless"
Jussi Brightmore  electric guitar on "Nowhere Near"
David Farrell  synths on "A New Day"
Brian Foote  synths on "Ticking Away"
Songs:
Safer Here - [MP3]
Somewhere Far
Nowhere Near
Ticking Away - [MP3]
Speak Through Me
How Thoughtless
Letter to the Empire
A New Day - [MP3]
Crossroads