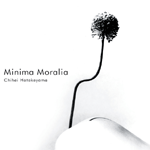 | | |
| --- | --- |
| artist: | |
| title: | Minima Moralia |
| catalog #: | krank091 |
| formats available: | |
| Release Date: | February, 2006 |
Chihei Hatakeyama concentrated on the textures of sound in creating Minima Moralia, consciously avoiding the use of electronic sounds; instead using sound fragments made by guitars and vibraphone he played himself. The fragments were processed and reprocessed in live performances on laptop. The contention between the analog sound sources, digital processing and the musician's choices are what give Minima Moralia its positive, warm, and physical presence.
Minima Moralia presents the listener with tones that are familiar and tones that are foreign. Specific points of sound appear and velvet clouds elevate and disperse over the course of the album. Jumbles of melodies reveal and then resolve themselves. At all points Hatakeyama's directing hand is at work; in the shiver of a guitar string, the bright ring of the vibraphone, and the strategic use of silence. The naturalistic song titles suggest every day moments, sensations and experiences.
personnel:
Chihei Hatakeyama played and processed electric guitar, acoustic guitar, vibraphone and electronics, mixed and mastered.
Masahiro Kobayshi played violin on tracks 4 and 6
Tomoyoshi Date contributed a few sound materials
Songs:
Bonfire on the Field - [MP3]
Swaying Curtain in the Window
Starlight Reflecting on the Surface of the River
Towards a Tranquil Marsh - [MP3]
Granular Haze
Inside of the Pocket - [MP3]
Beside a Well