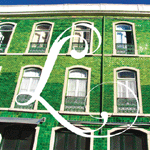 | | |
| --- | --- |
| artist: | |
| title: | Lisbon |
| catalog #: | krank092 |
| formats available: | |
| Release Date: | March 2006 |
A message from Mr. Whitman:
"In October of 2005 I found myself wandering the streets of Lisbon, entirely deaf in one ear, 75% the other (an artifact of witnessing first-hand the fine air-pressure regulation on four separate Aer Lingus flights), belly full of swordfish, just in awe of the city and its inhabitants. For the first since I could remember everything just clicked.
"Those of you who have been lucky enough to get a copy of the recent 22 Minutes for Electric Guitar tour-only mini-cd on Entschuldigen may have an idea of just where my head's been at over the past year or so regarding the evolution of the "Playthroughs" system of live/real-time guitar/computer synthesis; the piece I often play in concert has gradually been getting much darker, more dynamic, and in general; monolithic. I've started to embrace traditional "loud guitar" concepts (via a collection of bizarre, home-made/boutique guitar pedals) along with the sine-tone throb and "slow aerosol dispersion" of the classic Playthroughs material. More recently, I've augmented the pure-guitar sound(s) with a collection of small, battery-powered sound-devices and several tapes of "automatic synthesizer compositions" (recorded this past summer on the same Serge Modular Protoype and Buchla Music Box 100 systems used on Multiples) and field recordings from all over god's green earth. Finally, on top of all that I've re-kindled my love of Alvin Lucier-lineage process music by placing microphones and small speakers / fm receivers / speakers around the space, capturing the sounds as they occur at various points in the room, feeding them back through the central artery that is the max-msp-based playthroughs patch, then out again to any number of locations...
"This recording, captured to hard disk on stage at Galeria Zé Dos Bois on October 4th 2005, is in my mind the perfect encapsulation of all of these elements into a single lilting piece of static sine-tone harmonics, squared-off electric guitar haze, clangorous room-tone eruptions, and high-end synth freakouts...
"Note: in something of a sea-change to my modus over the last 10-odd years I've decided to relax, not sweat the details, let mistakes be mistakes and just let the music breathe without my normally prescribed 3-year gestation cycle of incessant editing, re-mastering, tinkering, etc... making this the shortest amount of time for any one of my musical ideas to go from conception to execution to release (all things going to plan; just five months from the concert itself to the disc on shelves...). The recordings are released in a cardboard pack adorned with high-contrast photos taken by yours truly during the Lisbon trip, priced as a CD EP..."
Songs: