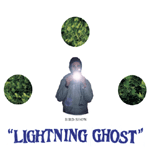 | | |
| --- | --- |
| artist: | |
| title: | Lightning Ghost |
| catalog #: | krank093 |
| formats available: | |
| Release Date: | March 2006 |
Lightning Ghost is the second Bird Show album, following the debut release Green Inferno. It centers around Ben Vida's home-fi sound experiments. Tracks are carved out of opiate'd chanting, disjunctive drum circles, synth meditation and prepared piano trance song. Vida's sonic explorations are embedded into tighter song structures, with a greater role given to vocals in the mix. The ceremonial air has been retained and expanded with a strong percussive presence and repeated, mesmerizing musical figures. Vida recorded the album at home, but much of the material resulted from the hours spent on stage this past year.
Songs:
Field On Water
Pilz - [MP3]
Seeds
First Pasth Through
Beautiful Spring
Lightning Ghost - [MP3]
Greet the Morning
On the Beach - [MP3]
Sleepers Kieep Sleeping