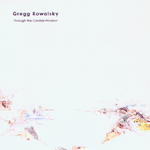 | | |
| --- | --- |
| artist: | |
| title: | Through the Cardial Window |
| catalog #: | krank094 |
| formats available: | |
| Release Date: | April 17, 2006 |
For Through the Cardial Window Gregg Kowalsky used mic'ing and recording techniques to pull out hidden textures and frequencies from sound sources as diverse as recordings of the Mills Ensemble (he filtered a piece he wrote for the group through the pickup of an acoustic guitar), bowed acoustic guitar and a broken floor heater. "Into the Marshes They Drove Me" contains source material from the band Isis. Kowalsky made a track, using tones, harmonics and feedback loops. The music he creates is situated betwixt and between textural ambience, psychedelia and pure noise.
Born in New York City and raised in South Florida, Gregg Kowalsky has had the opportunity to perform throughout Europe and the United States under the Osso Bucco moniker for the past several years. He participated in festivals such as WDR's SoundArt-Köln Festival, Sonar, OFFF (Online Flash-Film Festival) and The Nursery Summer Festival in Sweden. He now resides in Oakland, California where he completed a Master of Fine Arts degree in Electronic Music and Recording Media at Mills College with the guidance of Fred Frith. Kowalsky's compositions range from textural ambient to drone and noise pieces, which are highly influenced by the thick, humid air of South Florida where Gregg lived for most of his life. He is interested in filling the spaces his music occupies through dense, live, multi-channel mixes. He has composed for film, dance, acoustic ensembles and sound installations.
Songs:
Ashes from Evermore
That in Allepo Twice - [MP3]
Into the Marshes They Drove Me
Coral Gables - [MP3]
Long Distance Decade
Gara Note - [MP3]
Tendrils (guitar pickup)