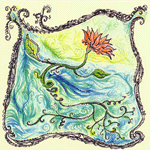 | | |
| --- | --- |
| artist: | |
| title: | A Vintage Burden |
| catalog #: | krank095 |
| formats available: | |
| Release Date: | May 22, 2006 |
The long awaited new album from the legendary Charalambides, now pared down to the original core duo of Christina Carter and Tom Carter. After having exorcized some demons through the release of their last album Joy Shapes, here they have recorded a more melodic song cycle, reminiscent of their earlier albums Union and Market Square. Of particular note is the inspiring guitar work Tom displays on the 18 minute instrumental Black Bed Blues. With A Vintage Burden, Charalambides have delivered their most cosmic and beautiful album to date.
No doubt the godparents of the whole "freak-folk", "free-folk", "new weird america", whatever scene, Charalambides were wandering alone in that arid wilderness when they started recording and releasing their music via cassette in the early '90s. With enough artists now having sprouted to warrant the naming of an entire sub-genre, they are still at the head of the class. Charalambides is where it all started.
Press quotes for Joy Shapes:
"[Their] patient sound explorations slow time down to just above stasis, so that each second can be fully explored before the next one arrives." - The Wire

"These songs aren't so much hymns of passing to the other side as they are murder ballads." - Pitchfork [rating 8.6]

"Their music rooted in earthbound blues and folk traditions by only the most distant umbilical cord" - Mojo [4 out of 5 stars]

"A milestone in the quest for rapprochement between composition and improvisation.." - Stylus

"It is nocturnal, erotic, and marvelously innovative, yet remains an intimate and sublime work of the human heart, an undefinable spiritual conciousness, and of course aesthetic ambition combined with musical vision." - AllMusicGuide

"A little like a ghost-sighting; completely frightening, yet undoubtably moving; the tones of the record both beautiful and terrifying, sometimes at once." - Inpress

"...it's effects feel entirely beyond description" - Dusted

track listing:
There Is No End
Spring - [MP3]
Dormant Love - [MP3]
Black Bed Blues
Two Birds - [MP3]
Hope Against Hope