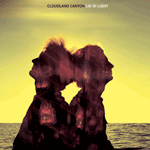 | | |
| --- | --- |
| artist: | |
| title: | Lie in Light |
| catalog #: | krank117 |
| formats available: | |
| Release Date: | April 28, 2008 |
It appears there is a second "kosmische musik" period in full bloom around the world at the moment, not so much "kosmische" as in "krautrock" but instead "cosmic". Just here at kranky we have the celestial symphonies of Stars of the Lid, the guitar circle prog-psych of White Rainbow, the astral folk explorations of Lichens, the cut and splice electro-motorik of Andrew Pekler, the alien space-blues of Valet, and now the half German, half American duo Cloudland Canyon who actually bring the full-on "krautrock" on.
You can play pick the influences if you like, but you can do that with any group. Cloudland certainly owe a debt to the German underground of the 70's, but they have also added flourishes of baroque pop and even a tinge of the 80's New Zealand scene into their sound. That they have ingested these influences and then delivered something as dynamic as this album without sounding like rote imitation is what impresses. The album is anything but one-dimensional, as they traverse a wide swath of territory. From the lock down groove of the opening track "Krautwerk," to the dense buzz of "White Woman," through the pastoral pscyh of "Heme" and on to the gentle wash of the closer "Mothlight," Cloudland Canyon have created an eclectic and rewarding listen.
This new album follows the Silver Tongued Sisyphus EP on kranky, and their Exterminating Angel collaboration with Lichens on the Holy Mountain label. Ezra Buchla, whose father Don builds the legendary Buchla synthesizers, guests on viola and synth. Simon Wojan also plays trumpet and writes music for King Khan & the Shrines, while Kip Uhlhorn previously toiled in The Red Scare as well as Panthers
"One can only call this 'spirit rock', because of it's floating nature which nonetheless retains an element of the earth in it's utterance." All Music Guide
"The new face of kraut-experimentation." XLR8R
"...a relentlessly churning state of hot-wired, serpentine restlessness, with looping rhythms intensifying and decompressing as they're shattered by guitar ruptures and cathedralesque organ flourishes." Textura
"Within two tracks they have managed to distill more of classic Krautrock and prog than most bands manage in a decade. Utter brilliance." Boomkat
catalog#
artist
title
format
paypal purchase

KRANK 117

KRANK 117
Songs:
Krautwerk
White Woman
You & I
Scheiže Schatzi, Auf Wiedersehen
Heme
Lie in Light
Mothlight Part 1