F/Ear This!
Various
Details
1987 2x12" IT P.E.A.C.E P.E.A.C.E.45
Black vinyl copies in sealed regular sleeve
Track Listing
Side A
Sometimes Timid / My Womb - Two Tone
Dead Planet Blues - Detonazione
Wehr Kardoon (Recorded Live) - The Blech
Un Ecrin De Fer-Blanc Pour Le Noir Des Tes Cils (Extracts) - Look De Bouk
Bolero IV - Politrio
Aperto - Embryo
Side B
Lawn Ranger - History Of Unheard Music
Voghera (recorded Live) - Franti
Senza Tregua No. 2 - LA1919
Assume To Be Dreaming - Body & The Buildings
Un Anno Nelle Favelas - Giorgio Cantoni
Fishes In Water - Jane Dolman, Pete Wright
Guang Zhou - 2+2=5
Side C
In Articulo Mortis - Orient-Express
Light-Tight Place (Hammer Version) - Weimar Gesang
It Was July... - Annie Anxiety
Invocazione Di Guiliano Kremmerz - Gregorio R.U.S. Bardini
Fern Gully (Recorded Live) - Don King
Unna (Recorded Live) - Doctor Nerve
When Hands Fall - Nick Didkovsky, Limpe Fuchs
Side D
Ship Of The Dead - Nurse With Wound [torso16]
Fear Of My Hands - Die Form
De Vermis - Possession
J.C.S. / A Pagan Ritual - Thelema
Pneuma Ha Yato - Paroksi Eksta
F/Ear This!
Various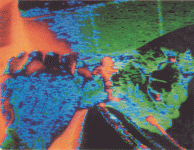 Details
1987 2xCS IT P.E.A.C.E P.E.A.C.E.4/5
In extended cassette box
Track Listing
White Tape Side A
Sometimes Timid / My Womb - Two Tone
Dead Planet Blues - Detonazione
Wehr Kardoon (Recorded Live) - The Blech
Un Ecrin De Fer-Blanc Pour Le Noir Des Tes Cils (Extracts) - Look De Bouk
Bolero IV - Politrio
Aperto - Embryo
White Tape Side B
Lawn Ranger - History Of Unheard Music
Voghera (recorded Live) - Franti
Senza Tregua No. 2 - LA1919
Assume To Be Dreaming - Body & The Buildings
Un Anno Nelle Favelas - Giorgio Cantoni
Fishes In Water - Jane Dolman, Pete Wright
Guang Zhou - 2+2=5
Black Tape Side C
In Articulo Mortis - Orient-Express
Light-Tight Place (Hammer Version) - Weimar Gesang
It Was July... - Annie Anxiety
Invocazione Di Guiliano Kremmerz - Gregorio R.U.S. Bardini
Fern Gully (Recorded Live) - Don King
Unna (Recorded Live) - Doctor Nerve
When Hands Fall - Nick Didkovsky, Limpe Fuchs
Black Tape Side D
Ship Of The Dead - Nurse With Wound [torso16]
Fear Of My Hands - Die Form
De Vermis - Possession
J.C.S. / A Pagan Ritual - Thelema
Pneuma Ha Yato - Paroksi Eksta