"Disc Rot", aka "Bronzing"

What is disc rot?
If you have any CDs manufactured by PDO between 1988-1993, you may have noticed a bronze discoloring around the outside edge of the label side of the CD on some discs.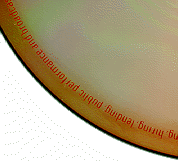 (image from the Hyperion web site)
This is what is known as "bronzing," or "disc rot." Along with this comes a gradual deterioration of data on the CD starting with the last track and moving inwards over time. The symptom of the deterioration is a crackling, staticky noise not unlike that of a scratchy vinyl LP.
Why does it happen?
Apparently the material used by PDO at the time (1988-1993) to seal the actual disc under the plastic did not sufficiently protect it from oxidization. Due to the exposure, the disc gradually gets eaten away. The acid used in the paper for the CD booklets and inserts plays a part in this as well.
How does it affect me?
Many of the groups on the World Serpent label (including Death In June, Current 93, Coil, and Nurse With Wound) have had CDs pressed by PDO during the disc rot years. These CDs may end up deteriorating over time, so you might want to check them over. Any CDs pressed after 1993 (including reprints) should be in no danger, however.
A list of World Serpent and pre-World Serpent CDs that may possibly be affected (1988-1993 pressings only):
Current 93 - Crooked Crosses For The Nodding God
Current 93 - Christ and the Pale Queens Mighty in Sorrow
Current 93 - Live at Bar Maldoror
Current 93 - Dawn
Current 93 - Looney Runes
Current 93 - As the World Disappears
Current 93 - Island
Current 93 - Imperium
Current 93 - Nature Unveiled
Death In June - But, What Ends When The Symbols Shatter (gold CD)
Death In June - Paradise Rising (gold CD single)
Death In June - The Wall of Sacrifice
Death In June - The Corn Years
Boyd Rice and Friends - Music, Martinis, and Misanthropy
Sol Invictus - Sol Veritas Lux
Sol Invictus - Trees in Winter
Sol Invictus - The Killing Tide
Steven Stapleton/Tony Wakeford - Revenge of the Selfish Shellfish
Coil - Unnatural History
Coil - Stolen and Contaminated Songs (mail-order edition)
Nurse With Wound - Psilotripitaka boxed set
Nurse With Wound - The Ladies Home Tickler
Nurse With Wound - Chance Meeting on a Dissecting Table...
Nurse With Wound - To the Quiet Men From a Tiny Girl
Nurse With Wound - Merzbild Schwet
Nurse With Wound - A Sucked Orange
The 150 Murderous Passions - The 150 Murderous Passions
Karl Blake - The Prehensile Tales
Somewhere In Europe - Gestures
Some other non-World Serpent titles that may also show disc rot:
Death In June - Oh How We Laughed
Psychic TV - Dreams Less Sweet
Sixth Comm/Mother Destruction - A Nothing Life
Throbbing Gristle - Very Friendly
Whitehouse - Great White Death
Whitehouse - Another Crack of the White Whip
Whitehouse - Thank Your Lucky Stars
Various Artists - If You Can't Please Yourself, You Can't Please Your Soul
Various Artists - The Portable Altamont
This is by no means a complete list. There are certainly others not mentioned, and not all of the discs listed here may be affected.
What can I do about it?
PDO was taken over by Universal in 1998/9 and is in the process of being bought out by Disctronics currently.
The helpline has been carried on under Universal.
Send 'bronzing discs' to:
PDO HELPLINE
FREEPOST BK1080
BB1 5RZ
UNITED KINGDOM

Universal assures there is one person who solely looks over these claims.
Please send discs in paper wallets or wrapped in tissue, not in the jewel boxes or with the printed parts.
Universal has said that if they cannot replace the discs, "an alternative is found between the customer and ourselves."