Träden announce the release of their self-titled album on Subliminal Sounds. Träden is the newest formation in the Träd, Gräs och Stenar lineage.
RELEASE DATE: 8/24
Träden also announce their 2018 US Tour.
Dates w/ Ryley Walker and Endless Boogie.
Find dates here, also listed below.
•
A brand-new studio album from Träden ("The Trees"), formerly known as Träd, Gräs och Stenar ("Trees Grass and Stones") in different incarnations, but often just called Träden for short. Through long, crescendoing improvisations, Träden has found their own unique path in the music world for decades, creating a music with room for everyone.
The new album was recorded at Träden's countryside music workshop and in good old TGS tradition, much of the material emerged by jamming.
Today, Träden consists of:
Hanna Östergren (Hills)
Sigge Krantz (Archimedes Badkar)
Reine Fiske (Dungen, The Amazing)
and Jakob Sjöholm (TGS originator)
Nisse Törnquist (Amason) also plays on three of the songs on Träden.
Jakob Sjöholm on the record: "When we decided to record and release a new album it's the people who are now in the group that plays on it. We have become a band again in the way that we can once again get out and gig more regularly. The name change is a way of freeing ourselves from the old band and its idiom, thus opening our minds to let the music find new ways, simply giving us more artistic freedom."
•
The set will be available on single-CD and double-LP formats.
Find press images, full list of US tour dates, and one-sheet here.
Press kit with full audio forthcoming.
•
Träden (Träd, Gräs Och Stenar) US Tour Dates 2018
Friday, Sep 21 - The Chapel, San Francisco, CA ∞ Δ
Sunday, Sep 23 - Henry Miller Library, Big Sur, CA ∞
Monday, Sep 24 - Zebulon, Los Angeles, CA ∞
Tuesday, Sep 25 - Zebulon, Los Angeles, CA ∞
Wednesday, Sep 26 - Zebulon, Los Angeles, CA ∞
Friday, Sep 28 - Music Hall of Williamsburg, Brooklyn, NY ∞
Saturday, Sep 29 - Root Cellar, Greenfield, MA ∞
Sunday, Sep 30 - Boot & Saddle, Philadelphia, PA ∞
Monday, Oct 01 - DC9, Washington, DC ∞
Wednesday, Oct 03 - Wexner Center, Columbus, OH
Thursday, Oct 04 - The Hideout, Chicago, IL ∞
Friday, Oct 05 - Cropped Out, Louisville, KY
∞ w/ Endless Boogie
Δ w/ Ryley Walker
•
On a boat. Photo Credit: Isak Sjoholm
•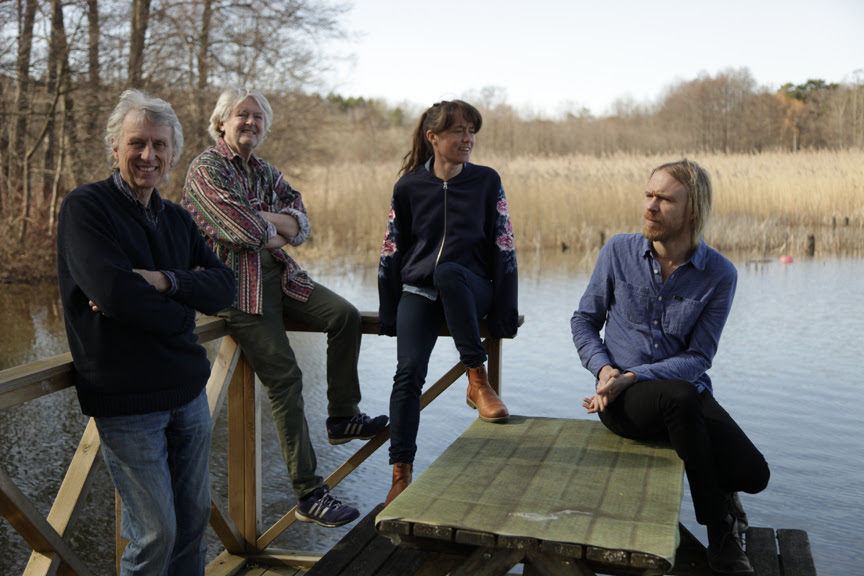 On a dock. Photo Credit: Isak Sjoholm
•