SEXY CINEMA VOLUME 1
Track One: Ennio Morricone, "Meglio Stasera"
Ennio Morricone's cover of Henry Mancini's "Meglio Stasera" is from the film The Pink Panther. I think the song was sung in English in the film (the title translates to "It Had Better Be Tonight").
Track Two: Piero Umiliani, "5 Bambole Per Una Luna D'Agosto"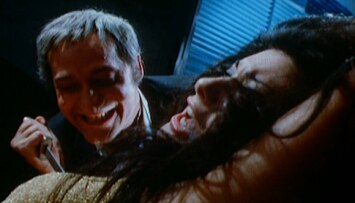 Aside from Ennio Morricone, Piero Umiliani is perhaps the most famous Italian soundtrack composer. This music is from the film 5 Dolls for an August Moon, a horror-thriller directed by Mario Bava in 1970. A loose adaptation of Agatha Christie's novel Ten Little Indians, the plot concerns a group of people stranded on an island off the coast of Italy in a palatial estate are being murdered off one by one. But which of them is the killer? Highly recommended!
Track Three: Bruno Nicolai, "Perche Quelle Strane Gocce di Sangue sul Corpo di Jennifer?"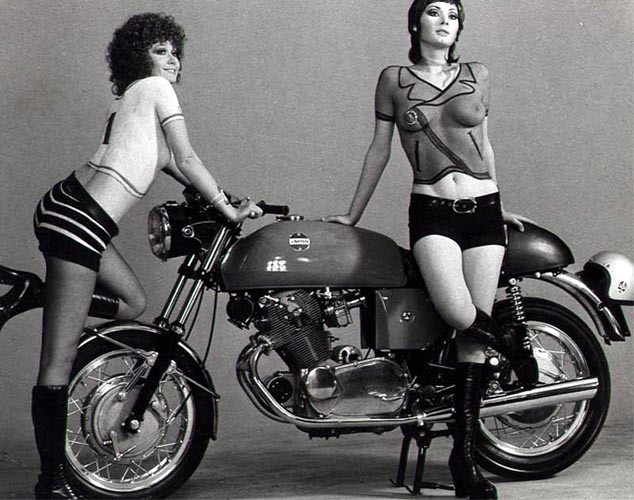 Bruno Nicolai, aside from being an accomplished composer in his own right, began his career as the conductor of Ennio Morricone's orchestra. This song is from the film What Are Those Strange Drops of Bloody on Jennifer's Body? aka Case of the Bloody Iris, another horror-thriller starring the beautiful Edwige Fenech as a fashion model stalked by a serial killer.
Track Four: Armando Sciascia, "Sexy World"
This song appeared in the films Hot World of the Night and Sexy. I haven't seen either one!
Track Five: Teo Usuelli, "Piacere Sequence"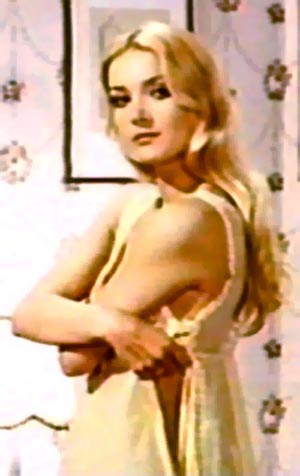 This track came from a sexy movie called Alla Ricerca di Piacere aka Amuck!. It's about a woman who poses as a secretary in order to solve the mystery of her murdered lesbian lover. Hot!
Track Six: Alberto Balban Bembo, "Ore 24"
This one never ended up in a film per se, but it's a good example of "library music," or music recorded to be potentially used in a film or on a TV show (but none in particular).
Track Seven: Kalyanji & Anandji Shah, "My Guru"
Not sure what Bollywood films this one comes from, but it's on an excellent compilation called Bombay the Hard Way. The Shah Brothers, who composed it, are among the most famous Indian film musicians.
Track Eight: Henry Mancini, "Moon River"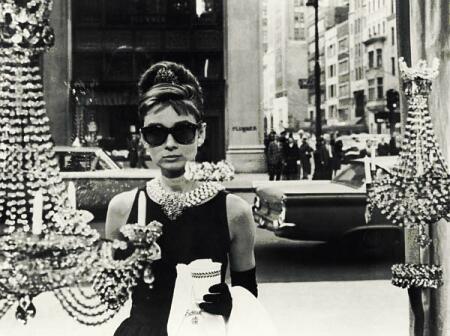 Everyone knows this one! From the immortal Breakfast at Tiffany's.
Track Nine: Armando Trovajoli, "Sessomatto"
This one is from the film Crazy Sex. I haven't seen it, but I assume it's typical of the 1970s sex farces popular in Italy at the time.
Track Ten: Francoise Hardy, "L'Amitie"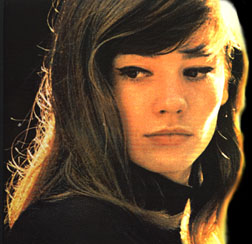 OK, well this one is not from an old movie, but it's an old song, and I love it. It recently turned up in the Academy Award-winning Canadian film, The Barbarian Invasions.
Track Eleven: Catherine Spaak, "La Notte Fatta per ... Rubare"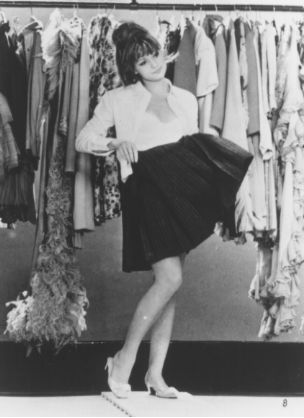 Catherine Spaak was a famous actress and pop star in Italy. Always very sweet and charming in everything in which she appeared including the films The Libertine and Cat O' Nine Tails, both of which are highly recommended. This song is from The Night is Made for Stealing, which I haven't seen.
Track Twelve: Gert Wilden, "Sexy Girls"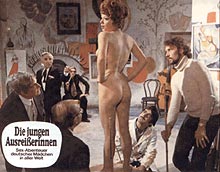 Gert Wilden is possibly most well known for scoring a series of German films called The Schoolgirl Report These were sexploitation films in which teenage girls (always played by women of legal age) experienced various sexual adventures. This song is from Girls Who Come to Munich. I haven't seen any of the films.
Track Thirteen: Burt Bacharach & Dusty Springfield, "The Look of Love"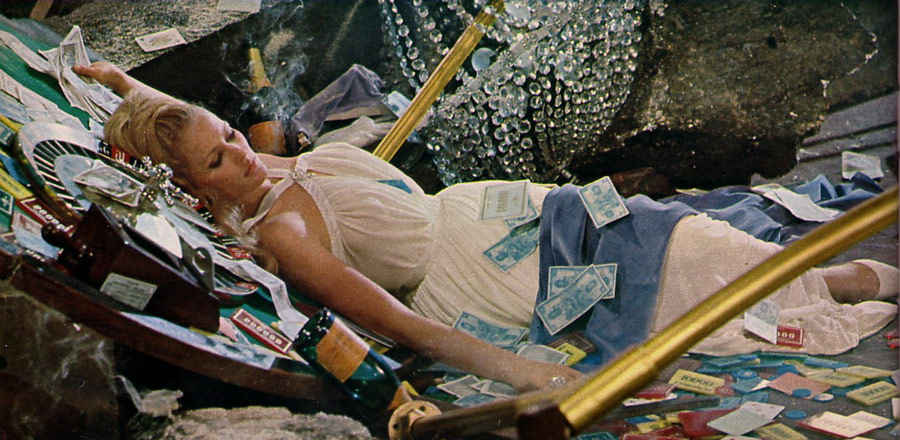 From the classic 1967 James Bond spoof and box office disaster Casino Royale. Quentin Tarantino is apparently trying to do a remake of this film, which will be a more faithful adaptation of the novel.
Track Fourteen: Francois de Roubaix, "Les Levres Rouges"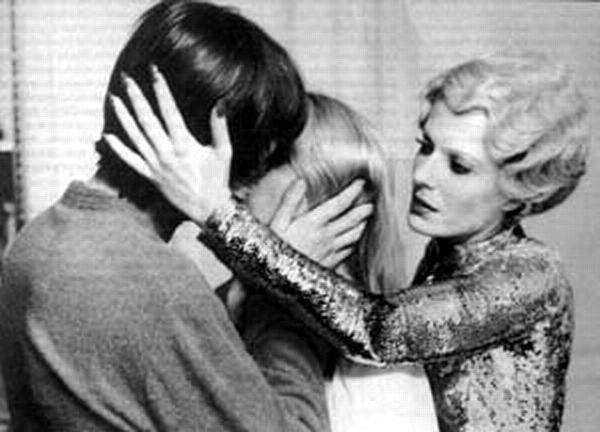 Francois de Roubaix was a bit of a maverick composer in the 70s, and you can definitely hear it in this piece. It's from an excellent, heavily stylized Belgian lesbian vampire film called Daughters of Darkness. Recommended!
Track Fifteen: Bruno Nicolai, "De Sade '70"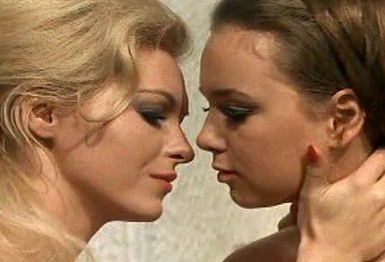 From Jesus "Jess" Franco's film Eugenie ... the Story of Her Journey Into Perversion. The film is a modern take on the Marquis de Sade's Philosophy in the Boudoir, in which a young girl is seduced and morally corrupted by a brother and sister. Christopher Lee has a brief (and unwitting!) turn as the leader of an S&M cult!
Track Sixteen: Piero Umiliani, "Open Space"
This track is the title music from Baba Yaga, which was based on the kinky comics strips of Guido Crepax. A very psychedelic and bizarre film about a fashion photographer who meets a mysterious stranger, setting off a series of strange dreams, occult happenings (including a bondage doll that comes to life!), and violent murders.
Track Seventeen: Piero Umiliani, "Mah Na Mah Na"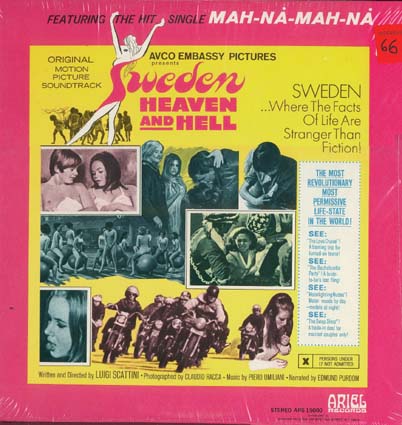 Sound familiar? That's because it was adopted as the theme for The Muppet Show. However, the song originally came from a soft porn documentary titled Sweden: Heaven and Hell!
Track Eighteen: Piero Piccioni, "Pearls"

From director Radley Metger's 1969 classic Camille 2000. I cannot recommend this movie enough. It's a swingin' update of Alexandre Dumas' La Dame aux Camellias. If you enjoy amazing sets, outrageous costume design and unique photography, this is the movie for you.
Track Nineteen: Stelvio Cipriani, "Femina Ridens"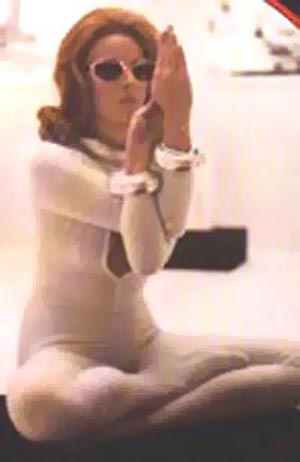 Stelvio Cipriani is perhaps the most underrated of all the Italian composers. The soundtrack from which this song comes is extremely rare, and sells on eBay for around $200! The movie it was from is titled The Frightened Woman, and it's a very pop-art inspired S&M game of cat and mouse.
Track Twenty: Gian Pier Reverberi, "La Malizie di Venere"
I don't know much about this composer, but the song is from a modern adaptation of Leopold von Sacher-Masoch's Venus in Furs.
Track Twenty-One: Huebler & Schwab, "The Lions & the Cucumber"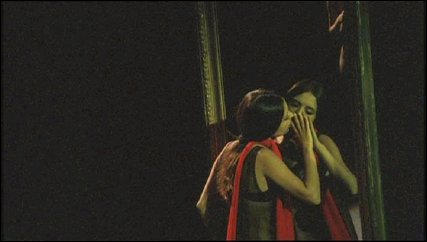 Huebler and Schward scored three Jess Franco films. This one is from the legendary Vampyros Lesbos.
Track Twenty-Two: Ennio Morricone, "Metti, Una Sera a Cena"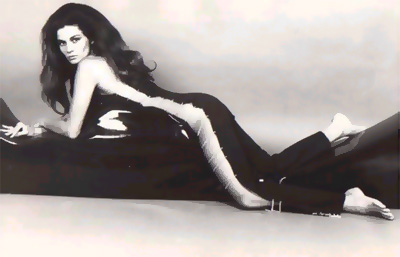 I don't know anything about this film, other than it was written by Dario Argento, and in English it means, "One Night at Dinner". However, it remains one of Ennio Morricone's most famous film songs.