News
Merry Christmas!
A new Charles Atlas track, a cover of the Palace track "Christmastime in the Mountains", is included on the 2009 Winter Compilation from Silber Records, "White Silber: A Cold Slow Christmas", available for free.
Charles Atlas will be releasing a 7" single on Geographic North in spring 2010, featuring the tracks "1936" and "The Valencia Affairs".
Charles Atlas is Up In The Air
Charles Atlas's song "Genova" was chosen as music for the trailer of Jason Reitman's 2009 film "Up in the Air":
Two songs, "Genova" and "The Snow Before Us" are featured in the film and on the soundtrack.
Upcoming Shows
None scheduled.
Releases
Out of print albums Worsted Weight and To the Dust are now available for download from iTunes from Howell's Transmitter.
Social Studies: An Introduction to Charles Atlas is also available from Howell's. It features 11 tracks from the past two albums plus two otherwise unavailable songs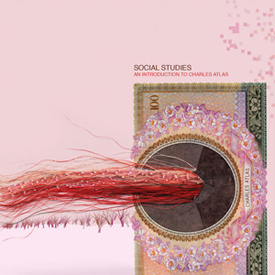 1. Chapultepec
2. Antiphon
3. The Snow Before Us
4. Neither/Nor
5. Grumblebee
6. Demus
7. Photosphere
8. The Deadest Bar
9. Signal Flags
10. Strategies for Success Boxes
11. Port, Noise Complaint