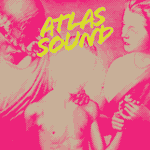 artist:

title:

Let The Blind Lead Those Who Can See
But Cannot Feel

catalog #:

krank114

formats available:

Release Date:

February 18, 2008
One of the latest "true queer art punks" to emerge from the cracked pavement of southern suburban sprawl, Atlas Sound is the solo moniker of Deerhunter frontman / provocateur Bradford Cox. Here on his debut album, Cox / Sound moves out of dank nightclubs filled with eternal existential drone punk, and relaxes at home in his Grant Park, Atlanta bedroom. And this is, essentially, a bedroom album, a collage, mixing the garage rock and ambient electronic influences previously explored with Deerhunter in a new context, with newly explored recording techniques, mainly laptop-based, learned with guidance from kranky artist Nudge's Brian Foote. The result is 14 Songs of melancholy and mania.
This is a true solo album, entirely created and produced by a single person. That is certainly not unique, especially in the contemporary scene. But Bradford Cox's unusual talent is the ability to take a wide variety of seemingly incongruous sound elements, and seamlessly meld them into a cohesive pop narrative. A sunken 4/4 techno beat underpinning "Winter Vacation"? Perfect. Mbira loops running over the top of "Quarantined"? Just what it needed. An insistent, clipped drum roll carrying "River Card"? Masterful. And ultimately it is this innate ability to combine all these disparate elements into a singular whole that makes this album such an enjoyable, and unique listen.
"This album is for my best friend Lockett. It has a lot to do with childhood. I wanted to make an album that was uplifting but honest, which is why it seems sad a lot of the time. I want to make music that could be 'healing' or therapeutic to people who relate to it." Bradford Cox, Oct 20, 2007, Harlem, New York
"A largely ambient meditation on romantic obsession full of densely layered electronics and guitars that sound as if they were beamed in from some haunted parallel universe." The Fader
catalog#
artist
title
format
paypal purchase

KRANK 114

KRANK 114

temporarily unavailable

Songs:
A Ghost Story
Recent Bedroom
River Card
Quarantined
On Guard
Winter Vacation
Cold As Ice
Scraping Past
Small Horror
Ready, Set, Glow
Bite Marks
After Class
Ativan
Let The Blind Lead Those Who Can See But Cannot Feel