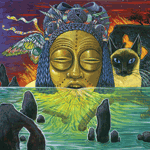 | | |
| --- | --- |
| artist: | |
| title: | Naked Acid |
| catalog #: | krank116 |
| formats available: | |
| Release Date: | March 3, 2008 |
Naked Acid is the second solo release from Portland artist Valet, aka Honey Owens. She states: "These songs were Inspired by the Pacific Northwest landscape, semi-conscious dream states and the idea of one's dna code being accessed as eternal memory. I started off with the idea to make a 'songs' record but it really didn't turn out that way. Instead the record became it's own story. Track one is a static beach journey duet with Adrian Orange, and tracks 3, 4 and 5 are collaborations with Mark Evan Burden (Silentist) on drums."
From the gentle narcotic haze of the album opener "We Went There," which is dissected by Honey's trademark incendiary guitar work, to the lazy alien country blues of "Fuck It," and through the hyperventilating rhythmic distortion of the closer "Streets," Naked Acid is a fever dream of ghostly incantation and smudged psychedelia.
Honey Owens follows up her widely lauded Blood Is Clean album from early 2007 with another trip through the fertile garden of her imagination. She will be touring starting in mid-February to support the album.
"An album of surreal damaged beauty, steeped in creeping paranoia and dreamy psychosis." stv.tv
"A beguiling, menadering combination of trancelike chants, pulsating drones and frazzled guitar doodles." The Wire
"It's a devastating masterpiece of pulsating psychedelic chill, slippery haunting drone and solemn tribal percussion. Every track here is a wonder of dark possession." Willamette Week
"A lysergic wash of ambient colour that I swear can cause hallucinations if listened to loud enough. A blissfully immersive debut and quite worth the trip." Godsend
catalog#
artist
title
format
paypal purchase

KRANK 116
Songs:
We Went There
Drum Movie
Kehaar
Fuck It
Babylon
Fire
Streets