Chris Carter and Cosey Fanni Tutti should require no introduction to Brainwashed's readers. Members of Throbbing Gristle, purveyors of fine electronic music under the names Chris & Cosey, CTI, and Carter Tutti and dedicated solo artists; there is not much out there that they have not had a stab at. John Kealy asked them about the recent Throbbing Gristle reissues, their current projects and the changing state of acceptability in art.
John Kealy (JK): How does it feel to see the classic albums back on Industrial Records especially considering the events of last year (Genesis leaving TG, Sleazy passing)? Are these the definitive versions of the albums?
Cosey Fanni Tutti (CFT): It feels so good to have them finally released on Industrial Records. It was already in the pipeline anyway. All four of us had decided to do this prior to Gen's walking out and the great loss of Sleazy. I guess you could say these are the definitive versions now as Chris took such care with them, keeping them as true to the original recordings as possible.


JK: Have you heard from Gen since the last termination of TG? Has he had any input on the new TG reissues?

CFT: We haven't heard from Gen for nearly a year now which also answers your second question. Chris and myself did all the work for the reissues.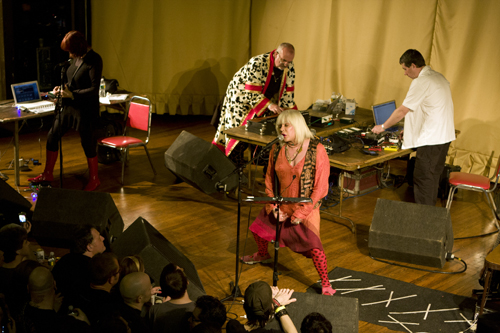 JK: Is there anything else left in the archives from TG's first incarnation? I was surprised that there were so few alternative studio takes on the current batch of reissues.
CFT: We got asked this question before. Obviously there are jam sessions on cassette but these would take a lot of work and digging out. There are unreleased TG recordings from the regrouping as well so there's a lot of material.
JK: Will you be reissuing other TG albums like TG CD1, Journey Through a Body or In the Shadow of the Sun?
CFT: We haven't thought about any other reissues yet because we have to finish Sleazy's inspired last TG project, Desertshore. So that album will get priority and the next 4-6 months of our time. After that we'll think about other TG releases.


JK: Are you surprised by the continued interest in TG?
CFT: I'm both surprised and accepting of it. But also there is a generation who have discovered TG for the first time and the fact that TG speaks to them really excites me.
JK: I was born far too late to experience TG the first time around, I discovered "Hamburger Lady" on Napster about 10 years ago and was hooked from there. However, I am aware that I was listening to TG through the ears of someone living in a completely different world (a teenager during the boom years in Ireland meant I had very little to be upset about). Add to the fact that things like Tesco (that was a grotty supermarket in the '70s and is a monstrous corporation today) or pornography are viewed differently now. Do you think these early TG recordings can have the same impact on modern audiences as you did on audiences in the '70s/'80s? Do the specific cultural references of TG mean as much as the overall message of doing as you think, not as you are told?
CFT: Well I've heard from many people new to TG that it does have a similar effect on them as it did in the '70s. Maybe that's for slightly different reasons. Although the present political climate is similar the '70s there's been a lot of water under the bridge since then and society and culture would obviously not be the same as back then. However, the basic premise remains the same but for differing reasons in terms of being spoon-fed notions of identity. Now it's via the Internet and insidious means like smart phones—so "do as you think, not as you're told" still has resonance so long as people have retained a bit of free spirit/will during the consumerist onslaught of the past 30 years.

Christ Carter (CC): I've probably listened to these tracks as much as any hard-core TG fan, what with mastering the originals, mastering TG24 (both versions), all the remastering and 30 years of seemingly endless test pressings and I think they hold up really well. But I would say that wouldn't I? Of course they've become these historically relevant music artifacts, highlighting the birth of the Industrial genre and so on but that apart they also stand the test of time, in fact I think they are somewhat timeless. Some of the direct cultural references of the time may have changed but the politics are still very relevant and I think the overall TG sound from then is pretty difficult to date.

JK: Did the reformed TG set out with the same goals as the original TG or did you feel things were different when you got back together?
CFT: Regrouping was like riding a bike—it was like muscle memory once we started playing together. Overall I think we had continued with the same attitude to life and creativity so coming together again wasn't different in that respect. Of course we didn't need to break down preconceptions because we'd already done that. There were different hurdles to tackle. I wanted us to do something new together—otherwise what's the point of regrouping.
CC: I agree with Cosey. But I also remember telling Cosey and Sleazy back in 2000 or 2001, after Daniel (Miller) again broached the subject of TG reforming, that I'd only do it if we confounded peoples expectations of what they thought TG would do a second time around. I think if it had just been up to just the three of us the outcome, the development of the regrouped TG, could have been quite different. More akin to what we performed at Tate Modern and the Donau Festival or at the Statens Museum. As it happened there was a LOT of pressure on us to 'play the old songs', which we three were always resistant to do. Well actually Gen was also reluctant initially but he found the improv side difficult as a way of contributing anything meaningful to what we were playing. He was definitely better at performing the old TG material. But he seemed to have changed his mind on what he liked or didn't like playing each time we went on the road or into a studio. Which is par for the course with Gen.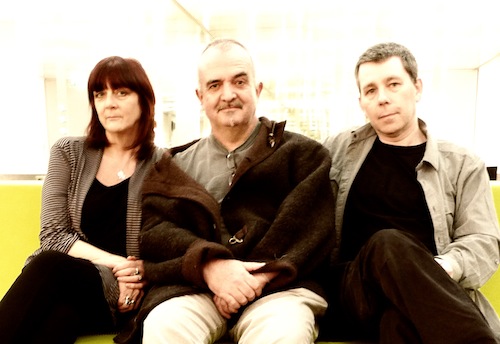 JK: Was what became X-TG more what you had in mind at the beginning of
the TG reunion? Based on the bootleg live recording, you certainly moved
quickly away from playing the hits. Did you have any plans for X-TG or
was it mainly a way to fulfil the live obligations that were already
booked?
CFT: For me personally yes. If we were going to regroup I wanted to do something new with TG. Sleazy, Chris and myself spent a lot of time in our studio working on ideas and new TG material but Gen wasn't up to it. The more experimental it was the better it felt for us. But Gen didn't embrace that and was short on ideas or how to contribute to that kind of material. And unlike the three of us he didn't invest in any new equipment for TG. It was very frustrating for us. That's why when we did 'A-P-P-A-R-I-T-I-O-N' and other kinds of collaborative non-exclusive TG projects we loved. But we had to tell Gen what to do, we had to buy gear for him to play, to try to motivate and involve him more. So X-TG was born from the excitement we three had for a much more experimental approach. Certainly when Gen walked out on us it gave us the opportunity to finally work together as we'd wanted to for so long. Sadly we didn't get another chance.

CC: Working again on TG material with Cosey and Sleazy was a wonderful experience but we were constantly asking ourselves "what's Gen going to do with this?". Then we'd be trying to think of things Gen could sing or play along with to what we had written in the studio. So we'd have to go back and redo the experimental material and come up with something less interesting - to us- but material he could work with. Which usually involved going back to old TG songs.
When Gen walked out on us we three went through this roller-coaster of emotions and stress, particularly Sleazy. Because financially we were looking at ruin as the tour couldn't carry on, yet we had all our travel, hotels booked, promoters were threatening to sue us and fans who'd bought tickets were going crazy and understandably wanted refunds. On the other hand we no longer had the dead weight of Gen to worry about or his innate ability to drag everything we did down to his level. The future looked pretty good beyond the immediate chaos he'd caused... and from that X-TG was born. A very natural birth.


JK: Did you record the shows and, if so, have you any plans to release them?
CFT: Yes we have recordings and also some studio recordings with Sleazy. We'll be listening to them at some point and deciding when to release them.

CC: Yes as Cosey says we have quite a bit of X-TG material, the live shows and studio recordings. But we haven't listened to them since they were recorded, it's still too difficult. I would imagine it'll be at least another year before we think of releasing any of that.

JK: You mentioned Desertshore earlier and I have been recently delving back into the 12 CD-R recording of The Desertshore Installation and the rough cuts sound exceptional, "Janitor of Lunacy" and "The Falconer" in particular. Has the final album gone through many changes since those sessions? Do you feel that the old TG would have been capable of covering an album in this manner?
CFT: The old TG wouldn't have even thought about it, we were focused on other things back then. As for changes since the ICA recordings: Yes things have changed, Sleazy didn't want to use those backing tracks.
CC: Yes we would definitely have been capable of covering it, we had the arrogance of youth then, not to mention the combined skills. But TG then, we, all of us, had a different mind set. As Cosey says, such a concept piece wasn't even on our radar, let alone a collaborative notion. We had too many other new and original ideas we wanted to explore.
The Desertshore album has gone through a lot of changes since the I.C.A recordings. Although it probably would have gone through slightly less if Genesis hadn't walked out on us. I think (well actually I know) that Sleazy felt that Gen was increasingly holding TG back by his reluctance to explore new avenues, experimentally and musically. When Gen left Sleazy saw it as a way to make the album as he originally intended... with a more experimental approach and with guest vocalists on each track. Something Gen had always been against. I suppose he saw it as usurping his position within TG, possibly, who knows?
JK: Does that mean that Gen is off Desertshore? Or only on certain tracks?
CC: Well as with recent TG albums we'll fit Gen in where we think it best suits a particular track, or not. We have all of Gen's vocals from the first I.C.A sessions, so there's plenty to choose from, but as the tracks are going to sound very different to those early recordings we'll have to see if his vocal style fits in with the new sound and what the guest vocalists have done... and who I must say have done wonderful things with the songs.

CFT: It's as Chris says... once we get working on the material in earnest I suppose it's all up for grabs, so to speak. But that was the way we three wanted it to be from the beginning, it's how the tracks come together and the sound of the album that are important to us and that takes priority over who is on it.

JK: Will Nico's vocals used to guide Gen during the recording sessions make it to the final album? Her disembodied voice sounded terrific during the recording sessions, especially when it sounded like she and Genesis were duetting across time and space.
CFT: No we won't be using Nico's vocals.

JK: On The Desertshore Installation recordings, Sleazy had mentioned the surprise guest vocalists, did these guest vocalists ever materialize and can you reveal their identities?
CFT: Yes we have the guest vocalists recorded. We've been doing that alongside all the other work of this year...and no their identities will not be revealed yet.
CC: Yes we had a list of guest vocalists going right back to 2005 when Sleazy first proposed the concept. Over the years the list has been adjusted, refined and reappraised many times and we had our final selection decided on this time last year. After Sleazy died me and Cosey and our manager went through the list and approached those people to see how they would feel about working with us on the project. We now have about 90% of the vocals recorded and they sound absolutely amazing, astounding. But the vocalists, though some are technically not all 'singers', who've decided to take part have all agreed not to discuss the project or their involvement until we are ready to announce the release in 2012.


JK: At the time, TG were doing something unusual with Desertshore by covering an entire album (actually the idea of TG doing a cover was unusual full stop) but in the meantime the likes of The Flaming Lips (with Pink Floyd's Dark Side of the Moon) and Beck (with The Velvet Underground & Nico and The Songs of Leonard Cohen amongst others) have done the same thing. Do you feel like you are late to the party now?
CFT: Well TG did it way back in June 2007 at the ICA so no I don't think TG is late to the party, the others are.
CC: Who cares, we don't, it's not a race is it? As Cosey said we started out on this project in 2005 and in fact we've already performed and recorded it once at the I.C.A. before any of those other bands released their albums. I guess we could have radically edited that version down to one CD and released it but the installation-performance was always intended to be the groundwork, the basis for the actual album. Once Gen had walked out on us we three realized that the material we had for the project was effectively going to evolve into the final ever studio TG album. Then when Sleazy left us shortly after, the point really hit home. Whatever happens 'TG's Desertshore' is TG's final studio album and is coming out whether we're late or not.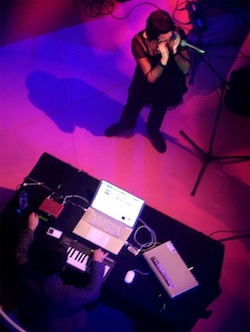 JK: You have recently gone back to using the Chris and Cosey moniker for some performances, is Chris and Cosey a different frame of mind/mode of working compared to Carter Tutti?
CFT: Yes Chris and Cosey is very different to Carter Tutti, different equipment too. C&C is very 'up' and more dance oriented compared to Carter Tutti, which is more contemplative. But having said that the recent CT gigs have been really full on and rhythmic. Great fun.


CC: Fundamentally C&C has remained unchanged over the years: mostly up-tempo, melodic, rhythmic, lots of Cosey's vocals and guitar. Whereas a Carter Tutti live performance is more about improvisation and texture, with a slower left-field pace and performed to an abstract video backdrop - and it's performed primarily using two laptops and some MIDI controllers. For the C&C shows we play actual songs from a set list, use live percussion, synths, video projections... the works. It's a lot more prescriptive than CT.

JK: You have been doing some site-specific shows recently ("Harmonic Coaction Four" at the Sonic City Festival in Belgium and "Glassed" from Geneva earlier this year), will these form the basis of a new studio album or are they stand-alone works?
CFT: They are stand alone works. A Carter Tutti studio album would be totally different in mood and sounds. We haven't made a final decision how to release the 'Harmonic Coaction' pieces yet. Maybe as a series or box set with some visuals.

CC: "Glassed" was a one-off collaboration with performance artist Yann Marussich and I think he would like to release a version of what we did together as a video, probably next year I would think. But we are still undecided what to do with "Harmonic Coaction." At the moment it exists only as a live audio/visual performance, and it has evolved quite a lot from the original concept. But it will be released in some form, we're just not sure when.

JK: Are there any more plans for Chris and Cosey reissues?
CFT: Haven't really thought about that, though many people keep asking.

CC: Well it seems like the obvious thing to do, seeing as the first reissues sold out so quickly and were so well received. It's just finding the time to put it all together that's the problem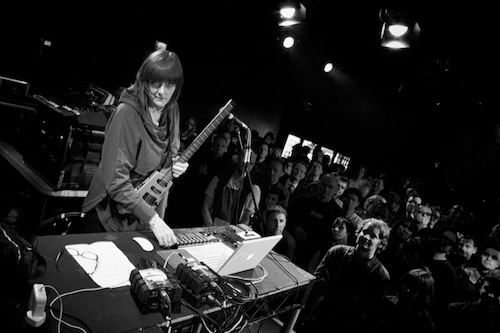 JK: Cosey, you have been doing a number of talks at the likes of Tate Modern, it seems like you are getting more attention for your art now than ever before.  How does it feel to be looking back over your body of work now? It must be strange to view your life through the lens of an artistic institution, I imagine there is a danger of forgetting who you are.
CFT: I've always had a very strong sense of self so wherever my work/life ends up being scrutinized it doesn't bother me. Also I'm happy that my work has been taken as it is - it may have taken nearly 30 years but I've never compromised my stance. So the Tate or any other institution hasn't changed my work at all.
JK: I'm curious as to how you maintain such a sense of self when you seem to have changed identity so much over the years, going from Christine Newby to Cosey Fanni Tutti via transitions like Cosmosis and Scarlet? Did these different names endow different personae upon you? Are they all still present in the Cosey Fanni Tutti that exists today?
The names were/are recognition and an embracement of the different facets of my whole self, acknowledging my actions as part of who I am, so no they didn't dictate any persona. Even Scarlet, used as my name when I was stripping came from my own interest in Crowley (Scarlet woman). They're not 'other' to me or aliases, no more than also being called 'mother'. No matter where the names originated they represented/represent and were/are inspired by my self, so they belong to and are me.

JK: Chris, are you still working on CCCL? The photos you were posting up on your flickr stream last year looked intriguing, especially the Tutti Box. Are there any plans for more batches or editions of the TG electronics to be issued?
CC: Yes my Chemistry Lessons project is ongoing, which honestly can be a struggle in between all the other things we do. At the moment it's entirely based around building a new modular synth, which I'm slowly populating with various esoteric modules. My plan is to record an album just using the modular synth and a handful of gear I mostly used in TG or bought for CCCL. A couple of drum machines, a bunch of effects pedals, Kaoss pads, arcane custom built synths and so on. No plug-ins just physical things.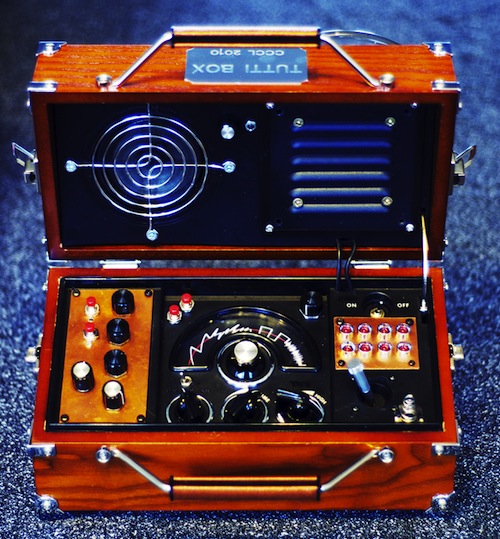 JK: Gristleism was great, would you do another box (TG or non-TG)? And how did you feel to see your Gristleizer become a mass produced product? It strikes me that both these devices are an apt example of TG's fascination with the idea of a factories and industry.
CC: Yes Gristleism was an archetypal mass produced product involving half a dozen factories to produce it. I really enjoyed the design and pre-production process and we totally embraced that during the project. It was a steep learning curve and so very different to producing a CD or vinyl album, it was a real eye opener. Christian Virant is incredible, a very talented guy. And he speaks Chinese fluently which of course helped during the pre-production stage, ironing out bugs at Chinese factories and fabrication plants. All very 'Industrial', wonderful!
The original plan was to produce an improved Mk2 version of Gristleism but Christian and ourselves got sidetracked by other projects and the momentum was lost. It's a shame as we would love to do another Gristleism, or something similar. But I do kind of like that it was a unique one-off. On the other hand as a way of releasing a music project to circumvent pirating it worked 100%, so there is that strong incentive to revisit the project in the future.

The Gristleizer is something entirely different. The version that Endangered Audio produced is still available but the development team that I originally worked with, and who were very nice people, left the company soon after it was released. More disappointingly EA never even sent Roy Gwinn (the designer of original circuit it's based on) a Gristleizer unit. There were lots of broken promises from EA and it seemed to us that they were more interested in using my and TG's name, and my Gristleizer name, to sell a range of their own guitar products. I haven't heard from them in a long, long time. I don't really wish to and I've moved on. But recently I've been working on a modular version of the Gristleizer, for Eurorack modular synths. The problem is that the R&D on these things takes forever and I really don't have the spare time, so I'm thinking of working with someone else to make it a reality. It's just finding someone you can trust to work with that's the problem.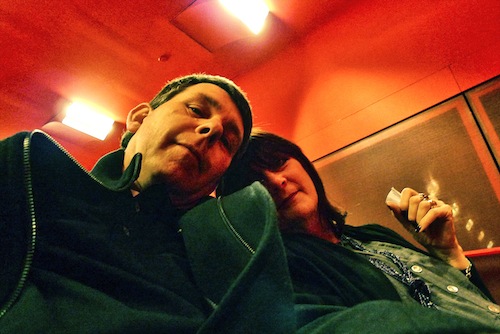 All images courtesy of Chris Carter and can be found on his flickr photostream aside from the live image of Throbbing Gristle which is by Greg Cristman.