MUSIC
IN BRIEF
THE FLAMING LIPS, "THE SOFT BULLETIN"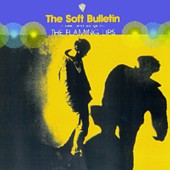 Even though The Lips have bolstered their old indie psychedelia lite sound with string sections, minimal electronics, and studio trickery not heard since their "Hit To Death In The Future Head" album, they've seem to have crafted the perfect 70's AM radio pop gem. Sure, there are still moments of heady weirdness, Wayne Coyne's quivering Neil Young-ish singing, and drugged out rock jams. But, there is also vocal harmonies (what song isn't made better by Oooo's and Aahhh's?!?) to die for, making this the album Jim O'Rourke tried to make with "Eureka." A lot of the tunes have a Beatles kind of flavor: "Suddenly Everything Has Changed" sounds like an out take from "Let It Be" with Phil Spector going nutty with the strings, and "Feeling Yourself Disintegrate" could be a demo for "Tomorrow Never Knows". "The Spark That Bled" is pure Lips experimentation with a whole lot of sweetening, and "The Spiderbite Song" is an updated version of Fleetwood Mack at their creative peak. The thing I really liked about this album, besides the music, is the production. In many of the tunes, the drums are right at the front-line, sometimes trampling over the guitars. Although they're both great songs, did we really need two versions (which are pretty much the same) of "Race For The Prize" and "Waitin' For A Superman"? The Lips new direction with this album is a welcome one, and it can't get any better than this. - Jason Olariu
LEGENDARY PINK DOTS

SING WHILE YOU MAY (in Russian) - The second compilation from Legendary Pink Dots in the 90s features the same title of the first, but instead of Spanish, this time around it's in Russian. All but the website and copyright information on this disc is written in Cyrillic fonts. The collection is a Russian pressing and is made available over here through a few places. The price is inexpensive and offers an overview a little bit less varied than "Canta Meintra Puedas". The three exclusive tracks on here includes two new songs, "Interflora Overdrive" (parts 1 and 2) and an alternate recording of "Supper at J's". Supper at J's isn't different enough to justify a completely different version outside of the one on Edward Ka-Spel's The Blue Room, while the new songs are decent but hardly tremendous. "Interflora Overdrive" are instrumental jams which sound like the band was listening to entirely too much Can and Neu! for hours before recording. If you're new to the Dots, it's not a bad starting point, featuring songs from The Lovers, Crushed Velvet Apocalypse, The Maria Dimension, Shadow Weaver and From Here You'll Watch the World Go By. The selection could very well be on purpose songs that are not their "favorites" that live on stage - someone seeing them live might get this as companion to the material they heard there. The selling points: it's limited, everything's in Russian and it's priced as a domestic. - Jon Whitney

LIVE AT THE METRO - As brilliant as they are on record, they're an even more fulfulling experience to take in live. The tracklisting is a good assortment of songs spanning the various styles and history of the Dots: a new song ("Pain Bubbles"), a few from 1998's "Nemesis Online", a few from 1997's "Hallway of the Gods", and four updated classics. The real treats here are Aarzhklahh Olgevezh, Green Gang 98 (with extended guitar intro and chaotic "freakout" section), Saucers Over Chicago (with an always amusing spoken story from Edward, different each night), Fates Faithful Punchline (achingly beautiful horn work by Niels) and Andromeda (which is similar to the updated version on 1998's "The Pre-Millennial Single" and is what I figure will be the closest I'll ever come to seeing 60's Pink Floyd). Some minor quibbles that keep this disc from being perfect: "Green Gang 98" and "Zoo" have some sound issues, a clipping/skipping sort of sound that may be due to how the cd was mastered. It's annoyingly noticeable on headphones, not so much on a home stereo though. "Grain Kings 98" isn't quite as tight as it should be and Edward's vocals are muffled through much of it. And, then there's the missing songs from the set: "Princess Coldheart", Dissonance", "Cheating the Shadow", "Blacklist", "Casting the Runes" and "Hellsville" ... understandable since it would have required two discs for the entire set. The booklet is nicely done with 14 pages of color live shots of the band. "Live at the Metro" isn't perfect, but I'm pretty happy with it. - Mark Weddle

SHARE THE DAY/DREAM STEALER - The two songs on this 7" were recorded February-March of 1999 and neither are all that similar to the tracks on Edward's latest solo album, 1998's "The Blue Room". "Dream Stealer" begins with a few minutes of dark, atmospheric sound washes which serve as background for Edward's poetic spoken words. The latter half of the track is instrumental, switching gears to a beautifully solemn piano melody. "Share the Day" is piano, keyboard and vocal based with dabs of percussion and female backing vocals courtesy of Lisa. It's a gentle and pretty, head nodding sort of song as you sing along with the swirling "share the day, share the day" chorus. Good stuff, a must for any Pink Dot/EKS junkie. Now for the aesthetics, which is at least 1/2 of what makes these 7" singles so cool: the vinyl is a gorgeous, transparent light orange with etching "cease your lonely mourning". The cover artwork by John Beck and the enclosed postcard by Daniel McKernan are both neat, the former being an image of five blurry figures on a hillside and the latter being an image of a Picasso-esque woman in a chair. And, of course, a black with orange print "brainwashed" sticker to put on your car to show those "in the know" how cool you are! There's only 1027 of 'em so get on it. Sound clips are available at the Brainwashed Recordings web page. - Mark Weddle
PIANO MAGIC, "LOW BIRTH WEIGHT"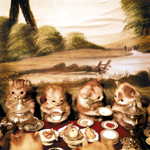 How much can I get away with saying 'blissful,' 'dreamy,' 'swirling,' or 'pretty'? That said, this wonderful disc is a great variety of distorted guitars, chimy electronics, pulsing percussion, pretty vocals and pleasantly dark tunes. Excellent for the dark nights with the window wide open and the breeze gently blowing. For those not in the know, Piano Magic is a London-based collective with one main person, Glen Johnson. The rest are revolving door guest vocalists and instrumentalists, each listed on this particular release with their birth weight (gotta love those clever, witty Brits). With a formula like this, it's not surprising that each track maintains their own distinct identity while you can still tell they're all children from the same parents. Rest assured from Rocket Girl, no animals were harmed in the production of the artwork...- Jon Whitney
NIGHTMARES ON WAX, "CAR BOOT SOUL"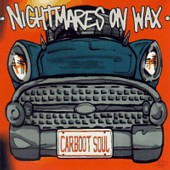 Gone are the days of blippy techno house records from Warp. Nightmares on Wax was part of that trend in the early 90s and have thankfully stuck around to mature. If you can't tell by the cover artwork and text, Nightmares seem to be taking influence from the 70s urban American culture. This could easily be their attempt at a score to Superfly or Shaft. Smooth lush strings, delicate guitars, organic sounding drums and cool organs make this an enjoyable chill out release on a lazy Sunday afternoon with your favorite cold beverage.- Jon Whitney
RED SNAPPER, "MAKING BONES"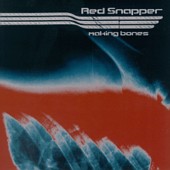 I'm completely confused as to what this group is trying to accomplish here. Each song takes the disc into a different direction, but nothing goes anywhere, does anything or seems to have a purpose. You feel more like you're in a boat trying to row in different directions - and spinning around in circles - rather than being navigated through a journey. This disc has its token bad rap and generic soul female vocals, but the rest is sleepy techno tunes - making me wonder if it's supposed to be a discount Massive Attack. The sounds are all presets, the drum patterns never vary throughout each track and the writing is terrible. I honestly thought Warp had a little more respect than to put out half-assed craptacular records like this one. - Jon Whitney
NEW
RELEASES
MONDAY
A Guy Called Gerald - Peel Sessions CD/LP (UK)
Co-Fusion - Cycle Remixes 2x12" [mixes by Buckfunk 3000, FLR & Daz Saund/Ben Tisdall] (Sublime, Japan)
Innerzone Orchestra [Carl Craig] - Programmed 5x10" [limited edition] (Talkin' Loud, UK)
Orbital - Nothing Left 12"/two CDEPs (FFRR, UK)
* Panasonic - Vakio LP (Mute/Blast First, UK)
* Andrea Parker - Kiss My Arp CD/limited CD/LP (Mo'Wax, UK)
Quannum [DJ Shadow, Blackalicious, Latyrx] - Spectrum CD/LP (Mo' Wax, UK) TUESDAY
* Autechre - EP7 CDEP (nothing, US)
Scanner - Lukewarm Instrumentals CD (Beggars Banquet, US)
* Swans - Public Castration is a Good Idea live CD (Thirsty Ear, US)
* Various - Electro Lounge CD [electronic remixes of lounge/exotika classics by Q-Burns, Utah Saints, Uberzone, Meat Beat Manifesto, Gus Gus, mu-Ziq, Wagon Christ and more] (The Right Stuff/EMI, Canada)
Various - Excelsis 2 CD [dark Christmas music from a variety of artists] (Projekt, US)
Various - Om Lounge 2 CD (Om, US)
For a more comprehensive release schedule stretching far into the future, please check out the NEW RELEASES brought to you by Greg and Feedback Monitor.
FEEDBACK
MISFIRED MAIL
Subject: this fine Monday
Hello there, how are you all doing this fine monday?
Thanks for the wonderful lunch yesterday it was so nice to see Diane and Peter and of course the two of you! So, how hot is it there today? It is truly like a sauna here in the city, we are so lucky to have that a/c! How is bub feeling? We will be up there on Thursday night (overnight) so we will try to keep his mind off the surgery. If you would like to have dinner that would be fine or whatever is easiest for you. Since it is so late by the time we get up there we can just stop by McDonalds for a burger! Let us know either way! Tell bub hello and thanks for the Northfield Mount Herman shirts and shorts, they are great!
love you both
heather
I think "Bub" as a nickname is just about due to make a comeback, thanks Heather for your insight.
---
Subject: mp3s?

if you guys wanna post any mp3s of your stuff, we would be happy to do it for you

We have some already posted here, thanks.
---
Subject: thanks!

Hello Brain,

I have been following this fantastic site since it's sole dedication to Meat Beat, and I must say... WOW!

I am an ardent fan of at least 75% of the bands that you have linked to since those early brainwashed ways, I haven't written you thus far due to the fact that I am THE lamest procrastinator on the planet. I should have said something a few years ago but I guess, better late than never, huh?

I have a radio show here in Lawrence, Kansas on the University of Kansas student run radio station KJHK. Of course my show is called RADIO BABYLON, and my host name is Fernando Poo. Ironically, I have been doing this show for 2 years now and haven't had the rationale to let you know about it. You see, our little radio station was the first to broadcast in a continuous stream on the web, therefore, I should have let you know about it way back when. My show is on at Midnight CST on sunday nights/monday mornings and is a 3 hour show. I know that time slot sucks for the East Coast but it is actually permissible on the West. Of course, my show is the product of my many years of being brainwashed by musicians such as those your site promotes.

I shouldn't just toot my own horn, of course. My fellow KJHKers put on a great radio station, too. Not only is my show beckoning you to listen but so are the likes of every crazy college sound around on other great special programs and even on the standard KJHK fare. However, mine is the most esoteric.

My real name is Eric, and I must congratulate you on a fantastic rise to the top of the list when it comes to band sites. If I did not have my weekly dose of the new release page and updates on LPD's, COIL and MBM I don't know what kind of sad record I'd be spinning right now.

Brainwash while you may,
E-Mu

www.ukans.edu/~kjhknet for the schedules and the links

Oh yeah, Burroughs did live here....

Thanks for your note, wish you luck on the radio show!! We'll be listening...
---
Subject: automating...

thank you so much, you are the man, did i ever tell you that? because you are
you make me so happy, i want to make love to you in a tub full of jello

Thanks for the note, mom.