SITE
A CURRENT NURSE MOVIE
A feature length film starring Steven Stapleton, David Tibet, Ruby and Tathata Wallis and Diana Rogerson, written and directed by Chris Wallis is nearing completion. Sound design is by Steven and features music by NWW including compositions especailly for the film. It is a drama and follows the the story of a young Irish woman caught up in the famine of the 1840s. Her near-death experience dissolves the boundaries that restrict her knowledge of human nature and she undertakes a journey through the stricken landscape that takes a hundred years. Shot in London and the West of Ireland over several years it will initially be availbale to film festivals with digital projection and later on video (possibly NTSC and PAL). Expressions of interest to Chris Wallis, send e mail to dogandstring@hotmail.com
SOMETHING FROM NOTHING
Coil have made note on the Nothing record hold up. News in detail are available at the web site. In brief: another new album should be out soon, which they're now taking the responsability for...
FEEDBACK MONITOR MAILING LIST
Greg Clow, the supplier (yeah, he's a druglord) of New Releases has just opened up an announcement-only email list over at onelist. Announcement-only means that only he emails things out from there basically. For more information or to browse archives, head on over to onelist.
MUSIC
IN BRIEF
COIL, "MUSICK TO PLAY IN THE DARK"

Yet another fantastic Coil album. A solid hour of Moon Musick. The sound is varied, building upon the foundation of the seasonal EPs, but definitely moving into new territory, new ideas and new sounds. Coil continue to move forward. Thighpaulsandra is an excellent addition to the lineup, I readily await more of his playing on future work. The CD (with moon graphic) comes in a digipack which has a fractal, wintery nightime, forest/mountain-horizon graphic. Inside, opposite the cd, is a rainbow circle with the four band members names around it. Very sharp ... "Musick" deserved an unlimited, domestic distribution via Nothing, but ... what are you gonna do? Get this while you can, assuming you're clever enough to figure out *how* to get it. It's not that difficult! I'm very pleased. It was well worth the $20 and the wait. This is going to get a lot of spins in my players in light *and* dark times. I can't wait for the next one. Thanks guys ... - Mark Weddle
FRIDGE, "OF EP"

I don't usually get excited over extended play singles, but these boys know how to do it right. If there's anything I can't stand is the goddamned CD singles that come out in two parts, each featuring one non-lp track so you have to buy the set or the jackasses who release 8 remixes that all sound the same. Fridge do neither, and won't. "Of" is a track off their phenomenal "Eph" album (which by the way if you don't have it, you just suck) but each track on this CD EP bares little resemblance to "Of" in its album form. The four tracks on this disc are simply titled "Version," "Remix," "Edit," and "Dub". They each have their own tune, their own personality and their own instrumentation. Much like the early Meat Beat Manifesto days, the 'versions' are for the most part different songs. Ironically enough the "Edit" is the longest track. Live drums, a double bass, swirling keyboard melodies and unrecognizable samples grace the 30 minutes of this four song gem. The songs go from moderate paced jam sessions to beefy punchy beat happy heart thumpers to a lullaby even. If we're lucky in the USA, we'll get this as a bonus disc with the other EP along with a release of "Eph." Unfortunately, the USA will have to wait patiently to be conquered by Fridge, in the meantime RUN, don't walk to get this EP.- Jon Whitney
AUTECHRE, "EP7"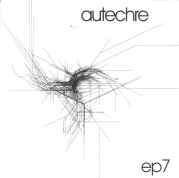 No more than a year has passed since Autechre's "Lp5", and already the boys are back in fine form. Clocking in at a hair over seventy minutes (should make the Ae junkies feel better about paying full price for an Ep), with 11 tracks, Booth and Brown continue deconstructing every form of electronic music that gets in their path. The album starts off slow, with the almost throw-away "Rpeg", but follow it up with "Ccec" and "Squeller", both sounding like hip hop's cracked mirror reflection. "Liccflii" is high speed Ae, with what could be a conversation between R2D2 and Ae's synth banks and beatboxes. A lot of the material here eschews the drawn-out noisy tunes of "Lp5" and returns to the more straight forward electronica of "Tri Repetae" or even "Amber." The old melodies run rampant all over "Maphive 6.1", the first Ae track I know of with distinguishable samples (what sounds like acoustic bass and orchestral bass drum), and a tune your girlfriend might even like! Often imitated, but never duplicated, Autechre continue to be one of the strongest forces propelling modern electronica today. To appropriate a Dennis Rodman line, "You can't mess with the master." - Jason Olariu
DAVID BYRNE, "IN SPITE OF WISHING AND WANTING"


David Byrne doing music for dance isn't anything new. "In Spite of Wishing and Wanting" is music for a production by Wim Vandekeybus. This time, Byrne experiments with instrumental tracks featuring oddball voices, violins, saxophones and didgeridoos (that at its best could sound a bit like Tortoise). The album also features two remixes - 'Fuzzy Freaky' from this album and 'Dance on Vaseline' from his last album "Feelings". The Fuzzy Freaky remix by DJ Food is decent, but nothing special: some basic drum beats with Mac generated computer voices. The 'Dance on Vaseline' mix is probably the most interesting part of the entire record: a 20 minute remix with cut-up samples and a Byrne's signature happy Latin feel. The album is only available online and at the shows but it's not that hard to find. - Ben Adams
RYOJI IKEDA, "MORT AUX VACHES"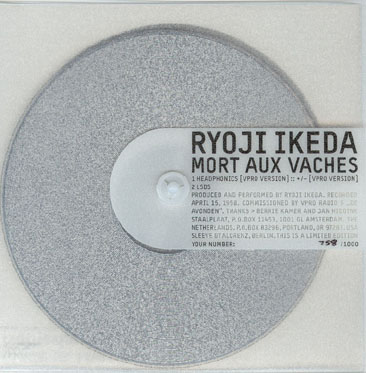 I hope somebody's listening out there: STOP MAKING SHITTY PACKAGES LIKE THIS. This is the second CD I have received from this, the first one was broken because Staalplaat decided to be all special and pack this damned thing in flimsy plastic with a pin through the center, making it all too easy to crack. The CD itself is decent, but it's just a VPRO radio session with selections from Ikeda's +/- and Headphonics. There's a little bit more added, some music! Backing up the blips, pops and pong sounds are some spacious soundscapes that are rare for Ikeda. The disc is pretty short however, and the added bonus doesn't justify the shitty packaging, price and risk of the disc getting broken in the mail.- Jon Whitney
NEW
RELEASES
MONDAY
Fridge - Of 12"/CDEP (Go Beat, UK)
Ken Ishii - Misprogrammed Day 12"/CDEP (R&S, Belgium)
Kreisel [Mike Ink and friends]- Kreisel 99/29 7" [ltd edition] (Kreisel, Germany)
Peshay - Miles From Home CD/4xLP (Island Blue, UK)
Pet Shop Boys - Don't Know What You Want two CDEPs (Parlophone, UK)
Squarepusher - Maximum Priest 12"/CDEP [mixes by Autechre and Luke Vibert] (Warp, UK)
TUESDAY
Alp - At Home With Alp CD (Soleilmoon, US)
Nigel Ayers & Randy Greif - Build a Poison Fire CD (Soleilmoon, US)
EPMD - Out Of Business & Greatest Hits 2xCD (Def Jam/Universal, Canada)
Randy Greif & Robin Storey - Nail of Pious Bride CD (Soleilmoon, US)
Nine Inch Nails - The Day the World Went Away 12"/CDEP [12" includes mix by Porter Ricks] (nothing/Interscope, US/Canada)
Pehsay - Miles Away From Home CD (Island/Universal, Canada)
Schneider TM - Moist CD (Mute, US)
Squarepusher - Maximum Priest CDEP [mixes by Autechre and Luke Vibert] (Warp/Nothing, US)
Robin Storey & Nigel Ayers - Perfidious Albion CD (Soleilmoon, US)
* Swans - Public Castration is a Good Idea live CD (Thirsty Ear, US)
Unit - The Narcoleptic Symphony CD (Caipirinha, US)
Various - Contemporary Passive Trashcan Vol. 1 CD-R (stm.div muSIK/Deadculture, US)
THURSDAY
Brume - Krieg CD (Intransitive, US)
Roel Meelkop - 6 (Mailcop Rules) CD (Intransitive, US)
FRIDAY
* Bernocchi/Kondo/Laswell - Charged CD (Sony Techno, Japan)
Breakbeat Era [Roni Size, DJ Die, etc.] - Breakbeat Era CDEP (Sony Techno, Japan)
LTJ Bukem/Various - Earth Vol. 4 CD (Sony Techno, Japan)
Miles Davis/Bill Laswell/Various - Panthalassa: The Remixes 12" [ltd edition with mixes by DJ Cam, King Britt, DJ Krush] (Columbia, Japan)
Squarepusher - Maximum Priest CDEP [mixes by Autechre and Luke Vibert] (Warp/Sony Techno, Japan)

For a more comprehensive release schedule stretching far into the future, please check out the NEW RELEASES brought to you by Greg and Feedback Monitor.
CONCERT
REPORT
MATMOS/LESSER
Matmos (with Jay Lesser in tow): One guy made sounds with various odd instruments, the other sampled those sounds and worked them into the rhythm. A neat technique, I'd only seen it previously used by noise acts. Lesser helped out by providing additional rhythms, etc. Live version of "The West" kind of meandered, but the tracks before and after had quite the groove. Final track involved Jay getting sounds from another members skin using some sort of probe. It was hooked up to a camcorder that was projected on the wall, so you could see what he was doing. Made very neat clicking sounds that varied in pitch and speed as he moved it around. Unfortunately, part way through a cord was tripped and the show just sorta stopped.
Lesser: Jay alone. Various beats and sounds, similar perhaps to Persona's set but seemed to have more depth. A few spots where things got mangled, but for the most part it was spot on. Most excellent. Ended with Jay knocking a beat back and forth as if it was a game of ping pong. Quite incredible sounding. Proved Americans can make "techno" music as well, if not better than, the Brits. Also showed that it can be sucessfully done live without simply pushing play on a DAT or laptop. - Jason J. Tar
MOVIES
REVIEWED
BLAIR WITCH PROJECT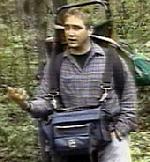 I saw this movie Wednesday night. It is Friday morning as I write this review. I haven't slept peacefully for two nights now. Every small noise has me awake in fright. Thank you so much, Blair Witch Project. I was not once scared at the screening of this movie. It was damn cool, and I anticipated every moment they would come up with something else to make this film great. But fuck, it creeped me out. Filmed with hand-held cam-corders and 16mm b&w film, the documentary feel to it helps it along even better. And the special they are showing on the Sci-Fi network inculdes the back-story. - Thomas Guttadauro
RUN, LOLA RUN


The general promotion of this film, some chick with dyed-red hair and tattoos, made the movie seem like an 18-year old hipster wanna-be fantasy come true, and I figured I would probably never see it. However, 90+ degree weather gets me into many a movie. This wasn't as bad as I feared, generally entertaining. Lola's boyfriend is gonna die in 20 minutes unless Lola comes up with $100,000. She gets three tries to get it right. It played like a "What if Natural Born Killers was a decent movie" movie but in the end, it's just eye-candy requiring no deep thought. Stupit germans.- Thomas Guttadauro
THE INFINITE PROMISE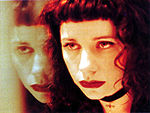 Ed Ka'Spell, Steve Albini and John Balance all compete for the affections of PJ Harvey. A powerful film that moves at a break neck speed follows these four from Atlanta to the Netherlands in pursuit of love, truth and finally answers the question "What is Art?" The soundtrack includes new tracks from Coil, Jarboe, Halfer Trio and Nurse With Wound. Very sweet and artsy. Directed by Honda Ishuro. - Thomas Guttadauro
DISCOUNT
CELEBRITY
OF THE
WEEK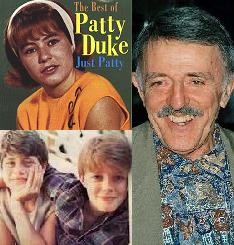 THE ASTIN FAMILY
You keeping score at home?? Well, first we have John Astin, who was a great actor who starred as Gomez Addams on The Addams Family, The Riddler on Batman in the 60s and Harry's father on Night Court in the 80s. He married Patty Duke, star of the Patty Duke show and other forgotten television shows. They spawned Sean Astin (The Lost Boys, Goonies) and Mackenzie Astin (Facts of Life in its last seasons, "I Dream of Jeannie - 15 years later"). Adorable people, great actors but absent from the A-list for quite some time. They're trying, give them credit. Mackenzie's role in last year's The Last Days of Disco might give him a fighting chance on the indie film circut while rumors of Sean being in The Lord of the Rings could also potentially take him out of the discount bins. An Astin Family Christmas special would probably only hurt their chances...