MUSIC
IN BRIEF
SCANNER, "LAUWARM INSTRUMENTALS"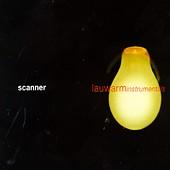 As I put this CD on, the smooth scapes sounded like soundtrack music: a nice quaint album to do some work to. Dinner was being prepared by my roommate and his girlfriend, we were about to be served. The CD did provide a great soundtrack as we sat down, the pace picked up. Little bits of stylistic beats started filtering in and before long the quiet dinner conversation went from a dull roar to a yelling fest about how embarassingly drunk you got last night at the party. So as i sat back and watched them nearly break into a fist fight, the music got more aggressive, louder and harder. Finishing up the dinner the mood and the music together all calmed back into a pretty and quiet wash, and there was peace again in the house. I like that Scanner has progressed on from his beginnings (the scanned conversations with sparse music) to showcase his composition and production talents. - Jon Whitney
THE SWANS, "PUBLIC CASTRATION IS A GOOD IDEA"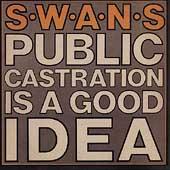 This is a collection of live recordings which were made in 1986 during the Greed/Holy Money tour. Originally they were released on a double LP, but in a very limited edition. For a live stereo recording, the quality is not bad at all, and the CD track breaks are right on the beginning of the song, which is quite nice. The liner notes are quite sufficient. As for the music, it's very dirgey, thrashy, slow and pounding, and most of the time, Gira is wailing out words that are for the most part, unintelligible. This is probably a desired effect that comes from all the sound processing they perform on the guitars, providing very stunning reverb and echo feedback which produce rather hypnotic sound fields. You gotta hand it to Thirsty Ear - their reissues of very rare and unavailable recordings make it very easy to start or complete a collection of music by the Swans. There are a number of other bands I can think of which would be doing a great service to their fans (and hopefully themselves) by following this example. - Alan Ezust
SQUAREPUSHER, "MAXIMUM PRIEST E.P."


Out of the four new tracks on this Ep (really three and a half!), "Our Underwater Torch" and "You're Going Down" showcase the subterranean post-rock funk Tom Jenkinson is slowly sliding into. Not a bad direction to head into, because he can do a mean Fridge imitation, and it is a great venue to show off his bass and guitar chops. Why the change, though? Thankfully he includes a new tune here, "Decathlon Oxide", that is straight out of his "Feed Me Weird Things" memory banks, with all the Acid traces wiped clean. The remixes of tracks from his past two releases aren't terribly necessary, though. The Autechre mix is great, but they leave their muddy footprints all over it, practically obscuring the original and turning it into an Ae tune. The others, by Matt Yee-King and Wagon Christ hold true to the source material, turning in a squelchy cut-up and a shrunken Big Beat reading of Mr. Jenkinson's tracks, respectively. The remixes are forgettable, and while the new tracks are promising, having so few of them on here makes this EP unessential. - Jason Olariu
MUSLIMGAUZE, "BOX OF SILK AND DOGS"
If the feverish pace of new Muslimgauze releases wasn't already frequent enough for you (often 1 to 2 cds every few months), this may tide you over for awhile. "Box of Silk and Dogs" is the long awaited, limited edition (250 for Europe, 250 for the U.S.) treasure that Muslimgauze addicts have been yearning for. It actually has nothing in common with a "box". Closed it's 16 inches high by 6 inches wide and about an inch thick. The outside is heavy black pressboard with simply the title and "by Muslimgauze" in black/white print. Unfold the 4 flaps and you have a 24 inch wide display of 9 cds and backing photo of 2 shrouded people with rifles (the artwork on the cds help make up the picture). 3 of the 4 panels have foam knobs for 3 cds apiece and the 2nd panel from the right is where a short biography, limited edition discography and subscription/future releases info resides. Underneath each cd is the cd title, tracklisting and various pictures of Middle Eastern females. As usual per Muslimgauze, the artwork/packaging is suberb. Now, the music: nearly 7 and 1/2 hours of new music, all recorded in the fall of 1998. I've listened to all 9 cds at least twice so far, it's a bit difficult to take in this much in such a short amout of time but I can definitely say that this is predominantly beat-driven Muslimgauze. Tempos are highly varied and every possible style and sound seems to be explored: acoustic and electronic percussion of all sorts, electro, old skool hip hop, drum 'n bass, etc, etc and a few in the dub vein. I'd say 98% of the tracks have a rhythm of some sort. There isn't too much in the way of dialogue/voice samples, but there are plenty of blips, bleeps, atmospheres, electronics, effects, volume cuts and swells, etc. I listened to all 9 discs in a row a few nights ago and didn't skip a single track. Maybe I was in a trance? Or maybe it's really that good? I'm not really sure! Regardless, I'm very impressed. There's no mistaking any of this as the work of the one and only Muslimgauze. "Box of Silk and Dogs" is quite the testament to Bryn Jones prolific nature, talent and legacy, he will be forever missed. Get this now, if you can, before you end up paying 10x the original ~$100 cost on Ebay ... - Mark Weddle
PLAID, "REST PROOF CLOCKWORK"


I'm more impressed with this, Plaid's second full length album on Warp/Nothing than their rather sleepy first release last year. It's no big surprise that since this album's cover resembles Nightmares on Wax's "Car Boot Soul" the music contained herein is quite similar too. I'm not disappointed, it's got a gentle mix of samples, scratches, breakbeats, and slow grooves to keep your head nodding as well as some spacious slow tempo bits to underscore a beautiful evening. While Plaid showcase their ability to produce wonderful melodic guitars with lush reverb or beats with extra special attention paid to original detailing, they're sort of lacking in the tune department. The problem with not being a strong tune writer is that while this disc basically sounds wonderful, some of the melodies might wear thin after a short while, and this disc will end up collecting dust in a corner. Regardless, do this album justice and play it on a loud system with your speakers set far apart, late at night with all the lights out. Let your imagination do the rest. - Jon Whitney
NEW
RELEASES
MONDAY
Co-Fusion - Zit'r Bug Remixes 2x12" [mixes by Thomas Schumacher, Laidback Luke & DJ Shufflemaster] (Sublime, Japan)
Electronic - Late at Night 12"/two CDEPs (London, UK)
Alec Empire - DHR Limited 009 CD/LP [limited 8-track mini-album] (DHR, UK)
Fire * Ice - Midwinter Fires CD (World Serpent, UK)
Kreisel [Mike Ink and friends]- Kreisel 99/30 7" [ltd edition] (Kreisel, Germany)
Machine in the Garden - One Winter's Night CD (World Serpent, UK)
µ-Ziq - Royal Astronomy CD/2xLP (Virgin, UK)
Pet Shop Boys - Don't Know What You Want But I Can't Give It Any More 12" (Parlophone, UK)
Plaid - Booc 12"/CDEP (Warp, UK)
Quannum [DJ Shadow, Blackalicious, Latyrx] - Spectrum CD/LP [intial editions in special packaging] (Mo' Wax, UK) Sol Invictus - All the Strange and Rare CD mini-album (World Serpent, UK)
Neil Sparkes & The Last Tribe - Burning Mask CD (Interchill, Canada/UK)
Tricky - For Real 12"/two CDEPs (Island, UK)
Various - Osmosis CD [budget priced compilation with new and exlusive tracks from the Leaf roster] (Leaf, UK)
TUESDAY
Faith & The Muse - Evidence of Heaven CD (Neue Aesthetik, US)
Fall of Because - Life is Easy CD (Invisible, US)
L.S.G. [Oliver Lieb] - Into Deep CD (Superstition, Germany/US)
* Lamb - Fear of Fours CD/2xCD [double CD is a US-only limited edition including a bonus disc of remixes] (Mercury/Island, US)
Lords of Acid - Expand Your Head CD/LP (Antler Subway/Never, US)
µ-Ziq - Royal Astronomy CD (Astralwerks, US)
Various - Unknown Werks CD (Astralwerks, US/Canada)
WEDNESDAY
Towa Tei - Last Century Modern CD (Warner, Japan)
FRIDAY
Co-Fusion - Live & Remixes 2xCD [disc 1 is live; disc 2 collects the earlier Zit'r Bug Remixes and Cycle Remixes vinyl releases plus exclusive mixes by Claude Young Jr., Funk D'Void, Seiji and Captain Funk] (Sublime, Japan)

For a more comprehensive release schedule stretching far into the future, please check out the NEW RELEASES brought to you by Greg and Feedback Monitor.
CONCERT
REPORT
LOOPER
Should music that has really nothing new to say be judged harshly for its lack of innovation? Well, that depends on whether or not it possesses the adorable and endearing charm of Looper. Looper is the bouncy, giddy side project of Stuart David, the bassist for Glaswegian cuddlecore phenoms Belle and Sebastian, and his artist wife Karn. Those in attendance familiar with Up a Tree, the band's only full-length effort to date, undoubtedly enjoyed hearing those same gay tunes reproduced on stage.
Looper kicked it all off with "Impossible Things", which stayed faithful to the studio version to the extent that Karn even struck keys on an old, clacking typewriter during the first 20 seconds of the song. They then carried on with "Burning Flies" and "Ballad of Ray Suzuki", and really earned the applause of the crowd with "Space Boy Dream", a Belle and Sebastian song written by Stuart David. At this point, the mystery of whether or not Looper might play some new material was completely dissipated, as Stuart and Karn scampered off into the twee joy of "Who's Afraid of Y2K?" with Stuart asking the throng if everyone was Y2K-compliant. It was a night of laughter and bad dancing for the claustrophobia-immune crowd, which consisted of Middle East regulars, young, starry-eyed glitter boys and girls, and a fair amount of Belle and Sebastian devotees. The show suffered from bad sound equipment, but even that couldn't dampen the glee of the music of this nifty little band.
Sure, from the vaulted, rose-coloured windows of the underground music scene, Looper's music might seem trite, even silly, but most in attendance were in a happy state of youthful exuberance upon exiting the packed, smoky venue. From the lovable antics of Stuart, including his innocently funny humour and his bright yellow flashlight eyeglasses, to the juvenile beauty of Karn's xylophones, Looper thumbed their noses at the pretensiousness of the "scene", and laughed while they did. - Sean de Vega
MOVIES
REVIEWED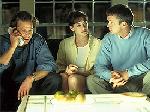 ARLINGTON ROAD
I was pretty bored with this movie for the most part. Tim Robbins and Jeff Bridges are good actors, but it seemed like your typical dull "pot-boiler," that is, until the last five minutes where everything falls into place. Half-assedly recommended. - Thomas Guttadauro
PARTY MONSTER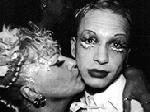 This short film (60 minutes) is the true-life story of Michael Alig, leader of the "Club Kids" scene in NYC, who ended up in jail for murdering his lover, putting the body in a suitcase, and sailing it out to sea. This is a documentary that is put together using interviews and videocam footage. The documentary provides a close look at Michael Alig's depravity, but fails to explain what really motivated him. At points, the characters' depravity is quite silly and amusing. A good movie to watch while sitting on the loo. - Sal Darji
BUENA VISTA SOCIAL CLUB


Pretentious Goth, Indie or whatever you listen to got you down? Doesn't excite you like it used to? Then see this movie, you dumbass. Everything that is right about music crammed into 90 minutes. The musicians that are the focus of the movie just sparkle. It will repair all the damage Can't Stop the Music did to your soul. - Thomas Guttadauro
RAW IMAGES FROM THE OPTIC CROSS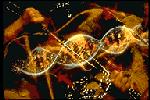 Th is 25 minute film is about the journey of the filmmaker to Germany to understand his father's experience as a holocaust survivor that was never in the concentration camps. The filmmaker is not able to reconcile his feelings, and has created this video-montage to explore his feelings for his father and the holocaust. The images in the film are raw, and often delve into mystical symbolism, while the music is haunting and quite powerful. Something serious to watch between the Simpsons and the X-files. - Sal Darji
CAN'T STOP THE GOTH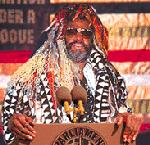 Ed Ka'Spell and John Balance are reunited in the roles which propelled them to fame, while George Clinton takes Steve Albini's place as the trio travels to Mexico City to drop the P-Funk and undo the damage the Village People had sown with the Special Edition re-release of Can't Stop the Music. Honda Ishuro returns as director, and this time returns to his roots, bringing Mothra and Mecha-King Ghidorah over from Japan to cause some Kaiju Stomp. More slapstick in this movie than the other five films in this series, but it's not inappropriate. This movie acts as a prequel of sorts to "The Infinite April Fools Joke in July." Ka'Spell and Balance reignite their on-screen chemistry, but Albini is sorely missed, despite Clinton's fine performance. Rumor has it Albini will return in the seventh installment of Ishuro's "Sunfish" series, Viva Las Vegas 2: Electric Boogaloo. Soundtrack includes new entries from Coil, The The, Motion Picture, Parliament and John Lennon. - Thomas Guttadauro
FEEDBACK
YOU SUCK
Subject: thomas g's reviews
i don't like thomas's reviews. he complains too much. he is way too cool to admit that he liked the phantom menace. (c'mon, it was entertaining as fuck) "blah blah blah movie sucks. blah blah blah." it sounds like he's trying to be this vast wealth of knowledge of the silver screen. fuck it. i think they suck. shitty reviews. bad.
Your review of his reviews sucks. We still welcome contributions...
---
Subject: your news page

hello.

today, I noticed on your news page, the following item re: THE INFINITE PROMISE

I would like to inform you that I had no previous knowledge of this film, or my supposed involvement in it. may I ask where you got this information from? oh, and you spelled my name wrong =)

best,

andrew mckenzie
h3o

"Haw haw haw. Only amateurs do their April Fooling on 4/1!" - Tom "the fish" Guttadauro
---
Subject: wanker alert part 2

oh it's me again... First of all thanks for the Do Make Say Think review. These guys were voted best band in Toronto last year by Now Magazine and just rock. I've seen them in many incarnations...mainly because the guitarist's sister is my roomate.
k, is this some American term or what??? "a tune your girlfriend might even like." Autechre is one of the more accessible groups that you guys have reviewed lately. Just because Coil, NWW, etc seem to be made by lonley single men for lonely single men to listen to alone in the dark, doesn't mean that there aren't female fans. bye

Once again, thanks for sounding off and speaking up for the rest of the girls in the world, and once again I ask for female contributors...
---
Subject: street teams?

Hey I was wondering if you have a street team? If you do I would be interested in helping. Please let me know. Thanks!

Yes, we're squaring off against Team IUMA this Sunday on the corner of Main St. and 53rd. Bring your cardboard and ghetto blaster. See you there!