MUSIC
IN BRIEF
FIRE ESCAPE, "ABANDON HEAD"


As a former member of Meat Beat Manifesto, Jonny Stephens could have done things the easy way by happily producing music in a similar vein to MBM and offering it to an already established fanbase. But instead, he's taken his Fire Escape solo project into directions that have little or nothing in common with his former band - save the fact that they're both based on electronic sound. Quite simply, Abandon Head is a collection of wonderfully smooth and loungey pop songs (yes, I said "songs", as in verse-chorus-verse and all that) featuring clever lyrics crooned by Mr. Stephens in a voice that for some reason reminds me of stuff I listened to back in the 80s (and I mean that it a good way). Elements of current "hip" styles are in evidence here and there, like the drum'n'bassy backbeat on "The Same Thing" and the perky techno of "Wasabi". But in general, the album sounds neither sadly dated nor hopelessly modern, giving the set a strange timelessness that should help it hold up to the numerous listens I expect to enjoy in the future. - Greg Clow
LAMB, "FEAR OF FOURS"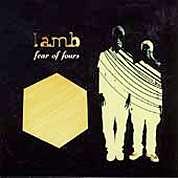 From the very first opening notes, you can tell something intense is in store. Well worth the wait, Lamb have taken their good time with this, their brilliant follow-up to their stunning self-titled debut long-player. I can't remember the last time I was as excited to jump in the car and drive to work - just so I could hear an album on the loudest settings in a completely enclosed environment... Giorgio Morodor may have laid the blueprints 21 years ago with Donna Summer on "I Feel Love," but nobody expanded on the concept at the time: a beautiful female vocal delicately blanketing over calculated jagged abrasive beats. Lamb did it quite well with their first one and do it superb the second time around. If you're not familiar with Lamb, this CD is not much different than the formula from the first disc: carefully constructed, crisp and clear drum 'n bass rhythms, live organic double-bass, trumpet and violins here and there with Louise Rhodes' distinct voice - the tunes showcase their jazz vocal and orchestral influences as well as the influences of their beefy Manchester surroundings. Their formula works and they do it perfectly, with bonus points for precision and accuracy. There's nothing sloppy or accidental on this release - it's a fine work of art. There's excellent interplay with sharp beats, effects and noises, cleverly disquised 808 drum machine sounds popping up here and there, and a couple token beat-less tracks like the album's closer, "Lullaby" (originally the b-side to "Gorecki" from their first disc). The first single, "B-Side" is powerful and intense, but short and direct. If you blink, you'll miss track 4 (which isn't even listed) completely. If you're in time, you'll be able to snag the limited release of this disc with the bonus CD of remixes. With any luck, they'll tour the USA again this year - a show not to miss.- Jon Whitney
BROKEBACK, "FIELD RECORDINGS,..."

Douglas McCombs, formerly of Eleventh Dream Day and currently in Tortoise brings us his first full lengther under the name "Brokeback". Doug has a little bit of help from a lot of his friends on this, including appearances from members of Stereolab, Isotope, Chicago Underground, Directions and other Tortoise friends. With John McEntire at the mixing/engineering helm, the output is brilliant. A very signature style comes into play when the 6-string bass and lap steel guitar sound up on tracks like "The Field Code". The music is calm and charming, stripped down and almost bluesy, even of train-station rock sounding at times. Listening to this, the picture becomes clearer as to who's responsible for which parts of Tortoise songs - most noticably "The Great Banks" is definite a nod to "Along the Banks of Rivers". If you missed the first couple 7" singles from Brokeback, fear not as the tracks are included in this fine collection here. - Jon Whitney
MELLOWTRONS / MEAT BEAT MANIFESTO
A Meat Beat 12" on Skam? Well, maybe a Mellowtrons 12" with an MBM re-mix (which I think is more accurate). These two tunes sound pretty Meat Beat-y to my ears. Both are slow with dub-y bass lines, lots of blips and bleeps, some short atmospheric interludes, weirded out intro and outro spoken samples, etc. "Bittersweet.." is more bass driven with a heavy, distant beat loop. It's good, but a little dull in comparison to the flipside. "Not Playing God.." has a more up front beat and more depth: scratches, samples, squelchy keyboard lines and floaty atmospheres. There's only one Jack Dangers. The black/white paper insert is a short account by The Mellowtrons of the 3 days spent with Dangers in which the remix was done (near the end of work on Meat Beat's '98 album "Actual Sounds + Voices"). All in all a decent 12", but probably only absolutely necessary for the must have everything MBM completists ... - Mark Weddle
ART OF NOISE, "THE SEDUCTION OF CLAUDE DEBUSSY"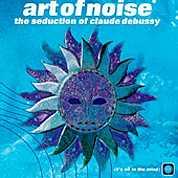 The Art of Noise return with their first album of all new matierl in nearly a decade (perhaps even more). This time around, the original AON lineup seems to be nearly completely restored. Trevor Horn steps back in from the past to join Paul Morley and Grammy & Oscar award-winner Anne Dudley, yet J.J. Jeczalik is nowhere to be found. The album is somewhat predictable, however. A finely produced lush arrangement of strings and beats, vocal samples added here and there, bright pianos and pretty voices. The theme here is, of course, Claude Debussy, and has a few references to his works. An annoying voice, however narrates the beginnings of nearly every song on here. Esteemed rapper, Rakim makes a special appearance on three tracks however, adding an unexpected dimension to Art of Noise and there is a limited 2 disc release of this with bonus mixes, etc. It's nice to listen to, yet I doubt it'll get much circulation in the Whitney machines. - Jon Whitney
CHEMICAL BROTHERS, "SURRENDER"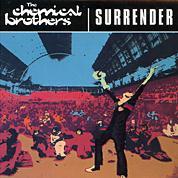 This disc, along with every other Chem Bros. disc can be summed up in two words, "ear candy." Oh, it's tasty and delicious, especially the track with Hope Sanduvall from Mazzy Star. The rest of the disc is the typical beefy, punchy, four on the floor beat techno that 808 State was doing 9 years ago. Given there's a little bit of modern 1999 sounds, there's more play with old formulas and even an ancient Casio-tone drum pattern here and there. Completely embarassing to own and oh so fun to listen to. I'll be blasting this one for a while - and most likely skipping the Noel Gallagher track every time. - Jon Whitney
RED HOUSE PAINTERS, "RETROSPECTIVE"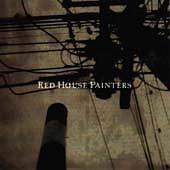 Although I love Red House Painters, this is a sad attempt for 4AD to cash in and jump-start their back catalogue on the best band they ever signed and dropped. Two discs, one to introduce new people to songs from Red House Painters' 4AD catalogue (songs any fan knows by heart at this point) and a second disc of outtakes, demos and live radio versions. There's nothing really new on here except for a mysterious untitled track recorded in the earlier part of RHP's professional career. Hardly worth the $15 for a fan, and somewhat unadvisable for someone just getting into their music. Buy each of their albums, there's only 5 - you can skip on this one as wonderful as the songs are.- Jon Whitney
NEW
RELEASES
MONDAY
Basement Jaxx - Rendez Vu 12"/CDEP (Virgin, UK)
Breathless - Blue Moon CD [first 1000 copies include bonus instrumental CD entitled Moonstone] (Tenor Vossa, UK)
Blackalicious - Deception 12"/CDEP (Mo'Wax, UK)
Chemical Brothers - Let Forever Be 12"/CDEP (Freestyle Dust, UK)
Myungho Choi - Passenger 12" (Transit, US)
Thomas Dolby - 12 X 12 Original Mixes CD [collection of twelve original 12" mixes, many previous unavailable on CD] (UK)
Einsturzende Neubauten - Total Eclipse of the Sun CDEP (Mute, UK)
Alec Empire - DHR Limited 009 CD/LP [limited 8-track mini-album] (DHR, UK)
Innerzone Orchestra [Carl Craig] - Programmed CD/LP (Talkin' Loud, UK)
Plaid - Booc 12"/CDEP (Warp, UK) [note that this release is unconfirmed - the info came from distributor sheets, but there's no mention of it on the Warp website]
Sneaker Pimps - Low Five 12"/two CDEPs (Clean Up, UK)
Talk Talk - 12 X 12 Original Mixes CD [collection of twelve original 12" mixes, many previous unavailable on CD] (UK)
Tricky - For Real 12"/two CDEPs (Island, UK)
Various - Osmosis CD [budget priced compilation with new and exlusive tracks from the Leaf roster] (Leaf, UK)
TUESDAY
* Basement Jaxx - Remedy CD (Astralwerks, US - XL/Beggars Banquet, Canada)
DJ Cheb i Sabbah/Various - Shri Durga Remixes 12" (Six Degrees, US)
Laminar - Ante-chamber CD (Soleilmoon, US)
* Lustmord - Paradise Disowned CD and Monsterous Soul CD [midprice reissues] (Side Effects/Soleilmoon, US)
Tricky - For Real 12" (Island, US)
Various - Techno Bass: Mission II CD (Direct Beat, US)

For a more comprehensive release schedule stretching far into the future, please check out the NEW RELEASES brought to you by Greg and Feedback Monitor.
MOVIES
REVIEWED
DROP DEAD GORGEOUS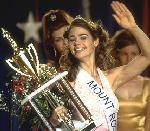 IOK, so the premise seems pretty lame: a fake documentary about a beauty pageant in the heart of Minnesota. But since I have a soft spot for Kirstie Alley and funny midwestern accents (too many viewings of Fargo warped my little mind), I was inevitably drawn to this film, and was happy to find it to be a wonderfully twisted black comedy involving cat fights, a (not quite) reformed child molester, a dull witted fat man (and his even more dull witted and fatter brother), a hunting "accident", a psychotic mother, a bigoted and sexist father, an exploding thresher, an exploding parade float, an exploding trailer, a beer can fused to human flesh, and the most surreal assortment of 17 year old girls you could ever imagine. My only complaints are that the film slips out of the faux-documentary mode too many times to keep the "illusion" going, that it drags a bit towards the end, and that they should've kept the film's working title of "Dairy Queens". - Greg Clow
EYES WIDE SHUT

I've gone to see this movie twice already. A lot of people want to compare it to A Clockwork Orange, Full Metal Jacket, etc., in so far as wanting Kubrick to outdo his past works. I don't know about outdoing them, but he seems to have more hidden complexities in this film than in the others - so much, in fact, that it's not completely possible to soak up everything in one viewing. He seems to have mastered on screen the overall feeling of awe and wonder; this movie makes you think. - Daniel McKernan
First off everyone should know that this movie is all about fucking, the side-effects of fucking, and a big costume party orgy. So if you don't like fucking then dont go. However, this is not just some porno with Stanley Kubrick as the director. It has all of it's secret little meanings and lessons throughout the movie which can be quite depressing; but it also has plenty of comedy to go along with it. Sick? Maybe. But arent all of his movies a little sick? So if you liked Kubrick's past films, or if you like black humor then chances are you'll like this one. It clocks in at a good 2 1/2 hours, but not once does it get boring. - Brad Payne