MUSIC
IN BRIEF
ISOTOPE 217, "UTONIAN AUTOMATIC"

The opening track, "LUH", hits the ground running with breakneck drumming and vampy organ stabs, and drops out halfway through to reveal a crackly static loop and sultry cornet. This album is a much darker affair than their debut album, "The Unstable Molecule", and less coherent. Not to say it's a mess, but while their debut had a solid sound that matched dub to a 60's Blue Note feel, this album is all over the place stylistically. "New Beyond" is creepy, with it's walking baseline and electronic burbles and percussive echoes that wander in and out of focus. It's the perfect soundtrack to being followed, with hungry, undistinguishable shapes lurking in the shadows. After the mostly unremarkable "Rest For The Wicked", things really heat up with the scorching Latin beat of "Looking After Life On Mars." There is so much soul and fire here, like vintage Santana, it's hard to believe it comes from the cold and mopey recesses of the Chicago underground! The remaining two tracks, with Jeff Parker's clean guitar at the helm, cool everything down with beautifully somber slow waltzes. While the breadth of styles here seem almost ADD fueled, it's put together to play smoothly from start to finish, with lots to enjoy inbetween. - Jason Olariu
AL JABR, "ONE MILLION AND THREE"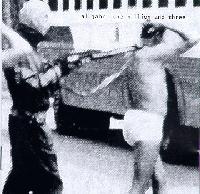 Al Jabr is the latest moniker of Richard H. Kirk, long time member of Cabaret Voltaire and a very productive solo artist. In the 5 years since the last Cabaret Voltaire album, 1994's "The Conversation", Kirk has released well over a dozen discs of material under various names: Sandoz, Sandoz in Dub, Trafficante, Nitrogen, Dark Magus, Sweet Exorcist, Agents with False Memories, the Electronic Eye and his given name. If you're familiar with any of Kirk's previous work than you have a pretty good idea what to expect from him here. "One Million and Three" is by no means a huge step forward for Kirk, but it does contain plenty of what he does best: laid back analog groove. Kirk re-arranges all of his standard tricks: looped layers of analog synths, effects, short spoken samples, down tempo beat and bass patterns, etc. All these things unite into an afro-tribal-electro-funk melting pot. The production is gritty and intentionally distorted at times, there's even a clever disclaimer in the small print on the backside of the cd: "this product contains distortion". Somewhere in the stacks of gear at Western Works Studios Kirk rediscovered the 'funk' knob and cranked it back up for at least half of this album. "Hard Rain", "Burn Out on Precinct 13" and "Those Who Dare (Funk)" in particular are downright booty shakin' funky. "Spy in the Sky" and "Gone to Earth" standout as shorter, space-y interludes and "Click Click Black" pumps the tempo up with a funky, dance floor friendly drum loop. All in all, "One Million and Three" is very danceable and very Richard H. Kirk. Luckily for him he has a loyal following, such as myself, almost always willing to add another of his discs to their stacks. Kirk's discs typically have slick track titles and design/layout/artwork and this one is no exception. The six page b/w insert has pictures of terrorist activities, black and white mens' faces and quotes such as "until the colour of a man skin is of no more significance than the colour of his eyes" and "if words are your only weapons ... talk fast". I love this stuff and can't wait for the next one (apparently a new "solo" album is due in August). - Mark Weddle
MU-ZIQ, "ROYAL ASTRONOMY"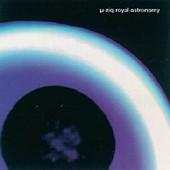 I think I may have missed something. Mu-Ziq was allegedly supposed to be some well-respected electronic outfit with great sounds, tunes and production, right? So I buy this new release, on the good word from people who I trust. Well, I just don't get it. The tunes to me are really corny, obnoxious and over-repetitious. The ideas are simple and unenjoyable and the sounds are cheesy, tinny and all pre-programmed. It sounds like goofy soundtrack music, but everything is familiar - the formula has been used to exhaustion and the themes are all sampled. While there are some enjoyable bassy upbeat nearly gabber-techno spots, all too often this sounds like bad Scooby Doo theme music with cookie-cut drum and bass rhythms. - Jon Whitney
STARS OF THE LID, "GRAVITATIONAL PULL"

Yes, this is an old disc but I want to mention it anyways 'cause it's new to me. "Gravitational.." was originally released by Sedimental in 1995 and then re-released by Kranky in 1997. I picked it up about a month ago after witnessing Stars of the Lid's 30 minute opening set for The Angels of Light. Live, SotL ranged from soft ambience to loud, intense walls of noise as Wiltzie and McBride bathed the audience in heavily treated guitar and sampler sonics. It was really nice. On this disc it's just as nice, but all mellow. Very mellow. The album is one continuous flow of ambience with little in the way of discernable loops or elements. If SotL are using guitars to create these washes of sound, it's difficult to be sure. The music is a hazy blur that creates an engulfing environment. The sounds delicately shift and move, there are no rough edges to be found anywhere ... this is truly the audio equivalent of an impressionist painting. One track in particular makes this album worth the price of admission: the 19+ minute "Cantus II" is a warm, watery hum that gives way to a slow, solitary distant tone. It's absolutely breathtaking! The other four tracks are just as interesting but in a different way. I'm very impressed, this is some of the most emotive "ambient" music I've come across to date. I'm ashamed of myself for letting this one slip through the cracks. Soon I will own everything by Stars of the Lid. - Mark Weddle
NEW
RELEASES
MONDAY
*0/Richard Chartier - 0/r CD [ltd to 500 copies] (12K, US)
Add N To (X) - Revenge Of The Black Regent 7"/12"/CDEP [CD format includes video for "Metal Fingers In My Body"] (Mute, UK)
Lamb - Softly 12"/two CDEPs [mixes by Red Snapper, Bola and Photek] (Fontana, UK)
Andrea Parker - Kiss My Arp Instrumental CD/LP (Mo'Wax, UK)
TUESDAY
Lida Husik - Mad Flavor CD (Alias, US)
Innerzone Orchestra [Carl Craig] - Programmed LP [ltd to 1000 copies on audiophile vinyl] (Planet E/Community Projects, US)
Isotope 217 - Utonian Automatic CD (Thrill Jockey, US)
Madder Rose - Hello June Fool CD (Thirsty Ear, US)
* Pet Shop Boys - I Don't Know What You Want But I Can't Give It Any More CDEP (Parlophone/EMI, Canada)
* Skinny Puppy - The Process CD [reissue] (American/Columbia, US)
Towa Tei - Last Century Modern LP (Warner, Japan)
Peter Ulrich [ex-Dead Can Dance] - Pathways and Dawns CD (Projekt, US)
Tara Vanflower [Lycia] - this womb like liquid honey CD (Projekt, US)
Various - Acid House (soundtrack) CD [new Irvine Welsh film] (Capitol, US)

For a more comprehensive release schedule stretching far into the future, please check out the NEW RELEASES brought to you by Greg and Feedback Monitor.
FEEDBACK
BITCHING BACK
Subject: Star Wars
I did not care for Star Wars. I hate Jar Jar Binks. The #1 defense of Star Wars and Binks seems to be "George Lucas made it for children." I find that a questionable defense. Babe was made for children. Disney's Beauty and the Beast was made for children. The Phantom Tollbooth was written for children. Shel Silverstein and Jim Henson made material for children. Yet none of these works leave an adult feeling insulted. Children are more clever than we give them credit for, and falling to such lame devices as flatulence jokes is just unforgivable in my book.
- Thomas Guttadauro
And if that wasn't enough...
---
Subject: In defense of "your girlfriend"

hello. I am no sexist pig. In fact, I cook and clean and let my girlfriend bring home the bacon. I am also a huge Autechre fan, but my girl is not. She echoes another female friend's opinion when I play them by saying "it sounds like birds fighting in the storm drain!" Out of all the people I know that like Ae, all are men. Who among us doesn't generalize? Next time I'll say it's a tune even Canadian women can like, okay?

- Jason Olariu
---
Subject: brilliant sight, you have

The first thing I would like to say is how thoroughly impressed I am with your web adventures. The most comprehensive I have seen thus far. My name is Gregory Patrick, I am a spoken word artist (much more in the vein of Shrei Oper, though-not conventional speaking) and am embarking on my own self financed operations, self producing my own artistic career. Have worked with Lydia Lunch, Death in June, and Switchblade Symphony and all have helped to make an impressive resume and now I wonder how on earth i might be able get my page up and running with your help.

We're simply not interested - there's no kinder way to say that. Although we add a couple sites here and there, we're really not in the business of opening our doors and giving everybody a web site. Places like that turn into a mess like Geocities, Hyperreal or Southern! The websites we do offer here are through friends and trusted individuals and bands that the staff already know and love and have an existing track record.
---
Subject: praise & bitching

(about the Brainwashed Jukebox)
- Praise : of course, since you offer an excellent way of discovering artists I have already heard a lot about, but not much from ;
- Bitching : indicating the release dates and hat EP/LP the tracks come from would be really nice, since some artists have quite a long discography ; and also mentioning whether these are full tracks or just samples. And also, an index of the bands at the top of the page.

But keep in mind : you deserve way more praise than bitching ! Have a nice day and keep up the good work !

I truly apologize for the lack of information on the brainwashed jukebox. It was thrown together once, long ago to collect every sound sample from the site and put them in one place. It needs a ton of updating and attention. Hopefully soon, someone will get to it...