SITE
A WARM THANKS
Thanks to everybody who took the time and honestly filled out our poll last week. We received an amazing amount of responses. Analysis and results will most likely be up next week or something. We did this for a few reasons: it's the first anniversary and we wanted to see how well we're doing, but we also want to make a point on the validity of internet publications. All too often labels will disregard us because we're not a "print" webzine, but our value to the reader can be much more important than that: people come here because it's free, it's weekly, it's always changing and it is truly a 'niche' market. People generally trust us and we try to only review things that our readers will come back to read. We're unique and there's also no advertising here (and we're keeping it that way) which means you don't have to thumb through cologne or clothing ads to get to something important. It's brief, to the point and gets the message across. It's one page and easy to read, and we try to throw a little bit of light on each week to give it a little bit more personality. (Yes this means we want more promos from cool record companies so we can review them for the world...)
COMMERCIAL MUSIC
Although it looks like another lousy box office snoozer, the music featured in previews of the 13th Warrior is none other than Meat Beat Manifesto! Congrats on the score with that one fellas...
MUSIC
IN BRIEF
THE RED KRAYOLA, "FINGERPAINTING"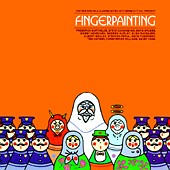 With Mayo Thompson's "nth" release in three decades, he and his various cohorts in the Red Krayola collective appear to be out to achieve one goal: having fun. With Fingerpainting, Thompson delved into archived notebooks of songs and lyrics and pulled out pieces which were then set to the odd musics of synths, drum machines, guitars echoing from outer space, and whispered vocals no higher or lower in the mix than any other instrument. The songs don't seem to have any definitive starting or stopping points, instead blurring together to form a cohesive document of lyrics from 30 years of a wacky existence in the underground of psyche and improvisation. Maybe not the most accessible of albums, but definitely an excellent example of how musicians can just let down their hair and create a recording inspired by innocent fun and goofiness. - Carter Adams
LUSCIOUS JACKSON, "ELECTRIC HONEY"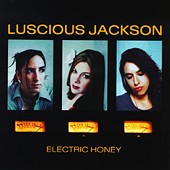 I'm not sure what effect losing Vivian Trimble, the keyboard player in Luscious Jackson, had on her band members personally, but musically it's sucked out a lot of the personal feel that ran through their last album, "Fever In, Fever Out." Reduced to a three piece, the girls seem to be trying to make this year's party album, or just flat-out aping ESG. The warmth Daniel Lanois imbued the last album with is replaced by a shiny, poppy production that doesn't do LJ justice. Don't get me wrong, this CD is pure fun: "Nervous Breakthrough" and "Summer Daze" will have you wanting to rollerskate backwards at the next teen all night skate, and "Fantastic Fabulous" steals a riff outright from Black Sabbath and ends up sounding like Pat Benetar! It's just all TOO mainstream radio friendly, not like the LJ of old. While their chick-funk-rock still succeeds on this, their fourth full-length, it feels like it's starting to get a little too formulaic. - Jason Olariu
JUNE OF '44, "ANAHATA"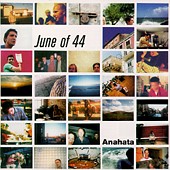 June of '44 was originated from singer Jeff Mueller from the ashes of Rodan (now also playing in Shipping News), Doug Scharin, who has drummed for Directions in Music, Rex and Codeine among about 300+ incestuous post-Slint outfits, Sean Meadows from The Sonora Pine and Fred Erskine from the Crownhate Ruin. Keeping score? Well, everyone who owns June of '44 discs loves them to death and worships Doug Scharin. I've had the pleasure of catching them live a few times and I was never let down. This new album is tough, however. None of the people I know who are die hard June of '44 fans wanted to review this disc because their love for the band runs deep and loyal yet their hate for this album is pretty intense. Maybe I am not completely obsessive enough about June of '44 but I enjoy most of it, it's quite dissonant and about as hard to swallow as sandpaper, but there is a unique charm to it. The voices and tunes are abrasive but not completely unbearable. - Jon Whitney
TACTILE "BORDERLANDS"


"Borderlands" is the first release of the new limited edition Sentrax Collector Series, this one being 500 cds: 131 "special edition" which includes an original ink drawing by Teresa Mills and 369 standard editions with insert but no drawing. I picked up the latter but have seen a friend's copy of the former ... very nice. Both come in a transparent oval fronted tyvek pouch sans jewel case. The seven tracks here are pretty typical for Tactile: rumbling/buzzing drone pieces. The first track, "Grief" stands out in that John Balance of Coil contributes a reading of an original text by William Hope Hodgson over an ominous wave of sound. The remainder of the album seems to explore variations on the same musical theme: there is usually one continuos tone or buzzing hum (they sound like generators of some sort) through the entire track and various other drones/hums/rumblings/buzzes going on in the background, sometimes sweeping up and down and/or panning about the stereo field. It is rather minimal and doesn't vary all that greatly within each track, but each individual track does have a certain tonal nature and feel. "Borderlands" works well as a whole, in fact I believe it is meant to be taken in as one long piece. I am particularly fond of "Teratogenic" ("of, relating to, or causing developmental malformations", according to Websters) and "Perichoresis" due to their slightly higher degree of variation and "Grief" simply because Tactile's sounds serve as a perfect background for Balance's spoken words. This music seems to be intentionally desolate, somber and emotionally bleak ... most likely a result of the recent passing of John Everall's mother at the time of recording. The title and music of "Borderlands" is no doubt a reference to the in-between state of life and death ... - Mark Weddle
SCHNEIDER TM, "MOIST"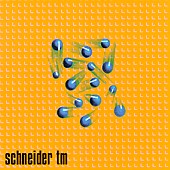 Hypnotic, thumpy and bass-y, Schneider TM's part of the German invasion harvested by City Slang and dealt to addicts like myself in the USA through Mute. The sounds are wonderful and the beats are pretty clean, but there almost feels as if there's something missing. In nearly each track, there's a longing for a "lead instrument" to come out of the cracks and carry the tune to a higher plane of existence. Instead, the tunes just come and go in through one ear and out the other. I love the foundation - the bass and rhythms work wonderfully and I think this album has a lot of potential, yet it seems a touch unfinished. Finally by the last song, an instrument steps in and takes the lead, but it's all a bit too late. Every cloud has a silver lining and this could become a special phenomenon, if all those who bought it recorded new tracks to add to their own personal customized album with Schneider TM backing them up! Okay, maybe that was a stretch... - Jon Whitney
NEW
RELEASES
MONDAY
* Gescom - Keynell 12" [ltd reissue] (Skam, UK)
Kreisel [Mike Ink and friends] - Kreisel 99/33 7" [ltd edition] (Kreisel, Germany)
Neil Sparkes & The Last Tribe - Burning Mask CD (Interchill, Canada/UK)
Tricky - Juxtapose CD/LP (Island, UK)
Underworld - King of Snake 12"/two CDEPs (V2, UK)
* Yazoo - Only You two CDEPs [reissue of this classic single with new mixes] (Mute, UK)
TUESDAY
* Marc Almond - Open All Night CD (Instinct, US/Canada)
Muslimgauze - Lo-Fi India Abuse CD/LP (BSI Records, US)
People Like Us - Hate People Like Us 2xCD [remix album with mixes by Rehberg & Bauer, Christophe Heemann, Bruce Gilbert, Mika Vainio, Venoz [TKS], Felix Kubin, Req One, Katy Brown, Cyclobe, Negativland, Xper. Xr., Dr. P-Li Khan, Death in June, Stock Hausen & Walkman, Boyd Rice, Coil, Mr Rotorvator, Barbed, Sniper, Andy Votel, V/Vm, Dummy Run and Sons of Silence; Soleilmoon edition is a single CD with doesn't include all mixes] (Soleilmoon, US - Staalplaat, Europe)
Tricky - Juxtapose CD (Island, US/Canada)

For a more comprehensive release schedule stretching far into the future, please check out the NEW RELEASES brought to you by Greg and Feedback Monitor.
FEEDBACK
SNOOZE-ICK
Subject: moo-ziq
Wow, I totally agree with your review on Mu-ziq's new CD. Everybody loves him for some reason, but I can't stand him. I bought his last album because I had heard one song from there that was actually pretty good, but the rest of it was just really cheesy - and then I got tired really quickly of that one song I initially liked. Mu-ziq is like taking all the worst aspects of Aphex Twin and inflating them, and to be honest I don't really like Aphex Twin all that much either, I think he's cheesy too. RDJs just a big goofball having a big laugh at all the people buying this silly music he cranks out primarily as a big joke to the whole world. The problem with Mu-ziq is not just that he's doing the same thing, but that he's taking himself seriously and probably thinks hes actually making really good music. but, whatever...
just my opine (of course)
Allegedly there's other people that take him seriously, too. None of them seem to be speaking up much on his behalf, however.
---
Subject: Thrill Jockey index

hey there,

what's that image on your index page??

baffled for now

I think it's a schematic for a record needle.
---
Subject: hello...

i came across your site months ago looking for a thrill jockey site... i only recently delved into who the people are behind the brainwashed site and i came across your site. my question is this: how do i get link text without the line underneath!?!? i'm new at html and have only previously used netscape gold 3.0 for my humble (lets say it like it is... trashy) page. www.siue.edu/~damille (i only recently made the opening image ok.jpg) i plan on a complete overhaul the next couple of weeks as the summer semester of school is out and i can then redo the site... maybe upload it to my home server... anyway, if you could help me out with my question, that would be beautiful, thanks

The tag is located on this page actually right underneath the body tag, in the "style" tag - view the source of this page!
---
Subject: Trans Am Q.

This question has been bothering me since I saw Trans Am w/ Pan Sonic a couple months ago. It's probably a long shot that you could tell me what I want to know based on my vague description.. Anyway. I'm new to Trans Am as far as owning their recordings is concerned (I just bought "Surrender to the Night") and there was one song, especially, that they played live that I would like to own. It was a rather long song, starting off rather indie-rock-ish w/ dirty electronics. However, eventually, the synths droned out and the drummer started fiddling with a drum machine, producing a rhythm I can only compare to Pan Sonic. This lasted for a couple minutes, when they broke back into the original theme. Any idea what this is? I certainly hope it wasn't some sort of improv or a piece they did only on this tour. =)

Quite a bit of their songs actually do similar things like that. I remember from seeing them on this past tour that nearly all of the songs were from their latest album, "Futureworld", if that helps...