MUSIC
IN BRIEF
"ALEC VS. ELVIS" / "MISS BLACK AMERICA"


Start the academic year right with two new items from Alec Empire. First up is the DHR limited release called "Miss Black America" - more dynamic and exciting than any ATR album, this album is full of harsh abrasive gangbuster hardcore digital beats, a little screaming, and even some beat-less 'ambient' tunes, sinister enough with that gentle touch of evil to make them no less powerful than the abrasive tunes. "Alec vs. Elvis" is a limited illegal release of Alec's tribute to The King! There's something very wonderful about Hound Dog with apocalyptic drum and bass thrown in. This release is LP only and can be mail ordered from a few different places but DHR and Alec choose to ignore anything about it. For good reason too, I'm sure Elvis is rolling over in his grave. Both albums I recommend putting onto cassette and the next time you're in the car with your girlfriend/boyfriend, secretly substitute these with their Super Furry Animals cassette.- Jon Whitney
TRICKY, "JUXTAPOSE" / "FOR REAL"

Tricky is back a mere year after "Angels With Dirty Faces" and with a new posse of collaborators, namely DJ Muggs (Cypress Hill), producer Grease, ragga rapper Mad/Street Dog and a few new female vocalists to replace former partner Martina. Tricky's original goal was to create a more mainstream friendly hiphop album with Muggs under the "Stonepony" name, but there was a change of heart somewhere along the way. The result is a much too short "album" of pop, hiphop and "alternative" sounding tunes. "For Real" and "Scrappy Love" are the cream of the crop, the former for it's catchy guitar and piano hooks and the latter for it's cool piano, beats and overall ominous vibe. "She Said", "Call Me" and "Wash My Soul" aren't all that far off from the "Angels.." sound: claustraphobic beat and bass patterns, stabs of electric guitar, female co-vocals, etc. "Contradictive" is really nice thanks to pretty guitar lines and Bob Khaleel's co-vocals. Mad/Street Dog unfortunately contributes his nearly undecipherable British accented ragga vocals to "Bom Bom Diggy" (an otherwise decent song), the dreadful "I Like the Girls" and both versions of "Hot Like a Sauna". "I Like the Girls" is Mad Dogg's chance to share his silly sex escapades over a rather dull orchestral hiphop backing. "Hot Like a Sauna" has a KMFDM vibe (especially the "metal mix" which is heavily saturated with electric guitar samples) and is also marred by Mad Dogg's co-vocals, but is somewhat redeemed by Kioka's chorus vocals. Tricky hasn't changed all that much, he still grunts/whispers his vocals and is exploring many of the same theme lyricallys: drugs, guns, record companies, women, etc. So, overall, this is a decent album but not nearly as brilliant as much of his past work. I think Tricky let the quality control dip with this many hands in the production cookie jar. Hopefully he will realize that he doesn't need anyone else's help to either improve his music or increase his credibility in certain genres. And with any luck the next album will be longer than 36 minutes, considering "Juxtapose" would have made a nice EP if "I Like the Girls" and "Hot Like a Sauna" never happened. My recommendation: listen before you buy and/or consider the "For Real" singles instead ...
"For Real" is the first single, spread across 2 discs (don't you just hate that?) is the album version, 2 B-sides and 3 re-mixes. Tricky is apparently trying to grab the hip hop crowd with these singles 'cause all the B-sides and re-mixes have a hip hop flavor. Pt 1 gives us the album version, definitely one of the best tracks from the album, and 2 B-sides. "Bombing Bastards" is essentially a new version of "Smoking Beagles" from one of the "Tricky Kid" singles. Tricky lays down the already familiar lyrics over a very fat bass line and plodding beat. "Pop Muzik" is a cover of the late 70's tune by M. Tricky and DJ Muggs sing/rap over a cool hip hop and electric guitar backing. These 2 are great! Makes you wonder why these killer B-sides don't make Tricky's albums. Pt 2 has 3 re-mixes, all of which entirely replace the original music. The 'hiphop' re-mix (presumably by Grease) is more 'electronica' than hip hop really, due to it's slick, bubbling keyboard lines. The Genaside II mix uses a dense orchestral/ keyboard arrangement and a really fat bass line and beat. The Rollo mix is a club friendly dance version with Rollo and Sister Bliss adding some of their own vocals. All 3 of the re-mixes are solid re-interpretations of the song, completely different from the original but just as good on their own. This is one of those rare occasions I'd actually recommend buying multiple import cd singles, simply because these 5 tracks are worth it. - Mark Weddle
PEOPLE LIKE US "HATE PEOPLE LIKE US"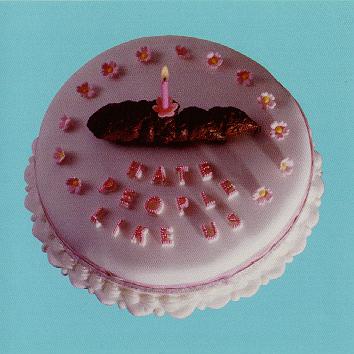 Whatta great collection here of various artists doing interpretations from the mysterious group known as People Like Us. This collection features bits and pieces from such stars of your CD collection like Mika Vainio, Coil, Bruce Gilbert, Boyd Rice, Negativland, Christoph Heemann, Death in June and many many more. My favorite piece is of course the Period Piece from Boyd Rice, cut up from a 50s-era recorded skit about a young girl asking her older sister, mom and dad all about periods. I don't know what this album's gonna do for the popularity of the band People Like Us since remixes albums these days nearly completely ignore anything resembling the original tunes. Take it for what it is, a fun collection of some great artists doing something nice for some friends with a cake on the cover with a turd on it. - Jon Whitney
MICK HARRIS, "HED NOD SESSION"
Mick "the mongoose" Harris (Scorn, Trace Decay, Quoit, Lull, Matera, etc, etc) is back with a vinyl only, 33 rpm 12" limited to 500 copies. This is the first of a dozen such releases, the next of which might be out in the fall of 1999. Hed Nod 01 is on transparent light orange vinyl and comes in an individually numbered, plain black sleeve with a small title and credits sticker in the upper right corner. With this project Harris seems to be going for a slow, instrumental hip hop style for the clubs. Each track is fairly minimal with dark swirling atmospheres, deep bass throbs and beat box beats. It's not all that far off from "Zander"-era Scorn and it's instantly recognizable as a Mick Harris sonic. Is Hed Nod mind-blowing or revolutionary for Harris? Nope. Is it cool? Oh yeah. I'm curious to see where he goes with the next 11 slabs of vinyl. Strangely enough, Soleilmoon only wants $5.99 for it whereas it's $10 direct from Hushush ... - Mark Weddle
BARRY ADAMSON/JON SPENCER SPLIT
The fact that Barry Adamson and The Jon Spencer Blues are both on Mute Records seems to be what brought these 2 together on this split 7" on the Slut Smalls label. Adamson's "The Crime Scene" is a very fast paced instrumental that seems to be the musical equivalent of a car chase scene. Skittery, rapid-fire bass notes and beat box beats are layered with keyboard lines and police siren samples. There's a brief sampled dub song interlude, then back to the chase. "The Crime Scene" would be right at home on Adamson's "As above So below" album. I'm not much of a Jon Spencer fan but this track is a lot of fun. Alec Empire (Atari Teenage Riot) handles the mixing, which helps explain the insanely brutal percussion fills and quick jabs of sonic weirdness inserted amongst the yells and the guitar riffs. Yeah, this one rocks. I guess I'm completely spoiled by cds these days because each side of this 45 is practically finished bye the time I cue the needle and sit back down ... - Mark Weddle
EINSTURZENDE NEUBAUTEN, "TOTAL ECLIPSE OF THE SUN"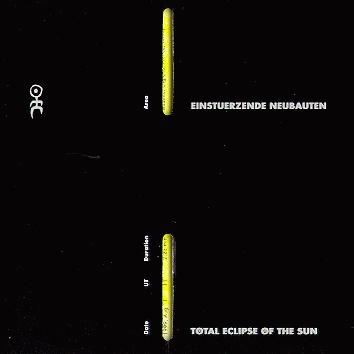 I think Neubauten have become everything they revolted against, 17 years ago when they formed - artsy upper-class elitists. This CD is a rather snoozy attempt to honor the solar eclipse, recorded earlier in the year and released on the day of the day of the eclipse last month. The whole disc is really half-assed with an English and German version of the song on either end of the disc and two other things in between. The other pieces are lukewarm mediocre orchestrated things, simple and unchallenging much like the last album. The lyrics for the title track are simply bland, weak and painful to even listen to. - Jon Whitney
RICHARD H. KIRK, "DARKNESS AT NOON"


Next up is a rather interesting hommage to the solstice. Old school Cab Volt fans need not worry about this one being another in the long line of lengthy basic techno records Richard has released as Sandoz, Electronic Eye or Sweet Exorcist. Darkness at Noon is a one intense track 36 minute long piece which constantly mutates, evolves and has a comfortable balance between old school cut up tape loops and current sounds. The piece was recorded for a performance in Austria earlier this year and is incredibly resourceful - Kirk has captured snippets from many different sources and thread them into an exciting bit of audio tapestry. I hope he can carry this energy through his next full-length releases. With his current track record, they'll be announced by the time you read this review. - Jon Whitney
HEEMANN/MARTIN, "MEMOIRS OF A LEPIDOPTERIST"


Ever wondered where to start with HNAS? For those familiar with the sounds of Mimir (Jim O'Rourke + Edward Ka-Spel + HNAS) but confused by the abundance of HNAS material and lack of stuff in print, Robot brings us a two CD set of material collected from 1987-1995. On this collection are a couple singles tracks, unreleased things and other HNAS related stuff. The music varies from pleasant guitar pieces to experimental environmental synth gems. The artwork would be quite familiar to fans of Mimir and early NWW albums, the songs are much more structured and cold calculated. Every song flows naturally with grace and synergy between all the sources despite it being a collection of sorts. I'm unfortunately getting more and more interested with HNAS and am going to have a bitch of a time finding anything still available. - Jon Whitney
SORROW, "SLEEP NOW FOREVER"


If you're familiar with the gorgeous voices from Rose MacDowell on the Coil singles last year, this album is a must for your CD collection. Sleep Now Forever collects select recordings by Rose and company from 1994-1999. While I can respect many bands that can crank out anywhere from 1-5 albums of material per year, there's something to be said for those who pull their best compositions over time to piece a package of their favorite things. For those unfamiliar, Rose's voice is angelic and can rival other breathy sweethearts like Julee Cruise. The music is also as delicate and pretty with the usage of strings, oboe, bassoon and other wind instruments to compliment the lush soundscapes created with the voice and effects. I'm quite fond of this album and would recommend not letting the guilt by association dissuade you even if the goths may fawn all over this album.- Jon Whitney
HELLO, KITTY-YO (FREISCHWIMMER COMP & NEW LAUB LP)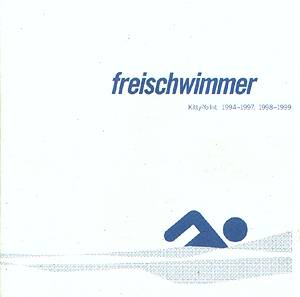 German Post-Kraut-Rock label Kitty-Yo celebrates their 5 year anniversary this year with a 2 CD collection priced eagerly for export. "Freischwimmer" (which most likely means 'Free floating' in English) features acts from Kitty-yo's past like To Rococo Rot and Tarwater (both who have had Mute USA releases earlier this year), Couch, Surrogate and Laub. The music runs the gammet between some good old post-punk German agression through experimental electronic noise, including a couple bands that combine both. While many of the bands here stick to the instrumental trend, those that sing do so in German. Some of the standout bands I'm now interested in hearing more from include recent label folks Raz Ohara with the swirling tune "Gone to the Moon" and Preed with "Ballade. For anyone curious about where to start with Kitty-yo, this is a pick for you.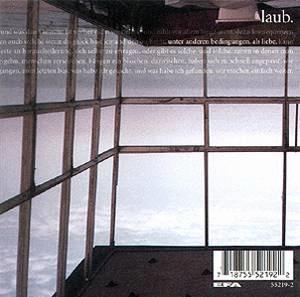 Oooh, I just can't get enough of this brand new Laub disc, "Unter Anderen Bedingungen Als Liebe". "Under Conditions Other than Love" (the English translation of the title) is full of German-sung electronic gems. The band features a female vocalist and mainly electronic drum and bass influenced music, not completely unlike Lamb. The music is less organic however and quite a different state of hypnosis develops with the listener. It's hard to describe this album as I'm running out of adjectives for the week. From what I can gather, this is the third full-length release from Laub and I love what I hear and plan to eventually buy the back catalogue. - Jon Whitney
CHRIS & COSEY / CHRIS CARTER


"Union" is the latest release from Chris & Cosey and features the live performance from the Union Chapel in May of 1999 from Labradford's Festival of Drifting. The disc is slightly over an hour long and features really wonderful soundscapes, both beat-less, instrumental, to pulsing and vocal. Chris Carter still has the touch of creating mesmerising loops much like his days of TG, combined with Cosey's presence on vocals, guitar and coronet, it's a wonderful match. The scapes and waves change and mutate over time throught many different intense tracks. This is quite possibly the best thing I have ever heard from Chris and Cosey while oddly enough it sounds the simplest. The recording quality is wonderful for a live show. The depth is excellent and there's actually a feeling of being in the concert hall. Perhaps the reason why this live recording sounds so good is what is noted on the CD: the recording was mastered from multiple sources - MiniDisc, DAT, DV and SVHS. Highly recommendable and I hope C+C decide to play some more dates (especially in the USA) soon.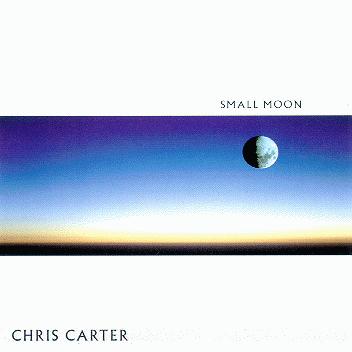 "Small Moon" is the first solo studio album from Chris Carter in a few years and is good enough to rival all the other electronic manipulators half of Chris's age. I must admit that I disliked it the first time I heard it, but the more I listen and actively pay attention, the more interesting it gets. Every song starts out on a little on the sluggish side but they all build into very interesting layered audio textures. Still playing with fabricated sounds and loops, Carter's album didn't grab me as much as his solo live album from last year, but it's still very good. I think I need to give this album a few more listens before I rate it as something of excellence. I'm actually looking forward to the next listen... - Jon Whitney
UI, "LIFELIKE" / "UNLIKE"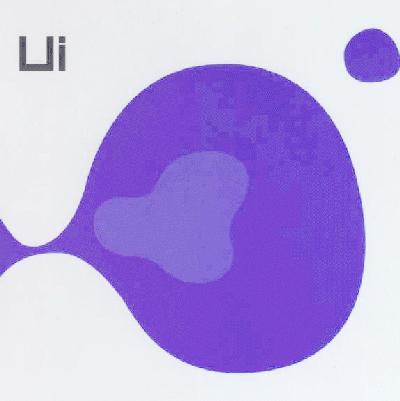 "Lifelike" is is much of what we've come to expect from the post-rock world: instrumentals with with catchy, punchy basslines, that sometimes delve into the world of ambience or pop-jazz. The catch is that some can do it well, and others not. Ui does it well. The whole album starts out with a lonely two note organ line, soon elaborated on and joined by a relatively funky drum beat and bass line, and topped off with a smooth filtered lead line, never letting you forget those two notes that keep the whole thing moving until it all dissolves for a moment to a small wash of what sounds like cymbal decay, only to come back to its original theme. The pattern this opening number follows is a 4 minute 5 second version of the pattern the album follows as a whole. Uptempo analog synth and bass driven songs with elaborate leads run in circles with fat dub bass and kick drums, drowning in hums and seemingly random synth patterns and the occasional horn section.


"Unlike - remixes vol one" is another story all together. After listening to both it made me wonder if Ui were a better band or sound source for remixers. On board as dismantlers are Sascha Frere-Jones (of Ui themselves) David Dacks and Nick Holmes (who i dont know), John McEntire (Tortoise and everything in Chicago that isnt done by Jim O'Rourke), Ian Blurton, and David Linton. Unfortunately i havent heard the original versions of these songs (despite the similarity in title they aren't off life like), but from what i know of Ui, this is much more abstract than their own output. The familiar elements are there; funky synchopated dumming, bubbling synths, and soft bass leads. These songs are so reassembled that the pop-song continuity that is usually inherent to Ui's songs is lost and these elegant parts of whole are held together by what is usually left out or ignored - the decay of each sound. All of the remixers here seem to have gone for the same thing - not the notes or sounds themselves, but the sounds after the note was hit. What they've pieced together is a fluid blend of small sounds with a backgound of drums and bass, sounding what I'd imagine like green forests look. Do you see the leaves or the skinny little branches that hold the leaves? Do you see the water in the creek or the small rocks that gather to one side on the bottom? Ui created the scene and the remixers saw branches and rocks. - Mark Schlipper
We know that sometimes these CDs are somewhat challenging to find, which is why we have a RECOMMENDED STORES section which can be used to obtain nearly everything available on the site.
CONCERT
REPORT
MOGWAI/GANGER
Ganger opened up the show and opened up my heart to the mainly instrumental powerful crew from Scotland. The set was only about 35 minutes and included only three songs. Kinda cut short but it was charming and quite involving. The distortion was loud, the music was simple and it was just plain exciting. I wish I had more to compare to but I've only heard of them and haven't heard the CDs or their live sound yet. I bought a couple discs of theirs which I hear are excellent at the show and should write them up in the next couple weeks. From what the fans claimed is that their studio sound is quite subdued compared to the live onslaught they delivered last night. If you're heading to see Mogwai, show up early just to see it yourself. Mogwai took to the stage and opened with one of their greatest songs from "Young Team" (which ranks high on my favorite albums of the 90s). I'm quickly reminded how brilliant Mogwai are when they're really working hard to be good. The show had a healthy portion of the older tunes from earlier albums and only a couple recognizable pieces from the latest album. It didn't sound as bad, when thrown in with all the wonderful dynamic old bits. The music is instrumental and quite anthemic, the songs vary from quiet pretty parts with flute being played and all musicians hushed to a whisper to blaring, blazing spacious walls of sound eminating from the 6 members on stage. Tour dates available at Matador web site. - Jon Whitney
LABRADFORD/GODSPEED YOU BLACK EMPEROR
The show started off with a band called Tone, a five guitar ensemble along with a bass player and drummer formed by the managers of the club. They were very bad to say the least. A good band could have done the same thing with two guitars. After they were done the crowd gathered around the stage to see the the obvious favorite, godspeed you black emperor!. I talked to several people at the club, and each one said they came to see godspeed and had never heard Labradford. For me it was the opposite, and for the first time hearing godspeed I was blown away. On stage there were three guitars, one bass, a cello, violin, all kinds of drums (with two drummers), a xylophone, and some other stringed instruments I couldn't see. Most of the band sat but were still very into it, and everyone was silent throughout the whole performance, which a times got very loud. A mini bow was used on one guitar to make some eerie high notes that sent chills down the spine. The last song they played was definitely my favorite. The the spoken poem on tape along with the live music was wonderful. Projections included pictures of barbed wire, cops cars, stars, a dog, a group sitting around drinking, and an old man. When they were done the audience clapped until the last member (a drummer) left the stage. Up last was the band I had come to see, Labradford. Now it has been said that they are considered by some to be one of the most important bands in the world today, and are huge in Europe. Therefore, I was a little upset when half the audience left during their first song. It's probably for the better though, instead of having even more people talking than there already was during their set. Some people even started clapping during one of there songs as a joke, which was very rude and fairly annoying. So if you don't like Labradford, LEAVE. Anyway, they were under dim blue light, playing a few songs from their two most recent albums and a couple songs I did not recognize. They went from one song two another without a pause, and everything was on key. The vibrating moans surrounded the club. Their music is even more amazing live. It was great to see how it all was done. After Robert and Mark left the stage, Carter continued to explore the stability of the club speakers by send some extremely low bass tones through that shook everything until he faded out. Word of advice... DONT MISS THEM. Tour dates available at Kranky web site. - Brad Payne
NOCTURNAL EMISSIONS
22nd June 1999, Upstairs at the Garage, London (yes, this review has been hiding in email ever since it was written...)
There was a rare appearance by Geordie experimentalists Nocturnal Emissions Upstairs at the Garage this week. It took place as part of an art festival somewhat sub-Situationist in nature, promoting such wacky ideas as three-sided football.
I knew this in advance so was expecting the worst. Irony readings went off the counter when a beer-gutted, silver-trousered everyday bloke announced himself as Nocturnal Emissions and proceeded to mumble his way through various cheap synthpop songs that may or may not have been very early Nocky material, but certainly wasn't representative of their more celebrated recordings. A cover of Venus In Furs was the highlight. Some members of the audience looked on in horror -- could this really be Nocturnal Emissions? Others looked like they'd come along to yet another festival event to pose around being pomo but had no idea who or what Nocky might be.
Entertaining nonetheless. Was he taking the piss out of the festival people, or out of ignorant po-faced Nocky fans like me who'd heard a few mid-period albums and were expecting them to come out sounding like Zoviet France? - Andrew Shires
MOVIES
REVIEWED
GENGHIS BLUES
In the truth is stranger and often more entertaining than fiction category, may I present this documentary, which follows Paul Pena, blues great who has worked with BB King, Bonnie Raitt and many others, on a trip to Tuva. Paul Pena self-taught himself to Throat-sing, a method that can assume four notes at once, after hearing it on a short-wave radio. He is invited to compete in the annual Tuvan competition. Charming, beautifully filmed, and as good and similar in feel as Buena Vista Social Club. - Thomas Guttadauro
THE IRON GIANT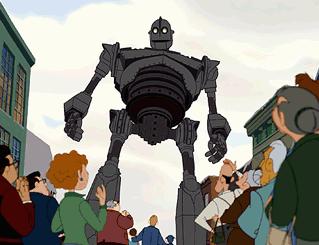 I have to mention this film again. It's GREAT! DAMMIT! Before you see any other movie, please see this movie. It's doing very poorly thanks to WB's lousy ad campaign and deserves much better. I hope it ends up the road that Babe did, generally ignored in theatres, but did well in video and eventually nominated for best picture. Then they can make a great sequel which will be panned by dumb-ass critics. Did I ever mention what a good film Babe: Pig in the City is? Well, now I have. This weekend, go see Iron Giant, because this might be the last week it's screened in first run theatres, then go and rent Babe: Pig in the City. Don't make me get Columbine on yer ass! - Thomas Guttadauro
ILLUMINATA
John Tuturro's (or however you spell his last name) second movie mostly drags. I enjoyed it when it stayed irreverent, but was bored stiff during the serious over-tones. I had even forgot I had seen this movie until I started trying to remember what I had seen recently to review this week. Go see Iron Giant instead of this snoozer. Now get funky! - Thomas Guttadauro
UNTAMED HEART
One of the greatest hockey films ever made!!! Masquerading as a weepy, sappy girly movie, Untamed Heart is truly about the redemptive power of hockey ("UH" is also a source of unintentionally funny lines: "You got a baboon heart and magic records"). Christian Slater stars as a quiet young man who doesn't know his hat-trick from his high sticking; Marisa Tomei is a peppy young waitress with a love for the St. Paul North Stars and non-committal men. After Slater saves her from an attempted assault by two drunk CHL fans, Marisa falls for the boy with a baboon heart. Despite he many attempts, Slater refuses to go to a hockey game, thus prolonging his angst and restlessness. But finally, after a harrowing, near-fatal stabbing by Marisa's vengeful attackers, Slater recovers and accompanies our plucky young waitperson to a Northstars game, there in a moment of glory, he catches the puck!!! The drive home from the game shows us a glowing, ecstatic Tomei in the drivers seat, while a sleepy, peaceful Slater lounges in the passenger seat. After falling asleep, he dies, having achieved the pinnacle of human glory by catching the puck. No hockey fan could keep their eyes dry after this one. - Charles R. Terhune
FEEDBACK
MAILING LIST
Subject: thoughts and birds

Ho!
A few days ago I had the thought of starting a brainwashed mailing list. What do you think? I could run it, or start it moderate it, I suppose. I envision a list where folks who viddy the brainwashed pages and enjoy similiar musics could discuss new music, their own music, film, life ect.
moving through smiles,

Sounds neat, be sure to tell us about it when you set it up!
---
Subject: Movie Reviews...

Hi Brainies...

I won't be praising you... because I already did it some other time... and I don't like to feel like repeating myself... ; )

There are lots of level of involvment in art forms... and the Brain for music is a very involved magazine...

But about movies... there's so much better movie to see than what I've seen reviewed here... I don't know if your goal is only opinon sharing... or if your seeking to share deeper knowledge of modern art form... If so... step out of the big junk food movie theatre and go see some "real" movies...

It would be nice to see some unknown faces... and not movies we heard about so much and seen almost every bit of it ... I think their image is already made... and the only thing we could do is go see it to learn more about it...

So... To resume my point... If you just feel like sharing your opinions... Your doing a fine job... If you want to make us taste deeper and more profound art... you'll have to go further...

Love you all... and keep up the good work...

Thanks for the love... We would love to have more opinions of the non-mainstream movies but getting submissions are the most difficult things. Movie reviews end up just going up here for the most part. As far as reviewing vs. opinion sharing, the basic difference is we here pay for the stuff as well as don't get paid to review it, unlike the people who do get paid and have their movies paid for - the difference is I think you can see we're all candid about our feelings and aren't in the business of pleasing or displeasing filmmakers.
---
Subject: labradford

Hello. I was checking out your lab site and recognized your name. Very nice site by the way. I am getting psyched to see lab with GYBE here in Seattle and a couple questions. Is it safe to assume the strings I hear on Lab's cds are real and not synthesized? How would do these songs live (do they bring someone doing the string work), or they just not do them? Just can't wait to see for myself. Thanks....

On the latest disc, the sounds are organic but in concert, they only use organ, bass and guitar from what I remember - check out the review earlier in this issue for more description of the show...
---
Subject: enjoyment

Dear Brain Wankers:

Thank you for all of the very cool stuff on the site, i appreciate the work that everyone puts into the site, because i get quite a few chuckles out of it every time i tune in.

This is a serious venture, no chuckling allowed.
---
Subject: (no subject)

ive always wanted to hear nurse with wound and never had a chance... thanks for all the sound clips (your site is also very well constructed)

Thanks and please explore some surrealism while you're cruising the NWW page.
---
Subject: coil - hellraiser cd

I was recommended to you by Phantom - I am a retail store and have numerous requests for the Hellraiser Coil CD - do you wholesale? I could use about 10 copies as well as any other soundtrack cd's you may have ( I specialize in soundtracks)

I could use about 150 CDs of Love's Secret Domain to give to everybody who wants it. Seriously, for anybody who has questions as to what we are or what we do, check out about brainwashed. All the answers are here, on this domain, somewhere, not too far.