SITE
THE WAIT IS ALMOST OVER!
Finally after over two years, new Bowery Electric material is surfacing. The "Freedom Fighter" CD/12" will be out in the UK through Beggars Banquet on November 8th while the full length album, "Lush" is due sometime in 2000. If you follow the link through the info page at the Bowery website to Beggars site, you can see a streaming Real Media version of the new video.
COIL VIDEOS
Are back on the Coil web site. Right now we're trying to figure out which works and which doesn't work. If you take a peek at the video directory and please send us reports on your findings that would be most appreciated. Please check them out and find out what works and what doesn't work.
END OF THE DECADE...
We are working on putting a poll together for our favotite and least favorite albums of the last 10 years (1990 - 1999). If there are people out here that have catalogue lists of the album and CD collections including years, please so we don't forget to vote on as many relevant albums. Given, some will be forgotten and I'm sure there will be write-in categories. Each week will feature a vote on a different year and we'll start with 10 weeks to go in the year (in two weeks from today's issue). Confused? Just stay tuned.
McHAPPY DAY
Watching a television program this past week, I was reminded that Monday October 4th is "McHappy Day". So in honor of McHappy Day, please email one of our favorite artists, the young and strapping Daniel McKernan and wish him a Happy Birthday.
MUSIC
IN BRIEF
BEASTIE BOYS, "SCIENTISTS OF SOUND"


"Blow Up Factor" is a new hip hop remix, budget priced vinyl series courtesy of the Beastie Boys' Grand Royal label. The Beasties kick off the series with re-mixes of 5 tracks from their latest album, 1998's "Hello Nasty". As you'd expect, these re-mixes are heavy on the hip hop angle ... if you like the Beasties, you're going to like these re-mixes. "Negotiation Limerick File" gets a whole new set of beats on 2 different mixes (Adam Horovitz and Handsome Boy Modeling School) as well as a short vocal only mix (interesting idea). The "Intergalactic" mix (Colleone/Webb) is really nice: slowed down with a new beat, a synth pad loop throughout, additional scratches and the robotic "intergalactic planetary" vocals are pitch shifted and hacked together with other vocal samples. Next up is the "Live Video" version of "Three MC's and One DJ" which is the same as the video. The Beasties rap as Mixmaster Mike tears it up big time on the turntables. "Body Movin'" is done up twice (one instrumental) by Kut Masta Kurt. It's a smooth, jazzy mix with a Herbaliser feel and plenty of additional scratching. "Putting Shame in Your Game" (Prunes RMX 2 w/Biz Markie Scratch) maintains the electro feel of the original with a new, fairly sparse arrangement. There's not a bad mix in the bunch. The vinyl is nice and heavy with etchings on both sides: "episode 1 ... don't front" and "do the math" and it comes in a gray Grand Royal sleeve. Not bad for less than $7. Sure beats the hell out of a $12 3 track import cd single with only 2 B sides/re-mixes ... - Mark Weddle
BOXHEAD ENSEMBLE, "THE NIAGARA FALLS EP"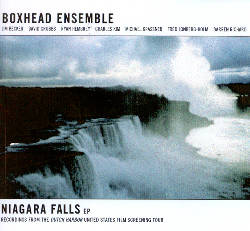 In case you missed the first two albums, movie and tour, the Boxhead Ensemble was assembled for the soundtrack to the film, "Dutch Harbor: Where the Sea Breaks its Back," a black and white documenary taking place in the chilly waters off the coast of Alaska. The collective is basically a revolving door of musicians which has included Jim O'Rourke, David Grubbs, and Will Oldham among other members of Tortoise, Vandermark 5, Dirty Three and the Red Krayola. Watching this movie while the band improvised a soundtrack was simply stunning last year and now I have a recording including some of what I experienced to prove it! The film itself was breathtaking, spacious shots of snowstorms at sea, crashing waves and a bleak and desolate town. The music adds to the mood, and from even hearing this, even more collected live recordings, you can feel the chill, the eeriness and the emotional rush from being lost in a vast wide open and cold space. - Jon Whitney
TO ROCOCO ROT, "CARS"
Basically you can pass on this single. The songs are good but the title song is replicated a second time without much difference. The two additional tracks are fair, but nothing to write home about. To Rococo Rot's album from earlier this year was stunning, but this EP release on City Slang is a bit overpriced for essentially three throw away tracks. Noodly electronic ditties that have very little substance within their form. Save your money and buy a domestic 37 minute 7 track EP like "Niagara Falls" instead! - Jon Whitney
CABARET VOLTAIRE, "THE RAZORMAID MIXES"
Back in the 80s, Razormaid remixes were the most expensive thing a British synth-pop record collector could dream of. As a consequence, I never bought the three CV Razormaid 12 inches (nor any other Razormaid release) that I saw for sale in Record Collector. At over 40 quid each, they were a bit expensive. So when Razormaid announced that they were going to make a CD of 11 CV remixes for $30 (US) including postage, I was pretty excited. After all, this works out as only slightly more expensive than an ordinary CD in this country. The remixes on this CD (a CD-R, in fact) are not of the sophisticated access-to-the-master-tapes variety. These remixes come from the re-edit/re-order school of mixing. Something I used to do for a hobby with a cassette recorder. This release is a complete let-down. If this is representative of Razormaid's output then fuck knows how they ever kept going. What we have here is an expensive, best-of CV compilation where the versions aren't ones you had before - but then they're not anything special or interesting (or even noticably different in some cases!) The one redeeming feature of this release is that it makes me glad I never bought these tracks as incredibly expensive 12 inches. Then I'd have felt really ripped off. - Nic Doye
OVAL, "SZENARIODISK" EP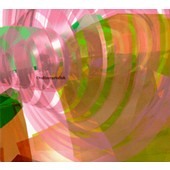 My CD player skips and I love it. Oval steps a little backwards to reintroduce the listeners what they all learned to love Oval by -- worshipping the glitch if you will, using CD sped skips to create the base for complex layers and tunes to be thrown on top. For all we know, these songs here could simply be outtakes from recordings made three years ago, since his last full-length album, 1997's DOK saw Markus Popp experimenting more with computer software than good old home made skips, creating and deconstructing sound form and function. I enjoy both periods and the small one minute tracks thrown in between the titled songs reflect the computer manipulation period of his work. The overall bulk, quality and variety of tracks makes this slightly more special than your typical 6-track EP.- Jon Whitney
ANGELS OF LIGHT, "PRAISE YOUR NAME"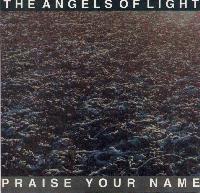 Michael Gira re-invented himself once again with his new post- SWANS project The Angels of Light and their superb debut album, "New Mother". This 7" is a limited edition single available direct from the artist for $5 via their web site. "Praise Your Name" is the same as the album version: a beautiful blend of gentle vibes, percussion, accordion, piano, acoustic guitar and Gira's deep, evocative vocals. The "I praise your name" and "glorious!" chorus chants are utterly uplifting. It sure is nice to hear it through the warmth of vinyl. The B side, "God's Servant", is exclusive to the 7" and would fit right in on "New Mother". It has the same sort of instrumentation as the other songs and is relatively quiet and slow. Gira once again delivers a beautiful and poetic vocal and lyric, a few excerpts: "your self hatred is a beautiful cancer ... and I encourage you to feed it", "and our love is a thick red ocean ... swollen with lust and fatigue". Wow. There's just something about a picture sleeve 7" ... it's the perfect size to do the artwork justice. The front cover is another Wim van de Hulst landscape photo and the back cover is the same photo of Gira from "New Mother", which is signed by Gira in gold ink. The 7" also comes with a credits insert and SWANS postcard with a handwritten "thank you for supporting the artist" courtesy of Jarboe. One odd thing, I think this is the only 7" I own that plays at 33 rather than 45 rpm ... - Mark Weddle
THE ALL SEEING I, "PICKLED EGGS AND SHERBET"
What an odd album. For those who don't know, The All Seeing I is a new project featuring Parrot from Sweet Exorcist. Teaming up with various vocalists (Baby Bird, Jarvis Cocker, Phil Oakey, Tony Christie and more). Jarvis Cocker also wrote the lyrics for 5 of the tracks Having heard "1st Man in Space" the fantastic single featuring Oakey's great voice, Cocker's amusing lyrics, over a pop-tastic tune - I was all set for listening to a pop album. I am stupid. There are a couple of tracks, "Walk like a Panther/No Return", "Stars on Sunday" which could (almost) have been recorded over thirty years ago. "Happy Birthday Nicola/Plastic Diamond" also have a similar throwback theme. "Drive Safely Darlin" sounds like Jarvis Cocker doing an Elvis number. Then there's the other tracks (including the two extra hidden ones). These could have come straight off Parrot's Earth records (though with vocals added). "Sweet Music" sounds like a track from "Spirit Guide to Low Tech" but with an awful vocal added over the top. This avant-garde, industrial flavour threw me at first. Apart from "Sweet Music", the lyrical content does not jar at all; especially, if like me, you think that Jarvis Cocker should have been made poet laureate. Even the tracks which he didn't pen the words to are good. As an album, this collection does not sit comfortably together. There's the 60's easy-feel tracks, the totally wonderful "1st man in space" and the avant-garde, noisy tracks. But all the tracks are good, and some are great. It's definitely worth buying: it's just bloody difficult to context-switch between the different musical styles. PS. Dear Jarvis, Golden Nuggets are now available again. - Nic Doye
We know that sometimes these CDs are somewhat challenging to find, which is why we have a RECOMMENDED STORES section which can be used to obtain nearly everything available on the site.
NEW
RELEASES
MONDAY
808 State - Invader 12"/CDEP (Hook/Bellboy, UK)
Add N To X/Andy Votel - Live 1940/Canter 7" (Slut Smalls, UK)
Dot Allison - Close Your Eyes 12"/CDEP (Heavenly, UK)
Chemical Brothers - Out Of Control 12"/CDEP (Virgin, UK)
Circular - Divergent CD (Beatservice, Norway)
DMX Krew - Good Time Girl 7" picture disc [ltd to 1000 copies] (Rephlex, UK)
Fuschimuschi - Super Sexy Lady 12"/CDEP (Rephlex, UK)
Grooverider - On the Double 12"/CDEP (Higher Ground/Sony, UK)
Guardians Of Dalliance - Diffusion Rooms CD/4xLP (Moving Shadow, UK)
Juan Trip - Balmy Under The Stormy CD/2xLP (F Communications, France)
Luke Slater - Wireless CD/2xLP (NovaMute, US/UK)
Jon Spencer Blues Explosion - Heavy 12" (Mute, UK)
David Sylvian - Approaching Silence CD [instrumental album including previously released material from the Ember Glance box set] (Virgin, UK)
TUESDAY
Chemical Brothers - Out Of Control 12"/CDEP (Astralwerks, US)
* Cocteau Twins & Harold Budd - Moon & The Melodies [mid-price reissue] (4AD, US)
Front Line Assembly - Fatalist CDEP (Metropolis, US)
Harry The Bastard/Various - Club 'H' CD (Statra, US)
Medicine Drum - Talking Stick CD (CyberOctave, US)
Brendan Perry [Dead Can Dance] - Eye Of The Hunter CD (4AD/Beggars Banquet, Canada)
S.O.L.O. [Michael Wells of Greater Than One, etc.] - Out Is In CD (Sulfur/Beggars Banquet, US/Canada)
Luke Slater - Wireless CD (NovaMute, US)
WEDNESDAY
Richie Hawtin - Classics CD (M-nus/Sony Techno, Japan)

For a more comprehensive release schedule stretching far into the future, please check out the NEW RELEASES brought to you by Greg and Feedback Monitor.
BOOK
REVIEWS
KIOSK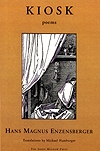 His name alone, so monolithic, so German, is imposing enough: Hans Magnus Enzensberger. That he is famous for his political and cultural criticism as well could leave you worrying his poetry would be as nutritious and pleasant as flax oil. It doesn't prepare you for titles such as Self Demolishing Speech Act or the pleasingly innocuous Nice Sunday. Enzensberger is full of these ironic, mischievous titles: In Praise of Violence, Ode to Stupidity, More About a Tree. And his poems are brief but precise, often regretful, often ironic and regretful. 'Privileged Instructions' begins sensibly enough, 'It is forbidden to set fire to persons,' then rolls into a set of frighteningly funny accommodations, 'It is not seemly./ It is not usual./ It is not to become the rule.' Sir Hiram Maxim's invention, the machine gun, is praised by the Duke of Cambridge, 'Never again/ will war be what it used to be!' A schoolboy, in proof of this fact, cowers in a ditch as fighter planes shoot at him. But Enzensberger's poems are not consumed with war and random violence; he seems to think poetically about most things, concerning himself with computer media, art history, brain science and psychology, the act of walking and the act of saying the letter 'A.' Still, Kiosk reads as a coherent whole, though split into four quarters like a city, and he stretches the four parts of one poem, Flight of Ideas, across the work, as if the poem itself were in flight. Seeded throughout are lines such as 'True, getting a life sentence/ is no solution either' and 'What's become of the yellow gangrene?' and 'There was something good, just now, somewhere else,' simple and evocative phrases which the poems deftly avoid answering. Towards the end, Enzensberger is visited by a 'rather commonplace' angel: 'You cannot imagine, he said,/ the degree to which you're dispensable.// Of the fifteen thousand hues of blue,/ he said, each one makes more of a difference// than anything you may do/ or refrain from doing . . .' He ignores the provocation and waits in silence for the angel to go away. Typical Enzensberger, even his angel can't be counted on to speak up for the man. - Paul McRandle
FEEDBACK
PET SOUNDS AND RESOLUTIONS
Hey! This is an interesting page, and I appreciate the sound samples, but how can a band like "Nurse with Wound" have been around for, like, twenty years and not have gotten anywhere? Haven't any of these guys had a hit? Why haven't I heard of any of your pet bands?

Cos you're stupid
---
Subject: Rhythms...

Is "Rhythms, Clusters and Resolutions" just remixes of "Tortoise"? I found a copy of "Rhythms..." for $60 and I wanted to know if the songs on it were originals and remixes.
Thanks.

Yes, they're remixes.
---
Subject: Thanks!

Mi name is Marcelo, I live in Argentina. I visit your site and I must to say is really great, I listen there in the jukebox various groups I don't know like Tortoise (very good music, I buy yesterday "Millions one living will never die" excelent) and listen to trans am good too and others.

I must to say thanks to put a disposion this kind of music.

I invite you too to visit mi sites.

See you and mi best whishes to you.

Music - the international language.
---
Subject: NWW question

I was wondering if you could help me. I have a fairly extensive NWW collection, but because I'm such a completist, I am always looking to add more. I've noticed recently that the "Sylvie and Babs" LP and CD are sometimes listed as "Hi-Fi," and sometimes as "High-Thigh." Are there actually two different versions, are the album covers named differently even though the music is the same, or am I imagining things? I would appreciate any information you could give me on this one. Thanks

Nope, it's just in the spine of the CD release - the original vs. the reissue from United Dairies.
---
Subject: re: stereolab review

If you truly have a fondness for Stereolab, then you really need to give the new album a couple of more listens. You'll be surprised at how the songs grow on you. Your review of the album was really quite harsh considering how good the album really is!

I truly have a fondness for Stereolab and have for a long time. I will continue to rabidly buy all imports I see for exceedingly high prices never second guessing my investments. I've had this particular album now for over 2 months now and have it many listenings, many of them quite forced and I still stick by my convictions that there's no songs on this album and it's a bunch of wankers wanking off. Production still amazes me however.
---
Subject: Muslimgauze

Does anyone there have a complete list of recordings? What's still in print, etc. I know the whole Muslimgauze thing was somewhat of a hoax, but I still dug some of the guy's stuff.

There's a pretty complete website with an entire discography at www.pretentious.net/Muslimgauze - as for the hoax factor, nobody here's aware of any such hoax.
---
Subject: WHAT??

Your reviewer gave "Stigmata" a *positive* review? Someone likes this movie? There have been some bad movies lately (the Haunting) but Stigmata was the most hackneyed, predictable, contrived, and insulting "attack on catholicism" I could ever imagine. It made me embarrassed to be an atheist! The scenes in which the main character aquires the wounds of Christ consist of her simply flailing about for a few minutes whil the scary music plays... then she faints. Every time. How convenient. At one point she even says to the male lead: "I just want my life back!" Courtesy for the one friend who enjoyed the movie (he's insane) kept me and another friend from walking out on this one. Just in case this email gets printed: AVOID STIGMATA AT ALL COSTS! (unless its the ministry song)

Another good reason to have more people reviewing movies...
---
Subject: Teletubby Invictus?

IS it me or does the little fat guy from Sol invictus sing the Teletubbie theme song? When I watch it in the morning with my daughter, it sounds exactly like that guy's voice. Same South London accent. The Tubbies are druid ghosts, man. Everyone knows that.

I thought it was Toyah...