MUSIC
IN BRIEF
WARP 10+1 "INFLUENCES"


More than ten years ago, "Intelligent Dance Music" was a silly and unnecessary oxymoron, the most important (pop) musical revolution since punk was in full action, not on CDs in the living room stereo, but on white label 12" singles, gay clubs, and raves. The "Influences" compilation, conceived by the Warp label bosses Beckett and Mitchell serve to celebrate the music that inspired the birth of the label, it's like a "Nuggets" from that era. "Acid trax" by Phuture, the legendary first (debatable) Chicago acid house track, was created in 1986 by (drunken) accident, using an already outdated and cheap bassline machine (roland 303) in the wrong way. It squelched a hallucinogenic mood and nearly set the stage for followers to go hand-in hand with the soon to burst rave culture of drugs, colors and kids. "Can you feel it" ('86) by Larry Heard (Fingers inc.) opened acid to (machinery) sensuality and a new, deep, house, adding more european influences, primarily from Kraftwerk, Cabaret Voltaire, Depeche Mode, and Gary Numan. Juan Atkins (then Model 500) give birth to the next futurist step after electro: techno, the new dance sound of Detroit. Rhythm is Rhythm's "Nude photo" ('87), the first Derrick May 12" is a timeless electronic dance classic, which fused classic underground disco with hypnotic new sounds and prompted someone in Ibiza to try ex with the music. During this time, the trends criss-crossed the oceans, and transcended both black music and electronic music. Manchester's 808 State is represented here with the rare 12" "Let yourself go" and fellow 808 member A Guy Called Gerald, is presented here with his hit "Voodoo Ray". Nitro De Luxe, who opens the CD set also fused elements of electro, house and techno and could have served as a blueprint for the Sheffield post-industrial Bleep and Clonk minimal sub-bass hardcore sound of early Warp soon to follow. (Sweet Exorcist, LFO, Tricky Disco, Nightmares on Wax). Many other house and techno classic fills up the rest of this set, all in their full length versions and many for the first time issued on CD. A great compilation - Happy birthday to Warp! - Francesco Brunetti
WARP 10+2 "CLASSICS"


Warp helped set the stage for the electronic dance music of the 90s from the late 80s. Their 12" singles that came out were aesthetically pleasing with almost completely nameless artists, the blippy-blonky happy pop coupled the budding rave culture - marked by colorful kids and loads of drugs. Since then Warp as you know have developed into an album and artist oriented label too, finding that they have survived with electronic artists and albums rather than trendy dance records, outdated 2 weeks after their release. On this disc, the "freshman class" is basically honored. Tracks on this two disc set appear from the comical Tricky Disco (who were formerly known as Greater Than One), the blocky Sweet Exorcist (who was formerly known as part of Cabaret Voltaire), then-poppy vocal sampled Nightmares on Wax (who have moved on to a more album-oriented lifestyle) and the bass-heavy LFO - whose 1991 album Frequencies accompanied the rest of the class of '91 (Moby, 808 State, Lords of Acid, KLF, and Meat Beat Manifesto all making electronic body music breakthroughs that year) in effectively establishing the roots for electronic in the 90s. This album serves as a testament to those who were important and influential yet nearly completely ignored by the new breed of electronic listeners who hadn't even hit puberty by the times these songs were first released. For all of the new Warp artist fans (Aphex Twin, Autechre, Squarepusher, Jimi Tenor and Boards of Canada) educate yourself on what made it possible for these artists to exist. This could be possibly one of the most important documents of 90s music. - Jon Whitney
WARP 10+3 "REMIXES"


The icing on the birthday cake - this CD, the third of the three collections combines some of our favorite artists with some of our favorite artists. It's a classic hodgepodge of remixes: Four Tet remixes Aphex Twin, Oval remixes Squarepusher, Plaid and Jim O'Rourke remix Autechre numbers, Autechre and John McEntire remix Nightmares on Wax tunes, Pram, Surgeon, Spiritualized and Labradford remix LFO tracks, Mogwai remixes Link, Stereolab remixes Boards of Canada, Luke Vibert remixes DJ Mink, and the list goes on,... If the thoughts of these collaborative efforts makes your mouth water, then this is everything you're hoping for. Even some old tunes get new makeovers like Tricky Disco's "Tricky Disco" being honorably reworked by Plone, Sweet Exorcist's "Testone" gets a facelift from Winston and Ross, while LFO's "Freeze" remix by Labradford is pure heaven. - Jon Whitney
V/VM, "THE CARETAKER"


Remember watching The Shining and the ballroom was haunted with ghosts from years past? Well, imagine v/vm doing the soundtrack to that ballroom, taking the old cheery and joyful music and distorting, twisting, mutating and fucking it up beyond its original intent. This album, appropriately titled "Selected Memories from the Haunted Ballroom" is basically v/vm's attempt at some sort of ambience. While this album can essentially become background music, it can surely set the spooky mood. Perhaps one of the most easy listening of all v/vm records, this one is not to be mistaken for anybody else.- Jon Whitney
THE SPLENDOR SOUNDTRACK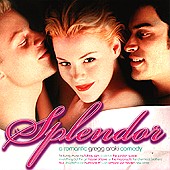 Well, it looks much better than it really is. Once again Gregg Araki delivers a film with probably a much more enjoyable soundtrack. I haven't seen the movie but I'm pretty sure we've seen the same story before in "Three of Hearts", "Threesome" and "Two Girls and a Guy". But with bisexuality so popular these days around college campuses and with the kids, Araki can cash in! The soundtrack itself features some pretty cool things but gets outweighed by cliche soundtrack jizz. Tracks like My Bloody Valentine's remix of Lush's "Sweetness and Light", Locust's remix of "Shine" from Slowdive and Mad Professor's remix of "Mesmerise" from Chapterhouse are essential for any fans of the bands. Pointless tracks on here include Air and Chemical Brothers songs, obviously thrown on by Astralwerks to promote their artists like any major Hollywood soundtrack, the opening Fatboy Slim song reminding you how Fatboy Slim is basically stupid music for stupid people, and the album closer, New Order's "Bizarre Love Triangle" which makes this the third soundtrack to feature this song (others being 'Married to the Mob' and ironically enough, 'Threesome'). - Jon Whitney
LOW, "CHRISTMAS"
What a charming offering all ready for this year's holiday season. Low bring us a 35-minute 8-track CD full of joy and cheer. There's both old and new stuff on here, all of which has never been available on CD, including the tracks from the Wurlitzer Jukebox 7" a couple years back and a track recorded for/broadcast on Holland's VPRO radio Amsterdam. 5 tracks are Low originals, some of which could easily become Christmas classics. "Just Like Christmas" - a Mimi-sung song with the jingling bells opens this collection as a bouncy departure from Low's signature chamber-pop style, "Long Way Around the Sea" and "One Special Gift" have been heard performed live on their current tour I believe, both of which aren't necessarily Christmas songs but very well could be, and of course "If You Were Born Today" is wonderful to finally have on CD if you're familiar with the poor pressing of the 7". The cover tunes on here include a wonderful droned out distorted "Little Drummer Boy", a soulful Mimi-sung "Blue Christmas" as once appeared on their 7" and a semi-forgettable "Silent Night". This CD can currently be obtained at their shows and will shortly be distributed from Kranky and direct from the band through their new 'Chair Kickers Union' label. - Jon Whitney
HANDSOME BOY MODELING SCHOOL, "SO... HOW'S YOUR GIRL?"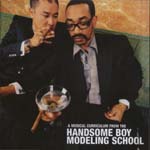 Prince Paul, the godfather of the hip-hop skit and mastermind behind last year's epic "A Prince Among Thieves", proves he's definitely not one to sleep with the dropping of his latest project, the Handsome Boy Modeling School. Joining Prince Paul on production duties here is Dan the Automator, known most for his cut-up beat workouts on Kool Keith's Dr. Octagon project, and production credits on albums for Cornershop, the Jon Spencer Blues Explosion, among a slew of others. Unlike "A Prince Among Thieves", which followed a carefully scripted storyline (yes, with things like plot and *gasp* character development), "so...how's your girl?" plays out more like a riotous mix tape, with Prince Paul popping up now and again to promote enrollment in his fictious modeling school for elitist, chisel-abed, waxed-chest pretty boys. Highlights include a massive turntable workout from DJ Shadow on "Holy Calamity" (redeeming himself from this summer's dismal Quannum project), and the manic throwdown between El-P from Company Flow and Alec Empire on the album's closer, "Megatron B-Boy." Unfortunately with projects like this, there is often a tendency to try and make up for a lack of real, living substance by placing guest stars in the uncomfortable position of "shining" on tracks that perhaps were best left on the editing room floor. (Have we not learned *anything* from the sloppy self-indulgence of U.N.K.L.E.?) Miho Hatori of Cibo Matto and Mike D from the Beasite Boys appear early on in the record, muttering bland rhymes of the scientific variety, barely keeping the track "Metaphysical" afloat, while the seemingly surefire combination of Mark Hayden from Spain, Paula Frazier from Tarnation, Money Mark, Sean Lennon and Father Guido Sarducci (!) on "Sunshine" falls flat simply from the age-old "too many cooks spoil the broth" equation. These two missteps aside, Prince Paul and the Automator deserve some serious props for having created an album this is both head-nodding, and at the same time, laugh out loud hilarious: a rare treat in today's overly congested hip-hop waters. "so...how's your girl?" may just end up being the strongest contender for the coveted title of best hip-hop album 1999. And even if they don't end up taking that particular crown, the Handsome Boys will most assuredly be sweeping the best dressed and most well-groomed categories. Hands, perfectly manicured of course, down. - Kevin Flansburg
VANDERMARK'S HARRIOT PROJECT, "STRAIGHT LINES"

Not being familiar with the two albums of material here, "Free Form" and "Abstract", my only frame of reference to Joe Harriot's playing is his work Indo-Jazz work with Jon Mayer. I've heard many comparisons made between Harriot and Ornette Coleman, none of which I have noticed. So the thought of Ken Vandermark covering someone whose music, although separated by thirty some years, is on the more melodic and romantic side, baffled me. But Vandermark, and his band, take on Harriot's work with confidence, and thankfully don't turn them into another screaming, blurry wailfest. Subtracting Harriot's piano, and switching the trumpet in the frontline for trombone, Vandermark softens his trademark razor-sharp tone (juggling clarinet, bass clarinet, and tenor sax) and makes believe he was doing an early 60's session for Atlantic (or Blue Note, if that's a better touchstone). "Idioms" is a quiet piece, with Jeb Bishop's trombone keeping pace with Vandermark, and melts softly into the background. The lazy, unassuming "Pictures" quickly conjures up the Sandman to those who are caught off guard. Marvelous stuff, which makes me want to go find the originals (which have been re-issued on one CD, though may only be available as an import) - Jason Olariu
TRICOLOR, "MIRTH + FECKLESS"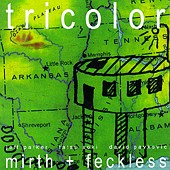 It's nice to see that there is still some warm, musical hearts pumping in the Windy City. Tortoise/Isotope 217 guitarist Jeff Parker brings us his trio, Tricolor, with bassist Tatsu Aoki and drummer David Pavkovic, yet another notch in this accomplished musician's belt. I'm a sucker for anything Parker-ian: maybe it's his minimalistic take on jazz guitar legend Grant Green, or his choice of musical cohorts. This album is no let down, and exposes Pavkovic (ex-Pinetop Seven) as another stellar musician to keep an eye on. Removing themselves far from the boring aural wallpaper Denison/Kimball Trio became, Tricolor makes polite, thoughtful jazz for any situation. Rawkus ("Thrive"), introspective ("Endless"), or just plain fun (the aptly-titled "Mirth"), they cover it all. Aoki's bass playing, however, is always struggling to escape its low mix, just a few notches lower than Parker's clean guitar. Despite that, a flawless, enjoyable outing. - Jason Olariu
We know that sometimes these CDs are somewhat challenging to find, which is why we have a RECOMMENDED STORES section which can be used to obtain nearly everything available on the site.
NEW
RELEASES
MONDAY
310 - The Frosty Bardum Affair 12" (Leaf, UK)
The Caretaker - Selected Memories From The Haunted Ballroom CD (V/Vm, UK)
Vladislav Delay - Ele CD (Sigma Editions, Germany)
* Depeche Mode - Singles Box 1 6xCDEP [reissue featuring CDEPs for Dreaming Of Me, New Life, Just Can't Get Enough, See You, Meaning Of Love and Leave In Silence] (Mute, UK)
* Depeche Mode - Singles Box 2 6xCDEP [reissue featuring CDEPs for Get The Balance Right, Everything Counts, Love In Itself, People Are People, Master & Servant and Blasphemous Rumours] (Mute, UK)
* Depeche Mode - Singles Box 3 6xCDEP [reissue featuring CDEPs for Shake The Disease, It's Called A Heart, Stripped, A Question Of Lust, A Question Of Time and Little 15] (Mute, UK)
Herbaliser - 8 Pt Agenda 12"/CDEP (Ninja Tune, UK/Canada/US)
Herrmann & Kleine - Transalpin 12" (City Centre Offices, UK/Germany)
Monk & Canatella - Enter The Monk 12"/CDEP (Cup of Tea, UK)
Sybarite - Meusic 7" (Emanate, US)
Various - Enchanted 01 2xCD [with Mr. Scruff, CiM, Fila Brazillia, Irresistible Force, Bullitnuts, Luke Vibert, Harold Budd, Jimpster and more] (Big Chill, UK)
TUESDAY
Afro-Mystik - Future Tropic CD (Om, US)
Appliance - Manual CD (Mute, US)
The Creatures - Hybrids CD [remix album with mixes by Witchman, Girl Eats Boy and more] (Instinct, US)
Critters Buggin - Amoeba CD (Loosegroove, US)
D.J. Spooky - Subliminal Minded CDEP (Bar None, US)
* Kid Loco/Various - Jesus Life for Children Under 12 Inches CD [remixes of material by Talvin Singh, Pulp, Mogwai, High Llamas and others] (Atlantic, US)
Arto Lindsay - Prize CD (Righteous Babe, US)
* Andrea Parker - Kiss My Arp CD [slightly different track listing than UK and Japanese versions] (Mo'Wax/Beggars Banquet, US)
:wumpscut: - I Want You CDEP (Metropolis, US)
WEDNESDAY
EOG - Hassle 12" (Djak-Up Bitch, Holland)
Lego Welt vs Orgue Electronique - untitled 12" (Bunker, Holland)
Phase 6 - Swimming in Lemonade CD (Benbecula, Scotland)
THURSDAY
Iyunx Productions - The Duckie Dickie Bird 12" (Isophlux, US)
L'Usine - Coded 12" (Isophlux, US)
* Mouse on Mars - Niun Niggung CD [with Japan-only bonus tracks] (Tokuma, Japan)

For a more comprehensive release schedule stretching far into the future, please check out the NEW RELEASES brought to you by Greg and Feedback Monitor.
BOOK
REVIEWS
THE TUNNEL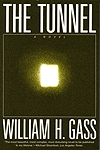 So maybe I am four years late, but it's not as if they rushed the paperback edition out or anything. Dalkey Archive had to pick up The Tunnel and only released it this year, so if you're still waiting now's your chance. In any case, it took William Gass thirty years to write the thing; I figure he's in it for the long haul. The book flies its colors well before the novel even begins, starting off with the Pennants of Passive Attitudes and Emotions: Bigotry, Spite, resentment, etc. down to Sloth, Churlishness and Jealousy. These pretty well sum up the narrator's vision of himself and it's hard to imagine a more bitter novel, certainly one that can be read. But honestly bitter; rather than simply striking an attitude, The Tunnel elaborates defeat and pettiness and the stagnant qualities of the Midwest with loving care. William Kohler is the voice, the mind, the subject and predicate of its 652 pages. When he's not writing limericks about Auschwitz, he's designing flags for his Party of Disappointed People, his own gathering of the resentful. He is a professor of history, author of a book on the Nuremberg Trials, and the novel itself is his attempt at an introduction to his life's work: Guilt and Innocence in Hitler's Germany. But things have already gotten out of hand. These notes which make up the novel (in Gass's ideal world, The Tunnel would have been printed unbound as a pile of paper) have to hide themselves from Kohler's wife, filled as they are with confessions of affairs, with the politics and philosophy of his "loathsome mind," and with the details of a tunnel he is digging beneath the house, details which include filling all of her prize antique dressers with dirt. There's no plot here, just Kohler fuming or ruminating or riffing on some subject, but much of the novel is bound within the moral compass of a childhood spent enduring an alcoholic mother and an overbearing, arthritic dad. A line from Pope defines his magnetic north: Our proper bliss depends on what we blame. This is what he understands so well, what makes him so American, as if for every pleasure taken there must be a betrayal. Naturally, his marriage is sexless. He's been condemned by his colleagues for his affairs with students. He lives with the ecstatic fear that his wife will discover either the dirt or the hole. Meanwhile, he keeps writing with perverse concentration about brushing his teeth of the size of his penis (so very small). But in one of his few lines that does address that other, hidden academic text, Kohler speaks clearly about the cold, lofty place he inhabits and the purpose of his work, "This book is intended to make you a mountain. From such a mountain you may see dead Jews." - Paul McRandle
THE TWELFTH OF NEVER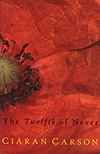 Ciaran Carson has made what fame he has in the United States with his poetic, perfect essays on Irish music in Last Night's Fun and with his evocation of Belfast in The Star Factory. Those books showed off his love of languages, his ear for the uncommon word, and his means of collaging images to render flush on the page vivid, dreamlike memories. I finished them wanting to smoke, eat greasy eggs, and shower in whiskey. Previous books of poems, First Language and Belfast Confetti, gorge themselves on the sounds of words, yet also glow with Belfast's aura of menace. The Twelfth of Never, not yet in print in the States, is a very different thing. While his emphasis on song cycles and history remains, he has taken on a feat, writing seventy-seven sonnets in alexandrines, which seems to bind his tongue. One of the delights of his previous collections is the variation in form, moving from long to short to essay to song. Sameness is not his sort. The Twelfth of Never roams over Irish uprisings and Napoleonic wars, dallies in Tokyo, and dotes upon opium, but all with a draining equivalency. It has many bright points, but they subside back in among the alexandrines. The oddest bit, his introduction of Irish fairy creatures, threatens to tip the whole book over into tweeness and Celtic twilight. It doesn't tip, but the menace evaporates. There are many images I like, such as, "The female puppet is legless. To make her walk/ you must manipulate the hem of her garment." But The Twelfth of Never is not the place to start reading Carson; go to Last Night's Fun for the full, unkempt, grimy pleasure of prose which is really verse in very long lines. - Paul McRandle
FEEDBACK
LAST WEEK'S RANT
Subject: Rant

Have you read Camille Paglia's column on the Brooklyn Art Museum fiasco in this week's issue of Salon? Check it out, I think she makes some interesting points. While I have no sympathy for Guiliani's shameless grandstanding, I have to ask myself while publically funded arts institutions continue to run exhibitions that gratuitously offend large segments of the public for apparently no better reason than mere "sensation."* Like it or not, when you take tax dollars in a democracy the public has the right, through their elected representatives, to ask how those dollars are being spent.
If this was surrounding the work of young, unknown or struggling artists I might have a little more concern for free speech issues or even the role of art in society. What it really is in an intramural scuffle between rich people, with each side wrapping themselves self-righteously in either the bible or the first amendment. The whole thing reeks of self-promotion from every side.
Just some late night ruminations...

While there will always be those who abuse free money, we just can't allow our politicians more reasons to cut everything. It sucks that there are bad apples which can spoil the bunch but we need the funding for our schools, museums and artists.
---
Subject: Jon Whitney's rant

Hi,
I've enjoyed your site for some time and applaud your coverage of HNAS, Organum, Ryoji Ikeda, Labradford, Windy & Carl, and Tortoise. However, I've finally read something on your site that has motivated me to throw in my two cents. You claim that the "art" that New York mayor Rudolph Giuliani 'blasted' is somehow challenging and makes people think. In my opinion it's simply lowbrow & offensive(and in some cases plain hurtful to certain people) using easy targets...even somewhat similiar to Marilyn Manson and his 'art'.
So hey, I disagree with your comment of the week but otherwise keep up the good work.

You don't have to agree with art to respect it and allow it to exist. My observations of the artwork in question are my opinion alone. The mere fact that an original object can have this many observations - postitive and negative separates it from a pile of sand sitting at the beach. It's the age old question "what is art?" and who decides... Thankfully your tax dollars don't fund Marily Manson!
---
Subject: Staff

To whom it may concern:

What sort of qualifications does one need to become a small part of the "small staff of volunteers"?
Any info would be sincerely appreciated.

Carefully selected by a process of elimination in front of the American Gladiators.
---
Subject: trans am

I'd like to get more background info on the members and the bands history if possible. Can you help? Is there seriously nothing on the web about these guys? that's bizarre! How can I get a hold of the unreleased stuff?

We have posted as much information as we have, we don't hide things from people. As for getting a hold of unreleased stuff,... well, keep asking your question over and over again till it hits you what the answer is.