MUSIC
IN BRIEF
CHARLES ATLAS, "TWO MORE HOURS"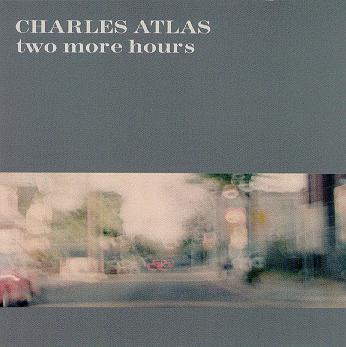 There is no person in this band with the last name of Atlas. This is a project sort of thing from Charles Wyatt, Chicago resident who strummed the guitar strings for San Francisco's slow-core charmers "Dart" as well as performed with Piano Magic on "A Trick of the Sea" as well as the collaborative single with Low, "Sleep at the Bottom". This CD is a collection of tracks improvised from various sessions of Charles tinkering around and then sending the tapes off to friends to add other bits and pieces. Friends who have added tinkerings to this CD include Alan Sparhawk of Low, members of Buddha on the Moon, ISAN and a couple more friends. The result is an unsurprisingly blissful and melodic, spacious and trancey, beautifully crafted and varied CD. The first track starts the disc off in a more traditional sustained guitar sound, with loops and mesmerising delay effets. The rest of the disc jumps around between more electronic sounds and backwards drum samples and loops, ending on a pretty and serene piece for acoustic guitar, piano and droney effects. Never for a minute does this sound amateur or half-assed, Charles Atlas could sure as hell teach some of the noodly ambient dronesters out there a thing or two about VARIETY (something all too rare these days). This one will be a hard one to come across in average stores and I suggest just sending an email to Mike at StarStar records out of Milwaukee at mstar@execpc.com. This disc is highly recommended. - Jon Whitney
MATS GUSTAFSSON/DAVID GRUBBS, "APERTURA"
Most of us know by this point that David Grubbs is an extremely versatle fella, if not by his wide range of solo albums (I'm thinking of the Thicket and Bananna, Cabbage... especially), then by his work with Gastr Del Sol (including the much overlooked Harp Factory album). And its this versitility that attracted me to this album. That and the fact that the other key player is who I would consider to be one of the finest new saxaphonists on the circuit, capable of pulling totally alien, unrecognizable, tones out of a tenor that seem to form a full band (check out Parrot Fish Eye with Jim O'Rourke). Apertura seems to be a departure for both of them. I've heard Grubbs dabble with minimalism on Banana..., but this is something else all together. What it boils down to is a single note, ringing out bell-like, for 65 minutes. By the nature of the instruments involved, harmonium, sax and flutophone, and the inate instability of a human preformer over time; this note sways and undulates, bringing out microtonal differences that are more easily felt than heard. Apertura is magic. It's a raga. It's dangerous in that the brain is opened and left vulnerable after being exposed to it. It has no discernable beginning (except of course for the necessity of track 1- 00:00) and it has no end (etc). Imagine zooming in on a song to find the part that touches you most. First by verse, then by line, then by measure, to the one note that says it all. Somehow, this thing they've created out of so little, manages to have an intense weight and airyness, humid heat and cold wind, and it moves on its own. - Mark Schlipper
SLAVE ONE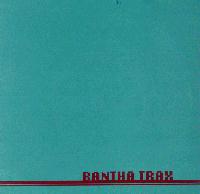 I would tell you something about Slave One, but I know absolutely nothing about him/her/them other than his/her/their apparent fondness for Star Wars. This is a limited (500), single sided black 7" with a "first fruits of labour! - M.T." etching. It comes in a simple, pastel green sleeve with the clever label name 'bantha trax' on the front (in that oh so cool '80s Atari font) and a drawing of Boba Fett's helmet on the back. For the Star Wars impaired: Slave One is the name of bounty hunter Boba Fett's ship and Bantha Trax is a reference to the tracks left by the large elephant like creatures that the Tusken Raiders/Sand People ride on the desert planet Tatooine. Got that? Ok. The track itself is a lo-fi medley of bits of the orchestral Star Wars tunes, specifically: the 'main title' opening theme, 'cantina band', Darth Vader's theme and the 'end title' theme. It's exactly what the Star Wars music would sound like if played by an Atari 2600 ... overdriven, cheap Casio style tones and beats mixed with video game effects and sounds. Very amusing, especially for a child of the '70s/'80s like myself who grew up on Star Wars and Atari. Was it worth $8? Probably not. But it certainly is a lot of fun, great for mix tapes and a welcome addition to my guilty pleasure/novelty pile. May the force be with you ...- Mark Weddle
JAC BERROCAL, "FATAL ENCOUNTERS"


Nurse With Wound fans might recognize this Frenchman's name from various NWW releases stretching back to 1981's "Ostranenie 1913". This CD selects highlights from his career all the way back from avant-rockabilly stuff in 1971 through performances from 1992. "Rock 'N Roll Station" (done most recently by Nurse With Wound from the album of the same name in 1994) appears here in the original from 1976's album "Paralleles" LP. The rest of the music included is 50s car-chase movie rock music and a screechy jazzy influenced tape cut-up dada stream of consciousness random hodgepodge of twenty years. Instruments and sounds include toy xylophones, accordions, your standard rock instruments as well as some French spoken excerpts, English interviews and an Asian porn hot and tender enough to drive your libido insane (all I could think about was "boy, that girl was well-mic'd). Berrocal has had quite an influence on some of the noisemakers we have grown to love and collect and this disc is a great discovery point. The 27-track career retrospective was compiled in 1993 but is now available through a few more places. - Jon Whitney
COCTEAU TWINS, "BBC SESSIONS"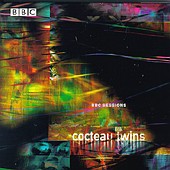 The Cocteau Twins are probably one of the most important bands to have originated in the 1980s. They showed us that there can be beauty in otherwise harsh sounds. Bands could indeed now make beautiful music without it for one moment sounding weak or thin. Over time, it became more acceptable to turn the noise and distortion up on the guitars and leave the solos, attitudes and front person posing behind. Elizabeth Frazier's improvised lyrics and made up words showed us how the voice can be an instrument in the rock mold with the sounds more important than the words. On this collection, we get to hear many songs in rare form, without the lush production and reproduction characterized in many of the albums. Of the 30 songs on this disc, a whopping 23 are from 1982 - 1984 while the remaining 6 are from 1996, two of which appear to be completely exclusive. This is most definately a must for any Cocteau Twins fan to add to their collection, thankfully available in the US through Rykodisc and the rest of the world through Cocteau Twins' own-run Bella Union. - Jon Whitney
BOARDS OF CANADA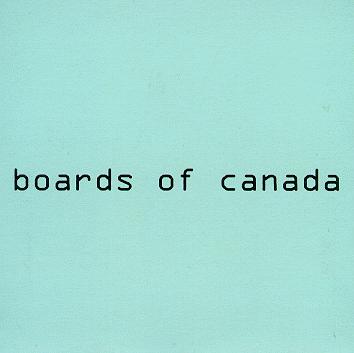 The self titled debut E.P. from Boards of Canada from 1996 is in print again through SKAM on both CD and vinyl. If you're fond of last year's full lengther or this year's release of the BBC sessions, be prepared as this one has deeper grooves, sharper sounds and more experimental beats. The tunes are pretty similar - thick spacious keyboard sounds, simple and thematic, almost dreamstate-like progressions. Chimey melodies play over primitive and dirty beats. There's even a lullaby sounding bit on the end for good measure, followed by some more ominous melodies - perfect for a late autumn day, half asleep with the tv left on, playing some PBS program of age old mysteries, disappearances and occultism. Never for once is there a moment of intensity overkill or tunes that have been played out too much. Boards do not wear out their welcome on this disc. It might be a taste of the simpler life, tunes that don't have to proove anything, they just sound so damned good.- Jon Whitney
RICCI'S PIECES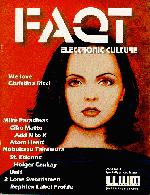 How far can an obsession go? FAQT is one of them print publication things, this one bears "Electronic Culture" as it's sub-heading. The current issue available at above average stores, pressed and distributed by Mindfield Records is a tribute to sultry post-teen bad girl Christina Ricci. The magazine this month features serious interviews with Atom Heart, Nobukazu Takemura, and Add N to (X) among others as well as features some pop questions on various electronic culture celebrities about Christina Ricci as well as a Ricci interview conducted with some random guy in the phone book with the last name Ricci. The CD that accompanies the magazine features exclusive tracks from v/vm, Kid 606, KK Null and Brainwashed staff member Mark Kolmar's Burning Rome among others as well as some MP3 files stuffed in for good measure. All of the songs have something remotely to do with Christina who is "way too big to appear in your puny little magazine". - Jon Whitney
We know that sometimes these CDs are somewhat challenging to find, which is why we have a RECOMMENDED STORES section which can be used to obtain nearly everything available on the site.
NEW
RELEASES
MONDAY
Atari Teenage Riot - Too Dead For Me 12"/CDEP (DHR, UK)
Blast - t.b.a. 12" (KK, Belgium)
Current 93 - All Dolled Up Like Christ 2xCD [recording of the two NYC shows that took place Hallowe'en weekend, 1996] (Durtro/World Serpent, UK)
Eardrum - Last Light CD/2xLP (Leaf, UK)
Fila Brazillia - A Touch of Cloth CD (Tritone, UK)
GF - Limited Series Vol. 4 10" (KK, Belgium)
Richie Hawtin - Decks EFX & 909 mix CD (M_nus/Novamute, UK)
* Joy Division - Heart & Soul 4xCD [reissue of this definitive 80 song anthology box set] (Factory/London, UK)
Krust - Coded Language CD/6xLP [vinyl includes 2 extra tracks] (Talkin' Loud, UK)
Manchild - Return To The Dragon 12"/CDEP (One Little Indian, UK)
Moby - Why Does My Heart Feel So Bad? remix 12" (Mute, UK)
Monk & Canatella - Enter The Monk 12"/CDEP (Cup of Tea, UK)
Nurse With Wound - The Swinging Reflective 2xCD [anthology of collaborations between NWW and other artists including Tony Wakeford, Foetus, Coil and Stereolab] (United Dairies/World Serpent, UK)
Orbital - Nothing Left 2x12" (FFRR, UK)
Ovuca - Lactavent Album CD/2xLP (Rephlex, UK)
Peshay - Truly 12"/two CDEPs (Island Blue, UK)
Sieben - Forbid The Sun's Escape CD (Tursa/World Serpent, UK)
Sneaker Pimps - Splinter CD/LP (Clean Up, UK)
The Soil Bleeds Black - Alchemie CD (World Serpent, UK)
Special Forces [Photek] - Something Else 12"/CDEP (Photek Productions, UK)
Various - 14 Irregular Files (A Mute Accumulation) CD [with Add N To (X), Appliance, Echoboy, Komputer, Luke Slater, Moby, Non, Pan American, Recoil, Richie Hawtin, SFT, Slick Sixty, Jon Spencer Blues Explosion and Vince Clarke & Martyn Ware] (Mute, UK)
Various - Enchanted 01 2xCD [with Mr. Scruff, CiM, Fila Brazillia, Irresistible Force, Bullitnuts, Luke Vibert, Harold Budd, Jimpster and more] (Big Chill, UK)
Luke Vibert & BJ Cole - Drum & Bass & Steel 12" (Law & Auder, UK)
Volcano The Bear - The Inhazer Decline CD (United Dairies/World Serpent, UK)
Yazoo - Situation two 12"s/CDEP [new remixes of this classic single] (Mute, UK)
TUESDAY
Aphrodite - Aphrodite CD (V2, US)
The Baby Namboos - Ancoats2Zambia 12" [mixes by Dillinja and Geoff Barrow] (Palm Pictures/Rykodisc, US/Canada)
Color Filter - Remix CD/2xLP [mixes by Click 'n' Cycle, Buzz, Sugar Plant, Technicolor, Flowchart, Sweet Trip, Junior Varsity KM and more] (Darla, US)
* Daddylonglegs [Howie B & Naked Funk] - Horse CD (Palm Pictures/Rykodisc, Canada)
Fingernail - Remixes CD/LP [mixes by Woddenspoon, Global Goon, Bochum Welt, Cathars, Flowchart, Exhalera Deck and many more] (Darla/Fuzzybox, US)
King Crimson - Projekcts 4xCD (Discipline, US)
King Crimson - Deception Of Thrush CD (Discipline, US)
* My Life With The Thrill Kill Kult - Dirty Little Secrets: Music To Strip By CD [collection of old tracks and remixes plus new material] (Rykodisc, Canada)
Technicolor - Far From Home (Bliss Out v. 16) CD/LP (Darla, US)

For a more comprehensive release schedule stretching far into the future, please check out the NEW RELEASES brought to you by Greg and Feedback Monitor.
MOVIES
REVIEWED
SPIKE AND MIKE ANIMATION FEST
While in Pittsburgh last week, I was afforded the opportunity to catch this travelling collection of film shorts. Animation, from computer-generated productions to crude stick figures, was the evening's fare, and what a magical treat it was. The evening could be viewed as nothing short of magical, with the films bringing an enormous smile to my face and causing me to double over in laughter at various points during the screening. Highlights include The Blue Shoe, a "modern fable" concerned with the nature of diverse relationships; Billy's Balloon, an hilarious look at children's ballons gone berzerk and sadistic; and VHX/CarrHot, an incredibly hilarious take on vegetable desires that can only be described as VeggieTales gone porno. My personal favorite, amongst all of the incredible entries, was an incredibly poignant and pastoral piece, The Queen's Monastery, set to Leos Janacek's Sinfionetta. With a complete lack of dialogue and a seamless continuity of animation, the imagery was amazing, with vivid images impressed in my memory. Did I mention that it was done entirely in watercolors? If you have a chance, don't let the opportunity to view the Festival of Animation. You'll leave actually feeling "giddy" and counting the dates until the sequel to Toy Story. Tour dates and showings can be found at www.spikeandmike.com. - Carter Adams
BOOK
REVIEWS
THE FAN MAKER'S INQUISITION


Phosphor in Dreamland, Rikki Ducornet's last novel, is as convulsive a piece of surrealism as any written. To sum it up inadequately, she tells the story of an imaginary Caribbean island, Birdland, on which Phosphor, inventor and erotic poet, falls under the fatal interest of an Inquisitor. Where Phosphor ends, with the announcement of the poet's crimes, The Fan-Maker's Inquisition starts, presenting the trial of Gabrielle, a maker of erotic fans, before the Inquisitor of the French Revolution's Comite. Gabrielle's crime is that of co-authoring with the Marquis de Sade a novel about Bishop Landa's murderous inquisition of the Mayan Indians. Using this story, Ducornet turns Gabrielle's fans, de Sade's writings and the destroyed Mayan codices, these folding books of illicit images, hidden desires, and natural paganism, all into metaphors for one another. When it comes to describing the humiliations which drive Landa to slaughter, she is comically visionary, "Once, without warning, the wind lifted his robes, and six little boys were dismayed by the amount of hair that grew in places no one was intended to see. Once he was picked up by the wind and held briefly airborne. Often the wind would carry pollen from the forest in such quantities it littered the streets for weeks on end, causing him to weep. Fruit like genitals and tongues tumbled onto the roof, making it impossible to sleep." And Ducornet is at her most dynamic facing off the shrill demagogue against her humane pornographer. Strangely, when she gets de Sade alone in his cell for the second half of the book, she seems to wander, her writing still sharp and glittering, but not as vital. Her de Sade devotes too much time to defending himself from an absent enemy and not enough to indulging in the lush imagination of the Mayan novel. He is repulsed by the destruction, rape, and murder around him, and rejects the pleasure he once took at the whip, something of a kinder, gentler de Sade, as it were. In the end, however, de Sade does return to the Mayan novel, seeing Landa's holocaust through the lens of that Terror in the surrounding Paris streets. As de Sade says, "The best books cause us to dream; the rest are not worth reading." Sweet dreams. - Paul McRandle
FEEDBACK
WAAH WAAAH WAAAAAAH!
Subject: coil

i was wondering why there hasn't been an update to the site in a while. is there any info about the new releases (backwords, astral disaster, musick... II)? when WILL there be an update?

curious

Go look now. It never ceases to amaze me how many people get demanding of a free service. Don't bitch folks, you don't see any advertising anywhere yet.
---
Subject: avoided

please excuse me for mailing you directly - I simply want to know a) can I use a credit card to place an advance order for Musick to play in the Dark Vol2 b) what is the appropriate email address for such questions in future

Thanks

Go read the damn news yourself and figure it out, bright boy. The staff of web writers and contributors to brainwashed have NOTHING TO DO with the bands or labels and their mail order practices or promotions - we author web sites for the sake of internet representation and nothing more, so please restrain yourself from emailing us about this stuff.
---
Subject: Hi

Hi there. I am thanos from Greece and i visited your site for the first time today.
I am very curious about the music you call post-rock.I really want to buy a record so i want a suggestion.I am basicly a rocker but i like Metal too.
Favorite groups: Guns N Roses, Metallica, Pumpkins, Placebo and many more.
Thanx for your time. See ya soon....

Sounds like a real problem. I recommend trying either Magnetic Fields, Merzbow or Oval. If that doesn't help, a good slice of v/vm could also cure you too.
---
Subject: Hatesville

I'm trying to find out how I can order the "Hatesville" compilation. A fellow programmer at WRUW-FM Cleveland played the track "Hatesville Suicide Hotline" today. What a hoot! Do you have any info on this CD?
Thanks for your time

I think it's still available through World Serpent.