OFF-
SITE
CLOUD-ZERO
The machines which host Cloud-Zero (the Legendary Pink Dots mailing list) will be physically moved from one office to another, and a lot of software will be installed and re-installed. Therefore, cloud-zero will be up and down intermittantly during the week of January 4th - returning to full functionality by January 9th. Hopefully, subscribers will notice only occasional delays, and not lost e-mail.
HOLLYFELD.ORG
From Dan Garcia, Owner of Hollyfeld.org:
Some of you may have noticed that Hollyfeld.org has been down since sometime on Friday December 31st. The good news is that the machines, mail server, webserver, mailing lists, etc... are all still there and intact, and in fact are connected to the internet and functioning. Unfortuantely, however, on Friday December 31st, the machines that house our nameservers were broken in to, and their configurations destroyed. We are waiting for the person who maintains those machines to rebuild them so that they can start name service again. Unfortunately, without nameservers, no email can get through, and people cannot get to web addresses and such.

I am currently in the process of supporting the restoration of those machines, and in addition, I am currently securing a handful of backup nameservers, which are at separate sites, and should be able to provide backup should something like this happen again in the future.

Thank you all for your patience and support. In the meantime, I can be reached at Kender42@Yahoo.com.
Hollyfeld.org is home to Coil, Cabaret Voltaire, Throbbing Gristle, Meat Beat Manifesto and many other related email lists.
MUSIC
IN BRIEF
ELPH, "20' TO 2000"
Alas, the final installment of the 20 minutes to 2000 series from Germany's Raster-Noton label. ELpH (a.k.a. Coil) constructs the December issue, the most interesting and least minimal bit from the entire series. On the CD it says "elph.zwölf," the only words spoken (albeit electronically processed and repeated) in the 20 minute long track. (For those who don't speak German, elf = eleven and zwölf = twelve, quite appropriate for the twelfth release of the series.) What separates this release from nearly all of the rest of the series is the fact that this track is actually interesting, moving and evolving over the entire 20 minutes. Low drones open up, rhythmic electronic loops and clicks come in, sound builds with swirling electronic voices added to the mix, drones get louder to a climax and then it quiets down towards the end, ending on a festive fanfare, destructed almost v/vm-like, short and sweet. This disc will no doubt be the most sought-after and difficult to find of the entire series, all of which have pressings limited to around 1,000 copies. Best of luck! - Jon Whitney
LAUB, "INTUITION"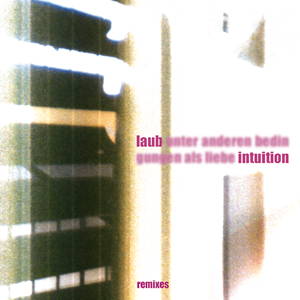 Not just your regular remix album. This one kicks major booty with tracks from previous Laub CDs that have been reworked by folks like Pole, Schneider TM and Coldcut. A climactic symphonic opening track remixed by Clifford Gilberto opens the disc which kicks into a fierce overdrive within about a minute, using a drum and bass style played drum kit, upright bass, jazzy piano and various other classical instruments. Gonzales remixes "Wake Up" into a mesmerizing head-bobbing funky stepping tune, Full Swing reworks "Welt Weg" into captivating pulsing tone bursts, Pole give us a static electronic version of "Grau," Elektronauten and Mathias Schaffhauser each present liquid dubby drifting sounding remixes, and Schneider TM gives us a dense distorted remix of Urlaub. Various others round out the rest of the disc with equally impressive and unique revamped versions ranging from more thumping jagged drum and bass influenced beats, distorted noise gems and complex post-kraut rock electronica. For those not yet into Laub, this is a great starting point with over an hour and 12 fresh remixes by some other excellent artists. - Jon Whitney
"THE REPERCUSSIONS OF ANGELIC BEHAVIOR"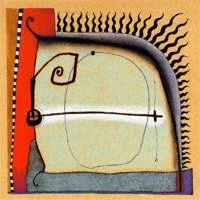 Bill Rieflin (Ministry, the Revolting Cocks, KMFDM, SWANS, NIN, etc), Robert Fripp and Trey Gunn (King Crimson) first pooled their impressive talents on Rieflin's debut solo album from earlier this year, "Birth of a Giant", also on First World Records. "The Repercussions of Angelic Behavior" is 53 minutes of instrumental improvisations from the same sessions. Whereas the majority of the tracks on "BoaG" were well crafted experimental pop songs, the 10 untitled tracks found here are little more than self indulgent, masturbatory jamming ... unfocused, leftover session fodder better left in the vaults. The music ranges from laid back ambient atmospheres, courtesy of Fripp and Gunn's unique guitar tones, to rapid-fire and somewhat random, headache inducing guitar/drum/bass noise blasts. There's a lot of talent in the room but to my ears there's a serious lack of soul. I'm sure the prog rock / acid jazz crowds would be able to find whatever it is they find in this sort of stuff ... but it does nothing for me. Save for three of the longer (7+ minute) tracks of the more ambient nature, "Repercussions.." is really disappointing. "Birth of a Giant" makes much better use of the talents of Rieflin, Fripp and Gunn (and several others) and remains one of my favorite new albums of 1999. Get it instead ... - Mark Weddle
THOMAS FEHLMANN "ONE TO THREE. OVERFLOW"


Fehlmann is an electronic musician with 20 years experience as a member of Palais Schaumburg and the Orb, producer/mixer for Sun Electric, and as a solo artist and re-mixer. Last year's "Good Fridge. Flowing", also on Apollo / R + S Records, collected 20 of his solo pieces from 1990 to 1998. "One to Three. Overflow" seems to be a collection of solo leftovers with 8 of the 12 tracks being re-mixes (of and by Fehlmann) and collaborations. This disc, beautifully mixed/produced by Fehlmann and mastered by Stefan Betke (aka Pole) has the same ambient-IDM flavored techno feel as "Flowing". The songs are bright and fluid, sexy and sublime ... thumpin' grooves to dance or chill out to. It's not quite like the Orb, but you can definitely tell that he is a member of the Orb. Fehlmann does a fine job of re-mixing Charles Wilp's "Charlies Angeles" and Infiniti's (aka Juan Atkins) "Never Tempt Me" (which is unfortunately marred by insipid spoken word lyrics). It's easy to see why he is in demand for re-mix and production work. In turn, "Superfrühstück" and "Wee Wee Mademoiselle", both originally from "Flowing", are re-mixed to great effect twice apiece by Plug Research and Fehlmann and To Rococco Rot and Sun Electric/Willekes Wille, respectively. The "Superfrühstück" mixes are an especially tasty blend of ambiance, smooth bass and beats. The final 2 tracks are collaborations of a more ambient/experimental nature: "Tuning" with Mute Records boss Daniel Miller and "FriedrichstraBe" with King Crimson guitarist Robert Fripp. Round it all off with 4 straight Fehlmann tracks mixed in and you have a surprisingly cohesive and solid 62 minutes of electronic music. As with "Flowing", this one features groovy minimal artwork courtesy of the Designers Republic. Worth every penny of the $16.75 import price tag ... - Mark Weddle
UAKTI, "AGUAS DA AMAZONIA"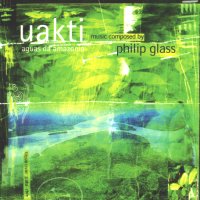 I feel a little embarrassed browsing through my local record store's New Age section, but only a little. I find the latest album by the Brazilian group Uakti (wa-ka-chee), and am vindicated. Taking their name from a mythic creature whose body is ridden with holes and makes wonderful sounds as he runs and winds pass through him, Uakti here perform music composed for them by Philip Glass. Nine of the ten tracks (the last composed by Glass for ballet) are inspired by the rivers of the Amazon, hence the album title. Mostly percussion-lead (from homemade instruments to marimbas) with woodwinds and sparse keyboard accent, these pieces (which flow together seamlessly) don't really recall rushing water, nor the calm babble of brooks. They sew together bits of tribal warmth and airy classicism onto a frame that sounds a lot like Steve Reich's "Music For 18 Musicians"-era melodic minimalism. Allowing your mind to float free of association and physical sensation, this music is perhaps best suited for the waters of an isolation tank rather than tropical locales... brilliant and beautiful, nonetheless. - Jason Olariu
KRAFTWERK, "EXPO 2000"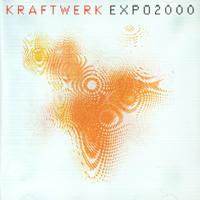 Thirteen years since the last original material has come from the group known as Kraftwerk and we get this, a piece commissioned for something I know nothing about. The music is quite unexciting, four similar versions of a rather uninteresting song to begin with. A simple and moderate paced undoubtedly Kraftwerkian tune with computer generated vocals, repeating the basic theme of Expo 2000 over and over again. On the more positive side, the cover is pretty spiffy: a fractal-esque design which changes depending on how the cover is held in your hand. I'm interested to see if an album will ever develop, but this single is something just to own and not necessarily to listen to. - Jon Whitney
FANTASTIC PLASTIC MACHINE, "INTERNATIONAL STANDARD EP" US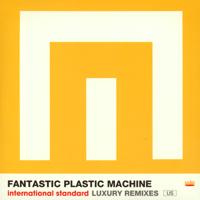 What is it with the Japanese and their interest in releasing different music in different countries? More annoying than them goddamned European two parts, this remix EP has three different versions, three different tracklistings, yet one's released in Japan, one in Europe and one in North America. Each come in a matchbook style sleeve with four remixes of tracks lifted from 1999's album "Luxury." Fantastic Plastic Machine is Japanese DJ, magazine editor, radio personality Tomoyuki Tanaka, turned lounge and retro influenced producer/composer - a true Renaisance man. His full length albums have included friends which included The US EP features SWAMP's analogue drum machine heavy version of the campy chanting gem, "You Must Learn All Night Long," Los Amigos Invisibles remix of the disco revivalist, "Bossa for Jackie," (co written originally with Simon Fisher Turner), The Angel's remix of exotica influenced "Honolulu, Calcutta," and DJ Me DJ You's psychedelic swirling guitar and stoned out beats/late 60s film score sounding remix of "The Girl Next Green Door." It's a cute release and recommendable if you're already familiar and enjoy his music, but more recommendable would be the full lengther from 1999 - perhaps a review of that soon. - Jon Whitney
MR. HANKEY'S CHRISTMAS CLASSICS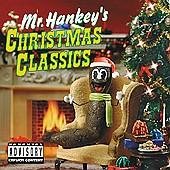 A nice collection for the holiday spirit, even though the holiday has passed I thought this deserved a little bit of a mention. The tracks on this CD are mainly from this year's Christmas special. My personal favorites include Mr. Garrison's globally incorrect bit "Merry Fucking Christmas" as well as Hitler doing "O Tannenbaum" which segues into Satan's "Christmas Time In Hell," a joyous festive tune, also completely politically and morally incorrect. (Lady Di, Gene Siskel, Jeffrey Dahmer, Ghengis Khan, Mao Tse Tung and both JFK's are all celebrating the Christmas cheer in the underworld.) Other songs on the collection include stuff from the first Christmas special like Kyle's "The Lonely Jew on Christmas," "Santa Clause is On His Way" and Chef's "What Child is This?" Completely new tunes on here include the forgettable "Dead, Dead, Dead," and the half understandable duet between Kenny and Mr. Hanky, "The Most Offensive Song Ever." In closing, if there is any Christmas album to own in your collection, make sure it's highly offensive, loaded with cusses and entertaining. - Jon Whitney
BEST BOY ELECTRIC, "SONGS OF LATITUDE AND LONGITUDE"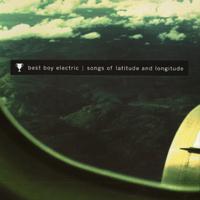 Sometimes it gets quite difficult to describe something without using comparisons to others before them. While I really enjoy this, the charming and honest debut full-lengther from Best Boy Electric, the slow and melodic music combined with the hesitant vocals screams of influence of Galaxie 500, Bedhead and of course, Low. Best Boy is based in Madison, WI and features former Low bass guitarist John Nichols, who left the band to head to college. The album was produced in Duluth by Alan Sparhawk from Low and features a similar formula of simple drums, slow pace, melodic guitar lines, heart-felt bass strums and quiet keybaord background accompaniment. The lack of pop ditties and up-and-down stroked guitars doesen't necessarily warrant calling this "sad" music, so I'm confused where people get off on accusing bands like this of being as such. This should be an interesting band to watch develop over the next few years, as the singer sounds like he's just beginning to get comfortable with his voice. Those fans of the above mentioned bands would probably enjoy this as much as I did while if slow-core or shadow-pop isn't your style, it's most likely not for you. - Jon Whitney
AUBE, "SHADE-AWAY"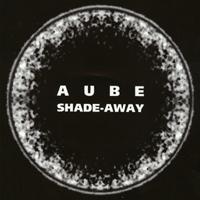 Packaged in a flimsy baggy with a black and white book of artwork, Art-IC Culture in Sweden brings this Aube release, constructed using only glass as the sound source. While each album from Aube utilizes one non traditionally musical source, the sounds and music are never dull or boring. The music on "Shade-Away" is considerably more pulsing and rhythmic than older somewhat droney recordings. It features tones of clanging glass in spots as well as low end scraping, looped and modified. Crunched glass and crackling shards accent the appropriately titled track "Trample," while "Rebounce" sounds like it could be a bunch of drinking glasses rustling underneath a repeated loop of other tones. The packaging for Aube releases is usually unique to each release and frequently something completely new in general -- with examples like Metal de Metal housed in a metal sleeve, Pages from a Book housed in torn pages from the bible or Aqua Syndrome packaged in a liquid filled pastic baggy thing -- this one is somewhat of a let down but I guess a couple of pieces of glass could be bought to house this CD with book. - Jon Whitney
We know that sometimes these CDs are somewhat challenging to find, which is why we have a RECOMMENDED STORES section which can be used to obtain nearly everything available on the site.
FEEDBACK
ZOS COIL?
Subject: Coil site

I think that your website on them is lacking something. I have, both by Zos Kia, the Rape 7" and the Be Like Me 12". However, you don't have them listed on your website. Are these not by Zos Kia w/ John Balance of Coil? or were you just unaware of them? Neither of the records have a list of artists that I have yet to see, but they sound just like Zos Kia on the Transparent album. If you want I could give you the info on the records so you could post them under the music page. Sorry, I would be unable to give you scans. Thanks very much for the Coil site, as no one else seems to fully recognize their talent and genius.

Zos Kia at that point did not include John Balance or any Coil member. You will also note that only recordings featuring John and/or Peter from Psychic TV are noted as well.
---
Subject: Overwhelmed With Joy :*)

I've been checking your Tortoise site for about 5 months now, waiting for the good news that Tortoise is or will be in the studio, and it finally here!!
Let's just hope they can hit a fourth home run!!

You would probably know better than me: what is the average length of time in between Tortoise recording an album, and the album actually arriving at the stores? And how long does it take for Tortoise to record and album? Man, I can't wait.

Finally, what is your guess as to when THE ALBUM WILL BE OUT!

Whoa there, partner,... The news article (mentioned on the Tortoise page) only noted that John McEntire had set up his studio and intends to record a couple albums soon. When they're gonna be started is anybody's guess. As for when they finish the recordings, finalize the sequence and mix-down, press up the advances, start the publicity campaign and manufacture the full retail releases - that will most definitely not be for a long while after then I'm sure.
---
Subject: Happy New Year !!!

Please accept with no obligation, implied or implicit our best wishes for an environmentally conscious, socially responsible, low stress, non-addictive, gender neutral, celebration of the winter solstice holiday, practiced within the most enjoyable traditions of the religious persuasion of your choice, or secular practices of your choice, with respect for the religious/secular persuasions and/or traditions of others, or their choice not to practice religious or secular traditions at all . . . and a fiscally successful, personally fulfilling, and medically uncomplicated recognition of the onset of the generally accepted calendar year 2000, but not without due respect for the calendars of choice of other cultures whose contributions to society have helped make the U.S.A. great, (not to imply that the U.S.A. is necessarily greater than any other country), and without regard to the race, creed, colour, age, physical ability, religious faith, or choice of computer platform of the wishee.

(By accepting this greeting, you are accepting these terms: This greeting is subject to clarification or withdrawal. It is freely transferable with no alteration to the original greeting. It implies no promise by the wisher to actually implement any of the wishes for her/himself or others, and is void where prohibited by law, and is revocable at the sole discretion of the wisher. This wish is warranted to perform as expected within the usual application of good tidings for a period of one year, or until the issuance of a subsequent holiday greeting, whichever comes first, and warranty is limited to replacement of this wish or issuance of a new wish at the sole discretion of the wisher.)

I feel warm and fuzzy all over.
---
Subject: styx

dear washerwomen,

Eighties synth-pop is like no other genre and is currently underappreciated. I just want for you to take the time to appreciate at least one song of Styx. If not for the brilliant musical content, or the deep lyrics that embody the thoughts and dreams of our nation, at least for the fun of listening to Mr. Roboto in your car and pretending that you are in a VW commercial ;)

Sorry to disagree with you, but 80s synth-pop is not underappreciated. You can always find retro hits on the radio and in car commercials. Remembering these songs is a myth however. People only remember the hits they're reminded of. Does anybody remember Dexy's Midnight Runner's follow-up hit to "Come On Eileen" or Men Without Hats second hit single? How many hits from The Fixx or A Flock of Seagulls can you name? I'm perfectly happy with leaving the 80s where they are, I lived them and am ready to move on. As for Styx, that's a different story as they had such awful classics like "Babe," "Come Sail Away" and many others in the 70s.
---
Subject: name that tune

Hello Music Fans,
Don't you hate when you know the lyrics to a song and have remembered the assorted times in different clubs dancing to it.
Which sometimes can different then the chorus lyrics.
Okay It goes like this ...
Slow slow quick quick slow.... Dancing in Heaven.. I LOVE THAT SONG!!!

$20.00 to anyone who can identify the artist of this jewel. I am not kidding, I get very obsessed, with these song trivia pursuits.
Its been driving me out of my skull for two days now.
If any one can do my the favor of identifying this artists and song for me I am at the point of compulsively spending hours looking up all the lyrics New Wave artists in the eighties by doing this. If nobody knows, I will have to find this song anyhow...
I will gladly share this one with all of you guys when I find it.

I believe that was the one hit wonder, "Q-Feel" - the song written by the same guy who wrote "We Built This City" by Starship. I hate this music despite knowing it.
---
Subject: discography

I can't get the Monte Cazazza full discography. Can you get it for me please.
I'm waiting for answer.

The closest we have is what he did for Industrial Records, which can be found on the Throbbing Gristle web page.
---
Subject: cd

hey there...
maybe i'm just dense, but i can't see exact info on the order/purchase of music to play in the dark vol. 2. i am more than willing to ship out money for this cd, but i need to find out how much it is! can you help?

On the first page of the Coil site, it says information is on the news page.