MUSIC
IN BRIEF
NON, "RECEIVE THE FLAME"

Boyd Rice has indeed returned to the purity of the innocent with this release. Loops and noises live and breathe on this record, unharmed, naturally flowing, swelling and crunching in what is my favorite full-lengther from Boyd for quite some time. I'm shocked at the beauty of "Solitude," which is due out as a single at some point in the near future from Mute UK. What they plan to make out of the song I'm anxious to hear. There's no screams, there's no rants, no guest speeches nor offending symbolism. Boyd's talents shine brightly as his seamless cut up loops and distortions gracefully turn the sources into brilliant new tunes, along with the help of some brass, string and organ players in spots. The artwork is gorgeous and I'm quite impressed. A reader sounded in describing this as "Phil Spector meets Boyd Rice" but I tend to disagree. While there are some pleasant chimes and melodies, thankfully there are no "sha-dings" to be found singing along. Time to buy yourself a late Christmas present as we all know moms just aren't hip enough to enclose a Boyd Rice related CD in your stocking. - Jon Whitney
THE ROOTSMAN, "VERSION OF THE UNSEEN" EP


The Rootsman is an English DJ/dub musician with 15 years experience and a discography that includes over two dozen EPs and albums since 1994. "Versions of the Unseen" is a 6 track remix EP follow-up to the most recent album "Realms of the Unseen" on Third Eye Music and is thankfully available domestically for ~$7 via Portland, OR label BSI Records. This is my first taste of Rootsman besides his 2 remix albums with Muslimgauze: "City Of Djinn" (which is being re-issued by Third Eye in February) and "Return to the City Of Djinn". The 6 tracks here include the album versions of "Al Andalus" and "Beyond the Hills", 2 Rootsman dub mixes of the former and a Ras Boras (of Treponem Pal) remix of the latter, and the non album track "Imitator" remade by BSI's Landau. Of the 3 versions of "Al Andalus", the album version is the best. MC Johnny Lone drops a laid back Spanish history rhyme about "Al Andalus land of kings and queens" over a smooth, mid tempo dub-hip-hop backing. The dub mixes are similar and, of course, delete much of the vocals save for the occasional blurt out through the echo chamber. "Imitator" is very in your face with barrages of snare heavy drumming and sudden sampled vocal outbursts. You can dance to it, but you might hurt yourself. The 2 versions of "Beyond the Hills" are very different. Ras Boras' remix is uptempo and playful with a bleepy electro sound and an amusing Dr. Dre style high-pitched keyboard melody. The original is down tempo with some gentle wailing female vocals, piano, gurgling synth lines, beautiful flute (?) melodies and tabla rhythms. All together, this EP is nice and varied and good news for dub fans. I'm intrigued enough to seek out an album next ... - Mark Weddle
HALOU, "WE ONLY LOVE YOU"
Although the popularity of bands featuring phat beats and female vocals has risen immensely, few artists have been able to perfect the style and display enough originality in doing so to stand out amongst the more mediocre of such acts. The California duo Halou, one of the newest acts on the Bedazzled label, is the latest to accomplish this feat with the release of their debut album we only love you. Far beyond being just another trip-hop record with a female vocalist, the album is flawlessly produced and features beautifully written songs that are incredibly diverse in style: "loop in blue" is a dreamy ballad, "la mer" and "you are one of us" are impossibly catchy electro dance tracks, and "clip" is a multi-layered drum 'n' bass masterpiece. The vocalist, Rebecca, uses her voice to take on a different persona with each song. She is a fragile and silvery-voiced angel in the stunning "halfbreath," yet becomes a throaty, sultry diva in "ifish." In other songs, she displays the ability to be both at once. We only love you absolutely defies conventional genre. Melodic and dense, heavenly and melancholy, blissful and intense - however one tries to define this album, Halou has found a way to marry the best elements of trip hop, drum 'n' bass, and ethereal pop to produce one of my favorite albums of 1999.- Jessica Tibbits
ACHIM WOLLSCHEID, "AIRS"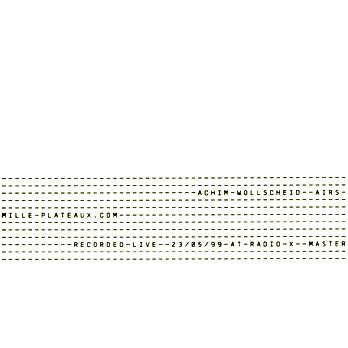 Although it's not quite like catching this electronic performer live, it is a nice artifact to own. I've only been to one Wollsheid performance, an installation where various mechanisms placed around the room would click in rhythmic patterns triggered by laptop computer software. All the while, in various corners music would eminate from speakers - the sound sources being both of the computer and primitive tape loops being threaded and re-threaded during the entire performance. This CD from Mille Plateaux captures the audio from a performance last May by Wollscheid at Radio X in Frankfurt, Germany. For 60 minutes, broken evenly into six 10:00 minute tracks, Wollscheid plays with various nightmarish music. Vinyl record sounds, low-end primitive instrument drones, gongs and percussives become combined with sound effects, pulses and rhythms, and random unrepetitious patterns of pings, beeps and sonics. Unpredictable and imaginative, it's got a beautiful flow and would sit nice next to a full collection of Wollscheid recordings of similar performances. Alas, many of these recordings are for the most part quite difficult to locate. - Jon Whitney
VARIOUS ARTISTS, "8, 8.5, 9 REMIXES"


Various Artists is allegedly the name of this duo of highly regarded producers who wish to remain anonymous. This limited edition CD release from FatCat features the three tracks, "no. 8", "no. 8.5" and "no. 9" along with remixes of each by Arovane, Funkostrung, Autechre, Pole and Monolake. It's heralded as a discount priced CD for the American export, but in actuality it's more like discount music. An entire half hour is taken up by these three long and boring pre-remixed tracks. The looping electronic echo-fest of few tones and clicks isn't entirely exciting and seems to go on nearly forever. An Autechre remix sounds fine, yet it's typical Autechre, as they're getting way too predictable and this track sounds too similar to much of their other stuff. Of course most people will buy this disc for that mix and listen through the other tracks less times than they can count on one hand. The weak Pole remix leaves the first track almost entirely unchanged and has me stretching for the skip button after the first 4 minutes. Monolake's probably the most notable remix on here as they added much more space and depth to 8.5 than existed in the unmixed version. They stretched out the 1.5 minute track into a good 9.5 minutes of pretty, atmospheric bliss. It makes me wonder about the validity of some labels whose existence revolves around releasing of remixes and new tracks of pre-existing bands. Take everything into account and it's okay for a discount price, but don't pay more than $10 for it.- Jon Whitney
SUICIDE REISSUES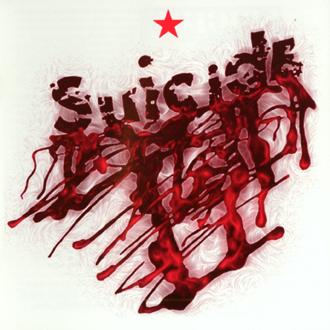 Thanks, Mute for making these available now in the USA. While Red Star did reissue Suicide's first album in 1997, this here release is coupled with a second CD. The bonus material included is a live show from CBGB's along with "23 Minutes Over Brussels," both of which appeared on Mute's own Blast First label release of this CD in the UK in 1998. For those unfamiliar with Suicide, it's instrumentalist Martin Rev and vocalist Alan Vega (remember the album he did with Panasonic). Rev's electronic noise machines play the new wave of punk, looped, distorted, abrasive and even pretty at times. Vega croons, screams, shrieks a'la Yoko Ono crossed with Elvis Presley. Together, their music legacy has become more important in the years since their demise than it ever was while they were together. Influences can strongly be recognized in lots of music from Stereolab to Sigue Sigue Sputnik.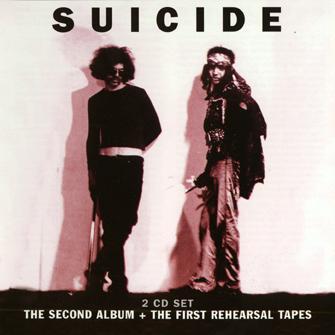 Also out this week is the previously difficult to find second album, recorded 1979 and produced by Ric Ocasek of The Cars. Ocasek may have been an electronic music fan but he was a pop star, and a fan of the clean. Suicide's second album is notably cleaner, toned down and even sparkly in spots. The spunk is absent from a lot of the tracks but the band is still recognizably the same. Coupled with this release is a second bonus CD of the first rehearsal tapes, rounding out all you need to know about the first Suicide years. - Jon Whitney
PITA, "GET OUT"
Peter Rehberg, well-known for his work in Rehberg & Bauer, is also prolific with his solo output as Pita, featured on the Austrian experimental techno label MEGO. Pita's newest release, Get Out, demonstrates an increase in sophistication in Rehberg's music. Each of the nine untitled tracks on the album is its own surreal electronic noise landscape - and I use the word "landscape" due to the striking visual quality inherent in the sound of Pita. Get Out begins with harsh, grinding, even blistering, high-pitched tones, mellowing out towards the fourth and fifth tracks with electronic blips, bird-like twittering, and nearly inaudible gurgling. The album, like so much of Rehberg's other works, gives the listener of feeling of complete disorientation with its extreme juxtapositions and abrupt sonic changes. The third track, without doubt Get Out's highlight, is a breathtaking example of Pita's adeptness at the use of this technique: the opening moments are melodic and pretty, lulling the listener into a false sense of security, when suddenly the more abrasive frequencies are brought in without warning, combining with lo-fi washes, and creating an odd blend that is both alluring and pleasantly ear-splitting, only to arrive at the end of the track by severing the listener's bliss with complete silence. Get Out stands out as some of the best work yet to be released by MEGO, and concrete evidence of the genius of Rehberg - an excellent introduction to anyone not familiar with either one. While this album is a gem for fans of harsh noise experimentation, it is definitely not for the faint of ear!- Jessica Tibbits
KREIDLER, "WEEKEND"


What the world needs now is more instrumental Germans sounding like Can. Well, I know it's bad to do a comparison right from the first sentence, but on this, the second Kreidler album for Mute, it's not necessarily far from the truth. The tunes move, they groove, they provide excellent background music to any mundane programming job or actually sitting down and doing your homework. Live drums, active percussion, a driving electronic bass guitar plays notes all over the fretboard either to keep you entertained or keep himself impressed with his own skills. Sounds like I'm dogging the record, but I do really enjoy it, it's just been done about 25 years ago already. Perhaps there were less people listening to Can back then and catching a live band like them was only for the lucky few who knew of them. With that in mind, I'd like to see these guys live just because I'm not old enough to have witnessed Can in the good years. - Jon Whitney
We know that sometimes these CDs are somewhat challenging to find, which is why we have a RECOMMENDED STORES section which can be used to obtain nearly everything available on the site.
NEW
RELEASES
MONDAY
Appliance - D4 12"/CDEP (Mute, UK)
Capitol K - Roadeater 12" (Planet µ, UK)
Death in Vegas - Aisha 12" (Deconstruction, UK)
Flying Saucer Attack - Mirror CD/LP (Drag City, US)
Jean Michel Jarre - C'est La Vie two CDEPs [mixes by Hybrid, Joachim Garraud and Funkstorung] (Sony, UK)
Peshay - Truly 12"/two CDEPs (Island Blue, UK)
Primal Scream - War Pigs 12"/CDEP [mixes by Chemical Brothers & Spectre] (Creation, UK)
Third Eye Foundation - What Is It With You 12"/CDEP (Domino, UK)
Various - Dancefloor Architecture Vol.1 12"/CDEP [with Quant, Metamatics, Joel Eriksson, Nonplace Urban Field] (Dot, Sweden)

TUESDAY
Sue Garner with Rick Brown - Still CD (Thrill Jockey, US)
* Kreidler - Weekend CD (Mute, US)
Muslimgauze - Sufiq CDEP (Soleilmoon, US)
* NON - Receive The Flame CD (Mute, US)
People Like Us - Hate People Like Us CD (Caciocavallo/Soleilmoon, Europe)
Rick Rizzo/Tara Key - Dark Edison Tiger CD (Thrill Jockey, US)
* Suicide - 1st Album 2xCD and 2nd Album 2xCD [reissues with bonus material] (Mute, US)
Various - Another Prick In The Wall: Tribute to Ministry Vol. 2 CD (Invisible, US)
Various - Between Sun & Moon CD (Soleilmoon, US)

FRIDAY
D.J. Krush - Code 4109 CD (Sony Techno, Japan)

For a more comprehensive release schedule stretching far into the future, please check out the NEW RELEASES brought to you by Greg and Feedback Monitor.
MOVIES
REVIEWED
MAGNOLIA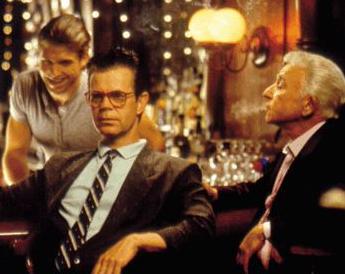 It's kind of strange how things work. How everything comes together. You may say that it's just a coincidence, but Magnolia tries to prove that it's more than just that. From a very interesting and entertaining opening scene the film gets your attention and tries it's best to keep it through a variety of different stories that somehow all come together. Despite it's many plot holes and gaps it keeps our interest in all of the characters. The film's biggest flaw is that it is over 3 hours long, it feels more like 4. The action and direction is top notch with some very interesting technical achievements, the foul language and memorable scenes are the highlights. Excellent performances by an ensemble cast that include a Julianne Moore, a very entertaining Tom Cruise, William H. Macy and John C. Reilly as the leads. The story would be hard for most people to comprehend, mainly because there are many different stories going on at once. One follows a past boy genius and his lack of self esteem, another follows a new boy genius who's father is forcing him to go on show and get ridiculed by the public. A dying man whose last wish is to meet his abandoned sex fiend son, while the dying man's young wife wants the son out of the way so she can collect the inheritance. A game show hosts life of adultery turned bad on him with his battle with cancer, whose only reassurance is his reattachment with his drug abusing daughter. A good natured police officer who sees the good things in everything ends up having his own problems. I left out what happens to everyone, and a few other surprises, I don't want to go into detail too much about the story line, I don't want to give anything away. As much as I liked this film, it left me with many phrases to say over again and again, I would not enjoy sitting through it again, it was a painful experience but at times very entertaining. It seems that some of the newer films are all following the same sort of form now. Like American Beauty and Being John Malkovich, Magnolia takes the same kind of dark humor and problems and makes them humorous with a serious overtone to them. I'm not saying that this is a bad thing, I enjoy it very much, but it seems that being different was what everyone needed, now it seems that everyone is being different. This film is very excellent, it has some excellent scenes as well as some dull ones, I leave you with one thing to remember, respect the cock! - John Beck
BOOK
REVIEW
AN EXPLAINATION OF THE BIRDS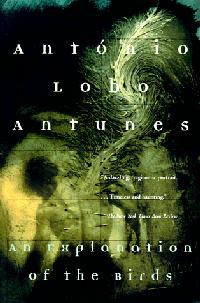 While Portugal's literary mogul José Saramago may have recently captured the American scene with is novel, "Blindness," and the subsequent Nobel prize that was awarded to him, another of the country's gems can be found in Antonio Lobo Antunes. Having previously read his, "Act of The Damned," I sat down over the break and opened what many reviewers and readers call his "pinnacle" novel, "An Explanation of The Birds." Concerned with the demise of Rui S, an overweight professor with thinning hair and borgeouis tendencies, over the period of three days, Lobos Antunes constructs a surreal tale in which the characters of Rui's life comment and analyze their relationships with him.
Throughout the novel, the one central image is of Rui's only remaining glint of happiness, his memory of the birds as explained to him by his father during his adolescence. In the progression of the story we find this central imaged morphed and constricted into a new image, an image of Rui's father--a privileged member of Lisbon's elegant capitalist structure--collecting the birds and butterfly's of Rui's memories and pinning them, along with other various items and people in Rui's life, to cardboard sheets and filing them away in display cases besides their identifying cards.
Rui's family members, ex-wives, and associates all comment on the man's decline, illuminating his faults as the circus gathered together to watch Rui's decay observe his struggle as it approaches it's ultimate act, suicide on Rui's part. Suicide as a release is no secret, instead being divulged almost as quickly as the novel begins. But that's not the point of Lobo Antune's novel. Instead, the author has committed to capturing the last moments of this desperate professor, offering poignant descriptions of his failures and shortcomings.
Labeled as one of Portugal's "pre-eminent writers," Lobo Antunes dispenses with the traditional narrative and instead delivers an abstract and sometimes humorous portrait that propels the plot along with an intensity that builds and builds until its stark and haunting climax.- Carter Adams
FEEDBACK
TEEN BANDS EXPOSED?
Subject: a comment on the brain

To whom it may concern:
I recently read the brain and was rather surprised at its contents.
Coil was voted best band - that made me very happy, as Coil is my favourite band.

Later, I found that "the most annoying trend" was voted "gay teen bands". Gee, that's funny, the last time i checked a large percentage of brainwashed bands were comprised of homosexual or homosexually sympathetic members - namely Coil. what a fitting tribute, guys!

Not to be a cultural stickler, but I found this to be in very poor taste. It happens to be a pet peeve of mine; the usage of "gay" as a derrogatory adjective.

I am sure you didnt nessisarily mean any harm, but as a homosexual man I take things like this to heart, especially the ignorance attached to its usage.

Are you saying N'Sync, Backstreet Boys and 98 Degrees are heterosexual? That'll come to a shock to the readers who filled out the ballots along with anybody who also doesn't believe in The Easter Bunny, Tooth Fairy and Santa Claus. As for your assessment of the large percentage of brainwashed bands, looking at the list I think only Coil have made their sexuality well known, and even they have 60% straight membership in the current lineup.
---
Subject: www.brainwashed.org

I found this bands web site they are called Brainwashed. Is there any relation to this site?

none
---
Subject: hello.

Hi, just wanted to tell too that i appreciate all that you do for the brainwashed site. Articles and reviews are thorough and informative. You spotlight music that I find a great interest and love for. I read that you have volunteer contributors to your publication. Who and how do you choose such contributing writers. Is there a chance for me to contribute, perhaps in album/concert reviews? I photograph a bit as well.

thanks for yer time.

We welcome submissions, request them all the time but most people don't follow through. Submissions usually get slight edits after they come in, just to make sure everything's capitalized and spelling and grammar looks approximately correct.
---
Subject: Drones.

BTW--Read your review of the new Aube. To Art-Ic's defense there was a limited edition version of 25. I got one of 'em and they are quite swell. Basically, the CD and info sheet were sandwiched between two pieces of plexi glass that are permanently bolted together. Then there is a small piece of metal on top that has the copy number engraved into it. Very spiffy. About 8" x 11". But...it is the music that matters. (I thought it to be one of Aube's better works....but then again, many of them simply sound the same to me.)

Rats, goddamned limited editions.
---
Subject: Anal Staircase?

Do you know anyone who needs a Relativity Anal Staircase?

I know this question refers to a Coil 12" single but the sentence plainly just sounds wrong.
---
Subject: Instinctive Codes EP (Trans Am)

A few days ago, a friend baught me a Trans Am record that I had never heard off. This record (It has a black cover) is called "Instinctive Codes EP" and has four songs on it (Mango, womb waters, eigth, Behind the club). As I came home, I put it on, and some really crappy Techno came out of my speakers. As I couldnt believe my ears I took a closer look at the EP and I saw that it was "written and produced by Diego Hostettler" (?Who the fuck is D. Hostettler?).

If you know the guy (or his relation to T.A.-which I doubt) please reply to this message, otherwise please provide your pages of a warning sign for that record, it is a waste of money and scares the shit out of every Trans Am fan with healthy ears.

Trans Am have denied knowing anything about this release. Could be another band with the same name...
---
Subject: Krauts

Hello,

I'm one of the Germans and just wanted to tell you that i'm really imprest about this page.
Seems to me that everyone who has something to do with this genre is on your side.
The wonderful thing is that there are even more I never heard about. This gonna take a lot of work to find out who they are and what they do. Just wanted to say thank you for this very useful page.

Stay wild.

Danke.
---
Subject: cyber

are you single

Have you got the energy?
---
Subject: Hyundai Commercial

Did you see the Hyundai Accent commercial with the MBM soundtrack to it?

Set me free...

Yes, Prime Audio Soup plays while you see some band with guitars bouncing around on the stage. The car drives off the stage into the audience and gets passed around like a crowd surfin' kid. Quite entertaining.
---
Subject: none

In a culture that claims to revolve around "music" I find a hard time finding this to be true at all. Magazines like Jockey Slut, XLR8R, Urb and MixMag seem to be only concerned with taking ectatsy, going to "clubs", underage suburbinite infested raves, having the newest "cuts", Fashion, and every other ridiculous aspect other than the music. And the reviews they do have seem more like press releases.
So it's nice to find a website that really covers the music especially electronic music. brainwashed covers the music that really is worth mentioning. well done!!

Hey, we love taking drugs and surrounding ourselves with the underage too!!