MUSIC
IN BRIEF
GLASS / WILSON, "THE CIVIL WARS"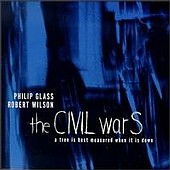 Actually, the full title is the CIVIL warS: a tree is best measured when it is down, but who's going to read an article with such a lengthy tagline? And yes, I know that perhaps some of you are thinking that it's quite a lengthy title for someone who pioneered the concept of minimalism, but this disc is anything but that. The fifth movement of an opera to be performed in the mid-80s, Glass' section (other composers were responsible for the remaining sections) was one of the few that actually surfaced, and has finally been captured here on disc for the first time. The "Rome section," as this fifth movement is called is Glass at his most expansive, without any of the redundant musical syncopations that he is known for. Yes, there are the rapidly shifting chords and mechanical rhythms of his soundtrack pieces, but Glass utilizes the voice to its utmost. It's as if he took the Rome section to heart, studying the works of Verdi and Puccini and fusing their style with his signature sound. The fact that the title is the CIVIL warS and not the CIVIL war is a conscious one made by Robert Wilson, the opera's visionary and librettist. In the liner notes to the album, David Wright notes the multitude of nations and cultures represented within the opera, showing not only the many nations of the world, but also their "warS." One of my favorite Glass pieces, I would easily recommend this to anyone as an introduction to one of the most important composers of the late-20th century. And to a friend who recently commented on Glass and his minimalist contemporaries as being "new age," I would happily ask him to listen to this and then try to compare it to any of the equally horrible Wyndham Hill samplers. - Carter Adams
RRRECORDS 500
When's the last time you bought a compilation with 500 tracks by 500 artists? Never right? You can now. This LP features just that ... 500 locked groove tracks, 250 per side. You drop the needle where you want, listen to the locked groove until you're sick of it, then drop the needle somewhere else. It's a pain in the ass but it's fun too. Some of the more familiar names among the 500 artists: Aube, Zoviet France, Otomo Yoshide, Terry Riley, Project Dark, the Haters, Lee Ranaldo, Thurston Moore, Masonna, People Like Us, Sonic Youth, etc, etc, etc, etc, etc.
This is the first time I've reviewed something without actually listening to it all beforehand ... but do you know how long it's going to take to hear all of these tracks? Quite a long time. Someday when I have a lot of free time on my hands I'll sit down and do it and maybe tape them off.
Anyways, I dropped the needle randomly several dozen times on both sides for this write-up. What I heard were short (a few seconds apiece) found sound style loops of just about everything you can imagine: whirs, clicks, whistles, buzzes, drones, clankings, bangings, scrapings, industrial noises, electronics, drums/percussion, dialogue bits and undescribeable samples and collages. A lot of really interesting sounds here ... quite a few you can leave repeating for a good length of time. The record comes in a neatly designed b/w gatefold sleeve inside a clear bubblewrap cover with the full list of artists on the inside. This is one of those items you own just because it's unique and cool, show off to all your friends and don't necessarily spin all that often. Art, for cheap, at around $10 ... - Mark Weddle
M. GIRA, "THE SOMNILOQUIST"
"The Somniloquist" (meaning 'one who talks in his sleep') is a limited edition (2000) 73 minute spoken word album by former SWANS and The Angels of Light leader Michael Gira available signed direct from the SWANS web site. The disc is divided into 5 stories read live: Bloodsucker (1984), The Sex Machine (1994), MTV and the Cult of the Body (1996), The Idiot (1996) and My Birth (1996) that vary in length from 6 to 25 minutes apiece. The first two stories, or 'fairy tales' as Gira refers to them, may also be found in his 1994 book "The Consumer" on Henry Rollins' 2.13.61 book imprint. In short the tales cover these subjects: a person being physically and mentally eviscerated by another, a sex show, the clean-up of an air plane crash, a prisoner and his experiences in jail, the birth of a child and murder of the mother by the child. Consider these *adult* fairy tales. Gira's frequent inspirational sources are also found here: authority, control, virtual realities, fame, love, hate, sex, rape, violence, brutality, gore, etc. Gira has the same penchant for painting evocative images with words as he does with sounds. His speech is delivered in a nonchalant and deadpan, yet hypnotic manner deviating occasionally for an impassioned, whispered or sung line. His mastery of language and attention to detail is crucial to the visceral nature of these stories. You almost feel guilty for enjoying these tales which is probably the purpose of it's creation ... a confrontation of sorts with the darkest hidden inner thoughts, feelings and sides within individuals and society in general. Luckily for us Gira is not reluctant to share the fascinating and/or frightening bowels of his mind ... - Mark Weddle
samples:
www.swans.pair.com
CEREBRUS SHOAL, "HOMB"


Since their first album, one that cultivated the cinematic-influenced emo sound of bands such as June Of 44, until now, Cerberus Shoal has grown into a beautiful beast. Moving further away from guitar-based tunes with each release, and concentrating more on rapturous/meditative spirituality, their fourth release is most likely their best. Utilizing horns, keyboards, dozens of ethnic instruments, and an impressive battery of percussion, "Homb" has a sound that could best be described as music for a new religion. The very majestic "Myrrh (Waft)" starts with sparse percussion, only to swell with keyboards, horns, and guitars in the distance, providing an atmospheric base for loping bongos and impassioned chanting. "Myrrh (Reprise)" has a very Eastern feel to it, and not just because of the appearance of shakahuchi. The way the instruments lock together, weaving a trancey melodic tapestry, and how the soul-fire vocalizations dart between and beneath. You will be rapt in trance bliss in no time. As atmospheric but not as jazzy as their last album, the stunning soundtrack "Elements Of Structure And Permanence", Cerbebrus Shoal continue to show us the path of evolution toward true musical genius. - Jason Olariu
SAVATH+SAVALAS, "FOLK SONGS"


For what it takes years and a few releases to get to, Scott Heren has reached on his debut CD. "Folk Songs for Trains, Trees and Honey" took a year to record and pulled in only a minute amount of guests to round out the record. The music is an instrumental blend of electronics, moderate paced progressions, talented percussion, organ and bass guitar interplay. The sound is far from amateur - excellently produced and presented. Songs like "Paulo," "Conditioning," and "F Ride + Blues" sound like mainly improvised jammed pieces while the album's closer, "Slabulas," along with a couple of the album's 30 second bits explore more beat-less electronica. The flow of the album is natural and well placed, but I have a couple bones to pick. While all of the songs are very strong, I'm left aching for a little more. Much like Tortoise's TNT album, the songs are a bit short, not allowing quite enough time to develop, mature and settle in well with the listener. It's almost as if once our attention span is tapped into, it's time to end the tune and jump into the next. With nine tracks, the album is only about 30 minutes when it could have (seemingly) easily been stretched to over forty with some deeper exploration of some of the tracks. Don't let that be an influencor either way because apart from that, it's a brilliant record. - Jon Whitney
samples:
www.heftyrecords.com
BASTARD NOISE, "ANALYSIS OF SELF-DESTRUCTION"

Now I'm fucking pissed off, seriously. I had nearly completed the review of this CD when my goddamned machine crashed. I was describing how hateful and loathing this disc is, how spiteful to the human condition and obsessed with anger and hatred it seems. The cover being the color of both shit and dirt, the music being constructed from noises of power tools, home built machines and instruments and 'field recordings.' While it was all about anger and destruction, I didn't quite feel anger about destruction until the machine crashed. Now I really feel it. Man I could put my fist through the fucking wall. I don't want to hear any more of this bloody piece of shit. I have become the fucking Analysis of Self-Destruction. Goddamn is this an effective and emotional CD. Okay, I'm calm now, listening to it again, yes I can hear the noises of the dirt in "Under Mother Earth's Skin" and the nightmarish dream-state induced by the low hum of late night sounds eminating from my kitchen in "A Head in the Refrigerator of Apartment 213." Alien8 Recordings has described this CD as being the soundtrack to man's destruction of the earth, but I see it stretching beyond that to include the destruction of others and the destruction of himself. While members have worked with Merzbow and other noise outfits, this disc has a life all its own. Over the course of six tracks and 71 minutes, the music develops and flows quite appropriately, charging the listener into the emotional aspects of the true base of negative feelings. It's almost the musical interpretation of the destruction a construction crew has to do to a road before they build over it again -- it backs up the traffic, unearths smells and stenches from the soil, looks very ugly, backs up traffic for months and has no visible end in sight. There's nothing pretty about this disc. Don't say you weren't warned. - Jon Whitney
samples:
DJ SPOOKY VS. SCANNER, "THE QUICK AND THE DEAD"


"Hey, who put dub in my elitist drones?" The most dreadded release of the last few years by v/vm has finally materialized. This offering is part 1 of Scanner's "Meld" series on his Sulphur/Sulfur records. It's been quite a disappointing last few releases from both of these acts but together, the end result is more than the sum of its parts. On the Spooky side, I'm thankful there's no more singers and bad rappers, on the Scanner side, there's some beat exploration almost completely missing on his recent works. While I'm not a collector of either of these folks work, I do hear some familiar riffs popping in and out of a few tracks here and there - which leads me to wonder if this is meant as derivative or original material. Of course, each artist used to argue that everything was derivative. The earlier parts of both members' careers were almost entirely based on derivative material with Spooky's cut up DJ'ing and Scanner's telephone conversation scanning. I do in fact like this CD and at the mid-line price it's worth it. - Jon Whitney
samples:
DAVID KRISTIAN, "ROOM TONE"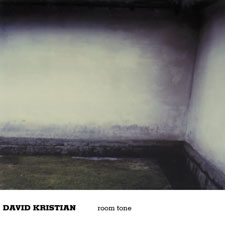 While Savath+Savalas could have taken more development time, David Kristian could have taken a bit less. On this 71+ minute CD, various tracks play around a ton of low end frequencies. The tones stay some times for almost ten minutes and beyond. The faint pulses and rhythms on certain tracks are the most exciting bits, while the rest is simply atmospheric music with the final piece being a quirky beat soaked ditty. On the whole the disc acts as good background or mood music but it's not the sort of thing I pull for when I'm in the mood for deep listening. Others might disagree however. - Jon Whitney
samples:
MOLASSES, "YOU'LL NEVER BE WELL NO MORE"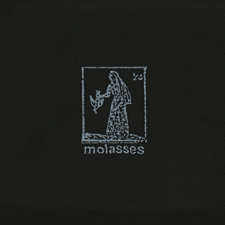 Delicately pakaged in a booklet of black construction paper, this release marks the first full length as Molasses - a collected "folk noir" group from Montreal which includes members of the Shalbi Effect and godspeed you black emperor! The CD is also the first release through the Fancy label, with a little bit of assistance from Alien8. It's a very desolate and lonely bluesy train station acoustic record, a far cry from the grand noises of the godspeeds. Montreal can be a cold place. While I do think this release is nice for a first effot, I feel the need to bitch about the long blank space gap at the end of the disc. I really hate long intentional gaps at the end of CDs as by now, there's nothing "hidden" or special about it. On this disc, the last song ends at about the nine minute mark. At about 22 minutes after that, music comes back in with a completely new track. Like the rest of the disc, it's a bit coarse and country influenced. It's truly not for all godspeed fans. - Jon Whitney
samples:
KHAN, "PASSPORT"


Yet another bit of interesting packaging this week. The disc comes in a regular jewel case but the booklet is the shape and approximate dimensions and a decent replica of Can Oral's Turkish passport - equipped with US Visa and everything. (Much more tasteful than last year's CD with the male porn esque cover.) The disc is a collection of various recordings from Can Oral's different music projects including 4E, Psi-Project, Global Electronic Network, Cube 40, Mass-Turbator and H.E.A.D. While the Khan stuff can be quite hypnotic and the other projects have their moments, the disc on the whole has a certain empty quality to it. The collection here should be regarded as a collection as each different pseudonym represents a slightly different feel and effect. - Jon Whitney
samples:
"AND THE ASS SAW THE ANGEL"


Keeping with Mute's tradition of making sure music is made readily available for those who want it, here's the US version of "And the Ass Saw the Angel." The first four tracks are Nick Cave spoken word bits - reading from his 1988 book "And the Ass Saw the Angel," originally released as a bonus disc to 'Tender Prey.' The rest is instrumental "theatre music" recorded by Bad Seeds Mick Harvey and Ed Clayton-Jones to accompany a production in Melbourne from 1993. While it's good for the fans to own something like this, it's not something I'd personally be pulling from the shelves to listen to from time to time in all honesty. Thanks do go out to Mute for keeping this in print and making it available not from mail order only. - Jon Whitney
samples:
We know that sometimes these CDs are somewhat challenging to find, which is why we have a RECOMMENDED STORES section which can be used to obtain nearly everything available on the site.
NEW
RELEASES
MONDAY
Ian Brown - When Dolphins Were Monkeys two CDEPs [mixes by UNKLE and Andy Votel] (Polydor, UK)
D.J. Spooky vs. Scanner - The Quick & The Dead CD (Sulphur, UK - Sulfur/Beggars Banquet, US/Canada)
Electric Birds - Electric Birds CD (Deluxe, US)
GF - Limited Series No. 5 12" (KK, Belgium)
Kid 606 vs Christoph De Babalon - split 12" (Fat Cat, UK)
Laika - Uneasy 7"/CDEP (Too Pure, UK)
Palmskin Productions - Kunstruk CD/LP (Pussyfoot, UK)

TUESDAY
8 Bold Souls - Last Option CD (Thrill Jockey, US)
Arling & Cameron - Music For Imaginary Films CD (Emperor Norton, US)
Arovane - Atol Scrap CD (Din/EFA, US)
Jungle Brothers - V.I.P. CD (Gee Street, US)
Jake Mandell - Quondam Current CD/2xLP [vinyl includes Stewart Walker remix] (Force Inc., Germany/US)
* Mouse On Mars - Nium Niggung CD (Thrill Jockey, US)
Run DMC - Crown Royal 2xCD [anthology of new & old material] (Profile/Arista, US)
Various - Clicks + Cuts 2xCD/3xLP [with Frank Bretschneider, SND, Farben, Vladislav Delay, Pole, Pan sonic, Alva Noto, Skist, Stillupsteypa, Neina, Sutekh Curd Duca, Ester Brinkmann, All, Dettinger, Autopoieses, Jake Mandell, Kit Clayton, Ultra Red, Reinhard Voigt, Thomas Meinecke's Framus Waikiki, Panacea, Ihan, Kid 606 and Goem] (Mille Plateaux/EFA, US)
Various - Dancefloor Architecture Vol. 2 12"/CDEP (Dot, Sweden)

FRIDAY
Cleen - The Voice CDEP (Accession, Germany)

For a more comprehensive release schedule stretching far into the future, please check out the NEW RELEASES brought to you by Greg and Feedback Monitor.
FEEDBACK
ZIPPERSPOTTING
Subject: dude!

I just saw an awesome show at my school. Zipperspy performed for my art class. At the end when she started taking questions, I asked her if she knew brainwashed.com. A big smile came across her face. I told her I knew you and she was like "I just had the pleasure of meeting him." :)
The whole class was looking at me as I was the cool kid for the day. :)

I wish I could have been so lucky to have Zipperspy perform at MY school!
---
Subject: band sites, kranky site

Hello,

I think it would be a great idea if you could have message boards or guestbooks or something where we could all say something about bands who have sites with your domain. I'd especially like to see one for labradford and/or kranky records.

happy trails..

That's a great idea but I don't know if I'd want to do it for each band or site out there. Perhaps for the entire brainwashed site? Would that work? There's already an email list at onelist.com. It's kinda quiet for the most part.
---
Subject: Compilations

Hi, I was wondering if you've ever put out a compilation cd or anything for brainwashed? If not are you going to? It'd be a good idea.

Funny you ask that. Can't tell you why cos it's a secret still. Details in upcoming weeks.
---
Subject: ummm

Hey i finally checked out your sight, very nice. I'd submit reviews but I write for a publication that owns a copyright on 'em. Heck. Anyway...
Keep it up.

We don't get paid and you own the copy rights to your own submissions anyhow, but heck, thanks for the note!
---
Subject: Brainwashed records

Hey. Is there any way that the records can be held for, say, a week? I didn't see any information on the site about ordering other than where to send the money. In case it's okay, and assuming the money's properly deposited later this week into my account, I promise the money will be sent on Friday or Saturday. (I live in the U.S., by the way, in case it counts.)

We're not in any shortage of the records. There's only a small number of 001 left but if it gets drastically low, notes will be made on the site.
---
Subject: help

Hey there ,
Edward kaspel told us along while back , that is was cool for us to send him all our cd covers to be signed by him. we have not gotten them back yet,although he has told us once that they were still with him, that was a long long time ago though. amybe you could find out something for us .

thanks for your time .
ps. he knows us, we are friends .

For all bands, you really need to contact them for policies not expressed on the websites. The websites have all the information we have.
---
Subject: Demoted, oh no!

So I've been busted down to "former frequent contributor", eh? I got a review in this week, didn't I? Sorry, having to write 7-8 reviews for AP monthly, it leaves my creative juices feeling a little dried up. I'm trying to get in the groove of writing for Brain and AP, but wedding plans also tie up time. Yeah yeah, I know I don't need to explain to you. I just got a nice laugh on that line for a Monday. Beats staying a miserable bastard after having my water heater explode!

- Jason Olariu

Bitch bitch bitch, all you do is bitch.