MUSIC
IN BRIEF
COIL, "ASTRAL DISASTER"

Some tones, some drones, beautiful soundscapes and even a guitar bit on here. Most unmistakably Coil, however, this is the CD release of an LP originally recorded back around Halloween 1998. The recordings took place outside Coil's studio however, and were produced in part by Gary Ramon of the Prescription label. The LPs were made in a quantity of 99 and only given to those who had subscribed to this series released on Prescription. The original recordings seemed rather different from Coil's work, almost without the absolute quality control work that Coil put into everything. Coil have rearranged the running order, reworked most of the songs, added one song, and left a couple untouched on this release - stretching the 45 minute-long LP into a 72 minute-long CD. The electro-glitchy looped bits "The Avatars" and "2nd Sun Syndrome" along with the haunting epic, "The Mothership and the Fatherland" remain almost completely untouched, while in "I Don't Want to Be The One," the song gets extended about 3 minutes, Peter's voice gets added subtly and an unrecognizable voice (could it be Thighpaulsandra?) appears in a brand new part tagged on at the end. The new track "MU-UR" sounds like altered takes from "The Mothership & the Fatherland" with the pulsing tympani, mesmerising scapes and Maggot Brain-era Funkadelic organ. Also added is a vocal whose effects echo those of "Amethyst Deceiver." Perhaps the most drastically changed tune is "The Sea Priestess," where a droney sitar has been completely removed. Beautiful choral voices are added along with brilliant droning Tibetan vocal samples. Pretty chimes paint an aural picture of the water glistening in the moonlight and the vocals are mixed much better and prominent sounding. - Jon Whitney
samples:
"THE FINAL SOLSTICE"

Through Piskidisk comes this release from Rose MacDowell's Sorrow and various other related bands. The first two songs, from Sorrow, are very much in the vein of their pretty folk-influenced work, although with less of a pop (not an insult) feel. A short folky instrumental followed by "The Final Solstice," a more ambient, lovely piece with Rose's inimitable vocals floating over a lovely backdrop of keyboards, cello, and uiellaen (sp?) pipes. Very nice, but the next song, "Extracts from the Faery Queene," features David Tibet's spoken vocals over minimal, creepy electronics, and it's absolutely brilliant. Judging by the title, I'd guess that the lyrics are adapted from the masque of the same name, but i'm not familiar with it, so i don't know for sure. Going from Strength to Strength, this is followed by Rosa Mundi's, "The Snowman," with John Balance doing the lead vocals and Rose providing ethereal backing. This could easily be as wonderful as their version of "Christmas is Drawing Near." It makes me especially impatient for a full length Rosa Mundi disc. The Velocity Star (no details about this project) cover of "Warm Leatherette" is fun, yet nothing too spectacular, the instrumentation is very similar to TVOD's original version, with some noisier sounds added. The final song, "Butterfly Hawk," by the equally mysterious Resonance, is superb as well, another beautiful piece very much along the lines of the Sorrow tracks. The only real complaint I have is that it's a CDR instead of an actual CD. The cover art is nice, a simple white background with red paint thrown accross like blood and the title in Rose's handwritten script. If you can still find this (as it's limited to 500 copies), it's definitely worth picking up, especially for Current 93 and Coil fans... - Jason Hyde
samples:
MONDII, "1:p"


From Chicago's Hefty Records comes this, the debut release from Japan's Nao Sugimoto - a.k.a. Mondii. This electronic album is full of some pretty loops and charming melodies and interesting rhythms. Each track takes a different turn with a wide array of instrument and style choices - stretching anywhere from electronic-era Tortoise-like bits, scratchy Oval typed numbers, Ryoji Ikeda-like chirps and pulses, as well as some ambient-Aphex era type pieces. Some of the better tracks are littered with bass guitar and marimba samples while gently combined with home-constructed electronically processed sounds. As with many of the very good debut releases recently, I really enjoy this and look forward to future releases to see how Mondii develops. - Jon Whitney
samples:
MATMOS, "THE WEST"

For their third full-length release, Matmos has indeed ventured down the road to the western lands - with guitar and western themed songs done through the eyes of an experimental electronic band who by now has their shit together. I'm really enjoying the looped acoustic guitars, usage of pedal steel guitar, twangy guitar as well shuffled drum beats and stringed instruments combined with electronic rhythms and beats. It's treated, reprocessed yet it doesn't stray from the all around 'Spaghetti Western' flavor of the record. Five tracks on this disc total about 45 minutes and were recorded in various places around friends houses in California as well as M's David Pajo's place in Kentucky. Coupled with cover artwork suggestive of old westerns and inside photos of modern cowboys, this is a great CD to find. - Jon Whitney
samples:
ARLING & CAMERON, "MUSIC FOR IMAGINARY FILMS"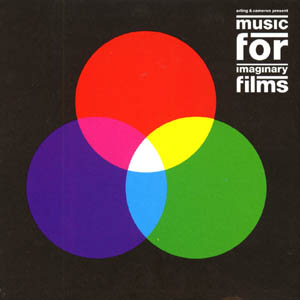 The concept was already invented but the execution was quite different. I'm referring to Leaf Records' "Invisible Soundtracks" volumes 1 and 2, which collected exclusive tracks from Laika, Fridge, To Rococo Rot, Paul D. Miller and others, where the premise was to have soundtrack music made up for fictitious movies. This most likely could have given the idea to Dutch duo Arling & Cameron for this CD. "Music for Imaginary Films" expands on imaginary soundtracks, where each song presented here is the theme song for an imaginary film. There's one page in the CD booklet for each film with a poster design drawn up and an entertaining synopsis written on the side. Each imaginary film has had a considerable amount of thought and detail - and it's quite an enjoyable read. The music itself is charming and ranges fom the 60's lounge feel, through disco tracks with big horn sections, borrowing thematic ideas from the likes of Perez Prado and Henry Mancini. While it can be campy at times like "Hashi the Drug Sniffing Canine," each theme remains authentic sounding with lots of instrumentalists hired for the recordings. Fans of the big horn retro sound from Stereolab would probably also enjoy a good portion of this record. - Jon Whitney
samples:
DJ ME DJ YOU, "RAINBOWS AND ROBOTS"


The work of Craig Borrell & Ross Harris can be heard on the MoWax release "Contacto Espacial" by Sukia, as the two comprise 2/3 of the group. Other handiwork include various remixes of folks like Fantastic Plastic Machine and Takako Minekawa. Following last year's debut EP, this is their first full-length record, released by Emperor Norton. It's a perfect example of electronica mediocrity - dance music for rock fans. Littered with tons of recognizable samples and predictable melodies, the disc is a decent head bobbing record but nothing exciting enough to shout about. Too much lounge and 60s samples can overkill an album which could have used a little more time and focus on musical elements, melody and harmony writing could have used a boost. The group is rounded out by a wide array of additional musicians and I can give credit for a very nice production job. The live instrument playing is exceptional, but well, the end result just isn't for me. - Jon Whitney
samples:
PUBLIC IMAGE LTD. "PLASTIC BOX"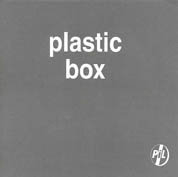 Public Image Limited was founded in 1978 mere months after the chaotic demise of the Sex Pistols. John Lydon started anew with friends Keith Levene and Jah Wobble (arguably the finest PiL line-up ever) as a hybrid punk/improvisational/experimental/dub outfit owing as much or more to Can and Lee Perry than the Pistols or any of the UK punk rock of the previous few years. They continually changed their sound, ideas, image and purpose (not to mention band members, including: Martin Atkins, Steve Vai and John McGeoch) throughout the next 15 years successfully touching on a diverse array of styles: unclassifiable, pop, dance and hard rock/metal, all graced with Lydon's caterwaul vocals. Much of this music sounds as fresh and original as it did then, decades after the fact. "Plastic Box" takes the 1990 "The Greatest Hits ... So Far" best of/singles collection and expands upon it greatly with 64 tracks on 4 packed cds that collect much of the output between 1978 and 1992, including several rarities. Discs 1 and 2 give you all of the debut album "Public Image/First Issue" (save for "Fodderstompf"), all of "Flowers of Romance", about 1/2 of "Metal Box/Second Edition" (PiL's finest moment!), 3 live BBC session tracks from 1979, a rare compilation only track ("Pied Piper") and various 7" and 12" B-sides. Discs 3 and 4 give you all of "This is What You Want ... This is What You Get", all of "Album/Compact Disc/Cassette" (save for "Bags"), various tracks from the less than stellar mid to late '80s pop/dance albums, a soundtrack only song ("Criminal") and 4 more live BBC session tracks ("That What is Not" songs) from 1992. Thankfully, nothing is included from the mediocre "Paris Au Printemps" and "Live in Tokyo" albums. The real treat here is for the hard core PiL collectors like myself: the BBC sessions and the B-sides which were previously unreleased and previously unavailable on cd, respectively. The BBC sessions aren't too terribly different from the album versions and a bit sloppy in places but they're still worth owning and many of the single B-sides are the strangest, most experimental output ever from PiL. "Plastic Box" is relatively cheap at ~$54 and is definitely best for completists. If you're new to PiL give the easy to find "The Greatest Hits.." a try first. The packaging is really cool: a double thick jewel case with 'plastic box' and PiL logos emblazoned on the front and back (each of the cds has a brightly colored PiL logo as well) in a plastic slip case cover. The 36 page booklet contains band and memorabilia pics, liner notes by Lydon with brief comments on each track and an interesting declaration at the end: "And by the way, this collection represents a comma not a full stop, I fully intend to carry on with P.I.L and there will be MORE IN THE FUTURE." Lydon is currently host of "Rotten Radio" at eyada.com and "Rotten TV" on VH1 and has been promoting a few Sex Pistols documentary films ... - Mark Weddle
samples:
THE CURE, "BLOODFLOWERS"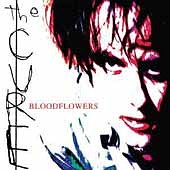 Why review a Cure record for Brainwashed? Well, the powers that be have tried to make us believe that this latest record is a return to the good old days of Disintegration or even Pornography, and I think a substantial part of the Brainwashed audience enjoyed moping to those records when they came out about 10 and 20 years ago, respectively. However, don't let yourselves be fooled - it's nowhere close. Never believe marketing babble, never listen to a man who still hasn't learned how to put on lipstick after 25 years of practice. - Marc Fallen
THE BABY NAMBOOS, "ANCOATS Z ZAMBIA"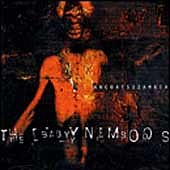 The first release on Tricky's Durban Poison label, this album from English collective The Baby Namboos expands the boundaries of trip-hop (a genre which has become rather tired lately), presenting interesting pop songs, soulful melodies and just enough rap and reggae to keep you interested. This album actually suprised me with its quality, especially considering the poor caliber of Tricky's last album. The actual music on Ancoats2zambia is actually more reminiscent of groups like Massive Attack (who've long been innovators in the trip-hop genre) than Tricky, although his influence is evident. Comparisons aside, this album is pretty tight. Tracks like "Get Your Head Down", "Late Night Antics" and the title track are funky and have a slight reggae influence, whereas tracks like "Holy" and "Hard Times" are much more soulful. These more soulful tracks feature wonderful vocals by Auroraborealis, who sounds very similar to the various female singers Tricky (who does make a guest appearance on a few tracks) has used over the years. Her contribution provides part of the same sort of juxtaposition between sung female vocals and harsher raps that Tricky has thrived off of using for his entire career. As a bonus, this disc includes two excellent remixes of the title track, one by Portishead's Geoff Barrow and the other by Dillinja (whose origin I'm unsure about). Although this album is quite good and an impressive debut, I wouldn't quite rank it up there with the output of trip-hop innovators like Portishead and Massive Attack. - Mark Robinson
samples:
We know that sometimes these CDs are somewhat challenging to find, which is why we have a RECOMMENDED STORES section which can be used to obtain nearly everything available on the site.
NEW
RELEASES
MONDAY
Appliance - D4 12"/CDEP [mixes by To Rococo Rot, Tarwater, Kreidler and Pole] (Mute, UK)
Bauhaus - Severance 12"/CDEP (KK, Belgium)
Bowery Electric - Lushlife CD/LP (Beggars Banquet, UK)
Broadcast - Extended Play 12"/CDEP (Warp, UK)
Everything But The Girl - Tempermental two CDEPs (Virgin, UK)
Frost Jockey - Burgundy Trax Vol. 1 12" (Planet µ, UK)
Process - Shape Space CD/LP (Fat Cat, UK)
Tied & Tickled Trio - ea1 ea2 CD/LP (Drag City, US)

TUESDAY
Apoptygma Berzerk - Welcome to Earth CD (Metropolis, US)
* Area - Fragments of the Morning CD [reissue] (Project/Archive, US)
Bowery Electric - Lushlife CD/LP (Beggars Banquet, US)
Cleen - The Voice CDEP (Metropolis, US)
* D.A.F. - Ein Produkt Der Deutsch-Amerikanischen-Freundschaft CD [remastered reissue] (Mute, US)
Eyeless in Gaza - Song of the Beautiful Wanton CD (Soleilmoon, US)
* Randy Greif - Alice in Wonderland 5xCD [box set reissue of series from early '90s] (Soleilmoon, US)
Edward Ka-Spel - Red Letters CD (Caciocavallo/Soleilmoon, US)
Kid Koala - Carpal Tunnel Syndrome CD/LP (Ninja Tune, UK/Canada/US)
* Mr. Oizo - Analog Worms Attack CD (Mute, US)
Supreme Beings of Leisure - Supreme Beings of Leisure CD (Palm Pictures, US/Canada)
Various - Between Sun & Moon CD (Soleilmoon, US)

THURSDAY
Mimir - untitled LP [ltd to 950 copies on green vinyl & 100 copies of black vinyl] (Streamline/Anomalous, Germany/US)
* Andrew Chalk, Ralf Wehowsky & Eric Lanzillotta - Yang-Tul LP [reissue ltd to 350 copies on green vinyl] (Streamline/Anomalous, Germany/US)

For a more comprehensive release schedule stretching far into the future, please check out the NEW RELEASES brought to you by Greg and Feedback Monitor.
FEEDBACK
LOOKING FOR A DATE
Subject: The upcoming Der Blutharsch, Death In June, and Non tour (starting in Europe in May)

From the NON Website: Mention was made in the OLDER NEWS Section of a tour. Do have venues and dates?

That was for the tour in 1999.
---
Subject: erg

Greetings,

Just wanted to drop you a line in hopes that you could relay it to Jack. I really dig Jack's music, and after hearing "Actual Sounds..", I felt that there was a track that was mostly overlooked by club DJ's due to length, etc, but was very club-worthy. The track "Oblivion/Humans" was a great MBM track, however with the extra "Humans" part, I felt that it made it a bit awkward for club DJ's to spin. So, I've cut it down and made an edit of just the "Obilvion" part of the rack (something I'm sure Jack and Company could do.. but.. still). I just wanted to mention that if the edit was desired, it's available to him. All he needs to do is ask and I'll make it available. No charge, no credit, nothing. I'm not distributing it or anything.. I just like it better without "Humans", and I thought he might appreciate the opportunity to have my interpretation of his wonderful track.

For any reason to contac the band, contact information is posted on the websites. In MBM's case, there's a P.O. box that you can send stuff to. We only write the web pages.
---
Subject: Babs Santini suggestion

I'm never one to suggest work for other people, but this seems like a good idea. There seems to be a wealth of gorgeous Santini art out there, gracing the covers of many an obscure album. Although it may take lots of time to scan in these covers, it would maybe be nice to have a 'cover' discography, naming all the albums, books etc that Mr Stapleton's alter-ego has worked on. I could suggest several, alas my underground is severly limited.
However, what do you think to the idea?

Excellent idea, although it's not on the top of the priority list right now...
---
Subject: yer so clever!

Regarding the contest - it's one way to get people to read book reviews.
I'll add my praise to putting up MP3s with the cd reviews, very handy.

Paul McRandle

Cheers, Paul! You'll be happy to know quite a number of peope read it!
---
Subject: brainwashed shirt

Hi,

I was pleasantly surprised this afternoon to find a envelope from Rioux's Records with my custom black long sleeved Brainwashed shirt inside. It looks great and I'm 100% satisfied with it other than the fact that I ordered an XL and recieved a L...o well, the shirt rocks anyways!

Indeed, the shirts do rock!
---
Subject: VNV Nation

Hi,

I was thinking of making a webpage on VNV Nation, the excellant dark-industrial duet hailing from the UK.

The reason why I tell you this is becuase I was wondering if it's possible to store the VNV pages on brainwashed? I think this would go well with the bands you have up on Brainwashed.

Thanks, but we're not interested.
---
Subject: A review of the live Portishead album.

In the November 15 th 1998 issue of the Brain you wrote a review of PNYC by Portishead. You had mentioned a 2xLP version of this containing four songs not on the CD version. Just wondering if this is correct, I cannot seem to find a discography of the band on the net that mentions this. I have also gone through the recommended stores to try and find it - no dice. Any leads would be appreciated.
Thank you.

I saw the 2xLP version, held it in my hands, so I know for a fact it does exist. However, by now it'll be quite difficult to find as it was released about a year and a half ago. Vinyl goes quickly when it's pressed in small quantities.
---
Subject: mailing

Hello there,

If you have a mailing list, I would like to be on it.
Your site is cool as fuck.

Rune, Copenhagen

Thanks, there is a tiny list at onelist.com - I think it's been mentioned before, but that's about it.