MUSIC
IN BRIEF
BOWERY ELECTRIC, "LUSHLIFE"

The wait is finally over: after nearly four years since Bowery Electric released their last full-length record, "Beat," the new CD is out and the band is ready to face an anxious world. Lushlife is an eleven-track collection of songs the band has been constructing in their relatively new digital home studio in Brooklyn and their first full-lengther for Beggars Banquet. Fear not as there's no bad blood between them and former label, Kranky. The music, much like 'Beat' combines lush textures, low end bass lines, treated guitars, hip hop beats with airy vocal tracks provided by Martha Schwendener. There's no flaws in the wonderful production and captivating sounds. Although the beats may seem familiar in parts, they're only merely underlining the overpowering beautiful soundscapes. The style has evolved for the band yet the aesthetic has not changed - the writing is never anything complicated, the live playing isn't a showoff and the lyrics aren't much more than another instrument - but the sound is incredible. My only problem with the disc is that it ends too damned soon. - Jon Whitney
samples:
CURRENT 93, "ALL DOLLED UP LIKE CHRIST - LIVE NYC 1996"

I think I read somewhere that this is in fact an audience recording. If that's so, I'm damned impressed. This is probably one of the most impressive live recordings of a dark indie type band of this nature. All the usual suspects shared the stage for this event: Rose MacDowell, Michael Cashmore, Karl Blake, Joolie Wood and of course, David Tibet. The vocals are clear, the acoustic guitars are crisp and shining, the audience exists but is not overpowering the music. I was at the second night of this concert at the Angel Orensanz back on November 1st, 1996 and these recordings make me feel I'm right there all over again. Over the course of 2 CDs, we hear most of the show each night. Performances include favorites mostly from the Inmost Light era like "Calling for Vanished Faces 1", "This Shining Shining World," "Black Flowers, Please," "Horsey," and the Rose MacDowell-sung "Happy Birthday Spooky Moonbeam." Somewhat disappointing is the fact that there are some overlapping songs while the grand finale on the second disc, "Christ and the Pale Queens Mighty in Sorrow" gets prematurely faded in the interest of space. It's a fine introduction to Current 93 for the beginner, as it's a collection of some of David Tibet's favorite things to perform live. If you're already a fan and couldn't show up to the show, it documents the nights quite well including a few seconds of that opening loop, which during the show went on forever! It truly is a great recording job and at the discounted price, it's well worth the price of admission. - Jon Whitney
samples:
MR. OIZO, "ANALOG WORMS ATTACK"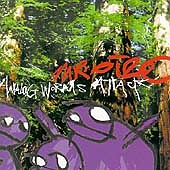 Remember our link of the week to Flat Eric, the strange European TV commercial campaign starring that lovable ugly puppet? Well, the man with his hand up the puppet's ass has released his first full-length CD including the now famous "Flat Beat." Mr. Oizo's full-length CD compiles 15 tracks he's been working on with similar sounds and simple yet catchy 4/4 rhythms much like the familiar tune. It is simply an electronic dance record, without anything boggling, earth shattering or breakthrough beats or sounds. The tunes are fun however and will keep your body bouncing for a good while, while the music video for "Flat Beat" accompanied on the multimedia portion of the CD will entertain you for a few minutes. - Jon Whitney
samples:
LAIKA, "UNEASY" & "BLACK CAT BONE"


There's two singles floating around right now from Laika, easing up to the release of the brand new album, "Good Looking Blues", due shortly. The radio-only promo 12" has the beefy rhythm saturated album track, "Black Cat Bone" backed with "Bad Times" on the B-Side, a rhythmic looping melody with Margaret Fiedler talking all about the Bad Times virus and what it will do to your life. A friend Tom heard the song with me and commented on how it sounded rather Burroughs-esque in her rant, I disagreed and thought it was much simpler than that, sounding like a piece of junk spam email being read aloud. It is amusing however for the first few listens, "It will have sex with your girlfriend/boyfriend while dating your grandmother, even though she's been dead for a few years." The retail single floating around is the three-tracker of "Uneasy" and is much more reminiscent of the last album's qualities of sparse lunar melodies and trippy beats. Three new strong songs fill up this single and make me eager for the full-lengther, out this week in the UK and due soon in North America. - Jon Whitney
samples:
RUSSELL MILLS/UNDARK, "PEARL + UMBRA"


A stunning cast of characters has been assembled for the recording of this album, the second from installation artist Russel Mills as Undark. Bill Laswell lends some bass notes, Eraldo Bernocchi, Michael Brook and Thurston Moore add guitar noises, David Sylvian, Emma Townshend and Ian McCullough's voices can be heard on a different tracks while various other sounds get added from Hector Zazou, Brian and Roger Eno, Robin Guthrie and Wire's Graham Lewis. The music is full of intoxicating rhythmic tracks like the album's opener, "Canyon" as well as rich-textured Sylvian-sung, "Rooms of the Sixteen Shimmers," bright guitar-looped beat drenched melodies like "Shed Lustre" and dark, eerie electronic numbers like the "All Wise Fly," which I swear is using Panacea samples from "Twisted Designz." It's a new era of This Mortal Coil influenced dark supergroups and with Robin Guthrie on your side as a co-producer and label owner, you can't fail. - Jon Whitney
samples:
SNEAKSTER / ROBIN GUTHRIE


Sneakster is the collaboration between former Seefeel leader, Mark Clifford along with singer Sophie Hinkley. "Pseudo-Nouveau" is the first full-length CD released from Sneakster and appeared last year through Guthrie/Raymonde's Bella Union label. It's a combination of sharp beats, jagged electronics, looped sound effects crossed with pretty vocals. While it's well-produced and has some excellent highlights, to me there seems like something missing from the mid-range. The high end is covered well with electronics and vocals and looping bass melodies provide a good low end, it's almost soul-less without a guitarist's touch. This is where Robin Guthrie's hand has come in to help.


"Fifty-Fifty" is the remix EP recently released that marries Sneakster's bits to a guitarist who has 20 years of experience in filling space with sound galore. For three tracks, Guthrie has reinterpreted sounds from the album Pseudo-Nouveau. This EP acts as a great companion to the album but I'm eager for more tracks and feel it's a bit short. - Jon Whitney
samples:
LOREN MAZZACANE CONNORS, "AIRS"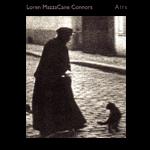 Every once and a while something comes across the desk without warning, without pretenses, you drop it in and it suddenly takes hold of the mood and becomes one of the most enjoyable listens. This, the fourth full-lengther from Loren Mazzacane Connors on Road Cone out of Portland, Oregon (dunno how many total) is simply a collection of 20 delicate and honest 1-3 minute untreated guitar-only pieces. Sounds kinda dull in description but it's quite emotionally heavy. It can sound somewhat unfinished, almost sketch-work-like, similar to Nature & Organisation's last release of unfinished untitled songs. With this CD, I get no sense of abandonment, however, the songs are meant to sound like this and it definitely serves its purpose to have for those special occasions that call for it. - Jon Whitney
samples:
PANACEA, "POSITION CHROME RETROSPECTIVE"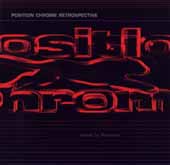 "I was one angry motherfucker back then," claims Panacea when looking back to his earlier days of "Low Profile Darkness" and "Twisted Desginz." This collection of 12 older tracks pulls together some of the singles, comp tracks and a couple unreleased tunes by Mathis Mootz as Panacea and other incarnates Disorder, Current Value, VIP. Chrome 13 and Problemchild. This is one awesome CD to blast at dangerous levels in the car when every other caffeinated road raging asshole decides to cut you off and nearly get into an accident themselves. Flip the bird at them and turn the music higher because it's still illegal to throw bricks through their window. - Jon Whitney
samples:
PERSONA, "UPTIGHT"


Perhaps you've heard Persona on the "Ricci's Pieces" comp from FAQT Magazine's Christina Ricci tribute or few remixes Eric Cook has done for other folks. Maybe you've followed the links from Kid 606's website just to see who his friends are or possibly got a chance to hear the album recorded for Vinyl Communications which has been completed for nearly 2 years now but never released. But most likely not. Uptight is the first full-lengther to surface from the one man electronic show from the unlikely electronica-free zone of Dearborn, Michigan (home to brainwashed babes Windy & Carl as well as His Name Is Alive). It's not a charming debut full of gentle love songs and ballads, trite lyrics nor sterile production - it's very much an aggressive electronic drum and bass by numbers album. The sounds are crisp and clear, very pronounced but perhaps could use just a little more distortion and desktop fuckery. I'm enjoying the release and look forward to more things released by Michigan's forgotten son. Best finding this at the website - www.simulated.net if you're interested. - Jon Whitney
samples:
THE THE, "NAKED SELF"


It's been seven years since "Dusk," the last full-length The The album of all new material from Matt Johnson. "Naked Self" more than makes up for lost time - Johnson is back with a powerful and loud, aggressive album, fierce and furious, jaded and cynical as ever. While Johnson has not let go of the bluesy rock styles from "Dusk," and "Mind Bomb," he has reintroduced technology, studio tricks and treated guitars again to the mix. While the first listenings just grabbed me out of nowhere and whalloped me with a heavy board, the disc started to get a little tired. Within a short time, I had seen the live performance and was completely captivated all over again. The disc is quite effective and does require a bit of patience, but live action always helps. Fans of "Infected" would probably appreciate this album while if you're looking for the introspective electronic adolescent comatose drug influenced (yet no less spectacular) sounds of "Burning Blue Soul" or "Soul Mining," you might as well leave this release alone. - Jon Whitney
samples:
BASS COMMUNION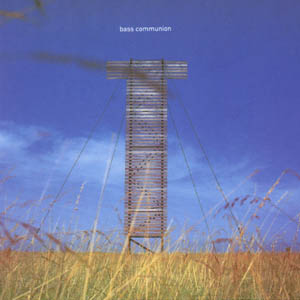 Although Steven Wilson has been recording as Bass Communion since around 1994, this is the first full length CD I have ever seen or heard. The first recordings I had heard surfaced last year as the "Bass Communion vs. Muslimgauze" CD - which was actually recorded around 1996/97. Wilson's involvement in other groups include the prog-rock esque Porcupine Tree plus No Man and the Incredible Expanding Mindfuck. Can't say I'm too familiar with each of these incarnates but a friend of mine urges me to at least check out Porcupine Tree. Anyhow, the first edition of this CD includes a bonus CD with a collaboration with Robert Fripp on it. The packaging is wonderful and the music is deep. Over the course of an hour, the six tracks on the main CD move and flow with pulses and rhythms, atmospheric guitars and synths, beautiful sounds and effects. It's more space than bass. Wilson's talent and ear for sound is comforting and the CD provides an excellent soundtrack for piecing together my new computer, which is why this week's issue is later than usual! - Jon Whitney
samples:
"DECONSTRUCTING BECK"

After reading the descriptions of this release, I thought it might be interesting. From what I gathered, this would be a release of many of the sources Beck stole to make some of his biggest hits. The CD is unauthorized from Beck and released by Negativland's Seeland Records with arrangement through RTmark. Unfortunately it sounds like a bunch of weak Beck remixes by a cast of unknowns. If you like Beck, you probably won't like this at all. If you don't like Beck (like myself) you'll like it even less. At $8, it's not the biggest waste of money, but at about 1 hour it is an incredible waste of time. - Jon Whitney
samples:
We know that sometimes these CDs are somewhat challenging to find, which is why we have a RECOMMENDED STORES section which can be used to obtain nearly everything available on the site.
NEW
RELEASES
MONDAY
Laika - Good Looking Blues CD/LP (Too Pure, UK)
Octagon Man - Ito Calculus CD/LP (DC Recordings, UK)
Orbital/Angelo Badalamenti - Beached 12"/CDEP (ffrr, UK)
Senking - Thaw 12" (Karaoke Kalk, Germany)
Senking - Ping & Thaw CD (Karaoke Kalk, Germany)
.snd - System Medley/Nine Locked Grooves 7" (City Centre Offices, Germany/UK)
.snd - Travelog 12" (.snd, UK)
Special Forces - Something Else CDEP (Photek Productions, UK)
Third Eye Foundation - Little Lost Soul CD/LP (Domino, UK)

TUESDAY
Air - The Virgin Suicides soundtrack CD (Astralwerks, US)
* Alphaville - Salvation CD (Metropolis, US)
Horace Andy - Living In The Flood CD/LP (Melankolic/Astralwerks, US)
The Church Steps - Hand that is the wave 10" [ltd to 100 copies] (Dial, US)
Covenant - Dead Star CDEP (Metropolis, US)
Day One - Ordinary Man CD (Melankolic/Astralwerks, US)
Eyeless in Gaza - Song of the Beautiful Wanton CD (Soleilmoon, US)
Rook Vallade [O.S.T.] - Congdiferenz 10" [ltd to 100 copies] (Dial, US)

THURSDAY
Jean Bach - Sans le Playback 7" (555, UK)
Crabstick - Discoverooster LP (555, UK)
Kid 606/Remote Viewer - split 7" picture disc (555, UK)
Sisterhood of Convoluted Thinkers - t.b.a. 7" (555, UK)

For a more comprehensive release schedule stretching far into the future, please check out the NEW RELEASES brought to you by Greg and Feedback Monitor.
BOOK
REVIEW
DOUBLE OR NOTHING & TAKE IT OR LEAVE IT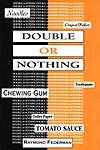 Pulling out these two seventies titles by Raymond Federman is almost like reviewing old Beefheart albums--it's not as if they haven't been in print (at least off and on) over the years, but they haven't been given credit for the amazing (and funny) things they are. Federman is a French-born writer of Jewish descent who's mother and father hid him in a closet when the Nazis came to take them and his two sisters away. Not a lot there to build a comic career. He left France after the war, moved to the U.S. and dragged himself through a series of cities and mishaps that have, after being thoroughly remixed, distorted, retold, contradicted, and denied, become a good part of these two novels. You could see him as the pre-Eggers Eggers, a guy who uses his writing about those awful times like a crowbar to jimmy what freedom he can from them. Double or Nothing, the earlier of the two, is the story of an almost non-existent "stubborn and determined middle aged man" telling the story of a paranoid author who plans to lock himself in a room for a year with only noodles to live on so he can write the story of a shy, young frenchman just arrived in New York after the war. The book looks harder to read than it is--lines of text run backwards and forwards, build up in pyramids and cut with jagged sawteeth across the page, words are sometimes sprinkled or spiraled in large empty spaces. Almost every page of the book is built according to a different design, like some type-setter gone mad. But despite the dadaist randomness, if you just read along word by word there's hardly a damn thing difficult about moving ahead. There is the page of mirror text, that's not easy reading, but if you've got that far you're not going to let it stop you; there are some bits in French, most translated, but skipping them would hardly matter. After all, what you're reading are endless (but somehow funny, over and over) lists and worryings of what the paranoid writer can afford for his year locked away: precisely how many boxes of noodles, whether tomato sauce once a week for flavor might bust the bank, how he's going to store his 104 rolls of t.p. so he can count the horses on his wallpaper, and always interrupting these pointless turns of frenetic ordering with the hapless encounters of the young French guy fixated by the crotch of a woman on the subway, screwing his friend's mother, trying not to sound pathetic about his awful past.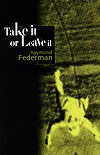 Take It or Leave It eases the typographical turmoil, but torments his narrators --this time someone is standing in front of an unruly audience telling the story told to him by by a young french guy ("Frenchy"), now somewhat older, making his way out of his military barracks in North Carolina to his planned great American adventure. He wants to hitch across the country to meet up with a ship in San Francisco that'll take him off to the Korean War, but first he's got to get his check from Vermont. Like DON, the stories here fall back on themselves, are reworked, and criticized by the crowd. A pious voice asks why Frenchy didn't feel exploited as a foreigner by the "structures of Capitalism" for being drafted into a war against a country with which he had no complaint. "Do I understand correctly? UNBELIEVABLE! You guys are really a bunch of perverts! The stuff you can come up with! And now I'm asked if I understand THE QUESTION? ... Yes his story you find it amusing. You think that perhaps it is tellable recitable since you stand there listening to it with gaping mouths. And why not? Interesting even (even a bit obscene). Don't you think so? Nonetheless you guys would have liked to have had his experiences his adventures and his avatars. His bitchy existence! N'est-ce pas? ... But for you guys there is always a solution as it was once suggested: You simply contrive a little kingdom in the midst of the universal muck and then shit on it." Sending-up Kerouac and drawing on his love of Beckett, Federman can't help but get caught up in his machinations, canceling his story as he goes. He knows full well that "in fact, however, there can always be more words." - Paul McRandle
Check out www.3rdbed.com, a site which Paul is currently involved with.
FEEDBACK
IS THE DOCTOR IN?
Subject: surfing on the web and one question

At first thanks such a nice page. Nevertheless, I have some doubt to overcome some difficulties via e-mail. For all, I want to try my chance and I ask one question.

I feel lonelines among crowds and also when together with my friends, don't speak to them and feel isolated myself..

Can you tell me how I will overcome such dificulty?

Buy the entire Kid 606 and v/vm catalogue.
---
Subject: aren't i glad i'm brainwashed...

Hey there...

Just a quick note to let you know that the shirt I requested from you arrived safe as houses and I must say they look fabulous. I still love my green one but the grey really brings out the design very well.
I love it and thanks a bunch.

Thanks a bunch for your note and I'm happy you enjoy the shirt!
---
Subject: our netertainment network

Hi, I work for a new netertainment network. We would love to work with you and help your site grow. I think your articles are great. We offer: ad sales, exposure, free use of our publsihing system and more. Let me know if you're interested. Even if you would like to tell me to leave you the hell alone, I would love to hear any feedback that you may have.

Give me a call or ICQ me if you like.

Here's your feedback: we don't answer emails like this personally cos they get filed with every other bit of junk mail. We're already on enough spam email lists, thanks a bunch, now please leave us alone.
---
Subject: Bailiff

Hi,
I am a Bailiff genealogist and was wonder how Jessica might be related. Would you ask her to Email me please.

Linda Bailiff Stringer

The perils of web searching in the 21st century...
---
Subject: tortoise

I have a question....

I have a tortoise song that was dubbed for me a couple years ago. There was no title on it. I found that it may be from one of the 7" singles, possibly "Gooseneck". I hope this doesn't sound stupid, but I'm going to try to explain the song to you. It starts out with these slow pulsing sounds. There is a boom ba boom ba boom to it. It's very jazzy. It builds to a frenzy in the middle with horns blowing, then it dies down. It is one of the most incredible songs I've ever heard. I want to get it on vinyl (or CD, because I know that there have been rereleases out of Japan of a lot of stuff).

Please let me know if this is in fact on "Gooseneck", where i can find it, where i can find the CDs or who else i might be able to bug about this.

Thank you for you time.

Well, unfortunately, the sad truth is that quite a great percentage of their songs have the same type of progression and qualities you've described. They're also incredible sounding at times too. You can't go wrong with a Tortoise record, so just start buying things until you find it!
---
Subject: meat beat manifesto

halo..I omar de culiacan sinaloa me gustaria que me mandaran informacion acerca de la cultura uderground ademas deseo seguir haciendo contacto con el ciberworld electronic tengo su disco doble..

Usted ve la paginación escrita en su lenguaje? Qué le dio la impresión que voy a entender su carta?
---
Subject: info

I'm interested in some trans am's stuf if you could give me some related sites or u.s.a tour dates I would appreciate it.

How much more info do you want than what's on the website already?
---
Subject: none

Could you please send me some more info on any of Throbbing Gristle's work in the early years and this is going to sound mad but I cannot get hold of any of the vinyl so if you dont mind would you try and compare who sounds like them today.

No, to both.
---
Subject: Please forward to individual bands

Hey, a friend of mine who has just come from Canada wants to put on a show here that will attract several thousand people and he has put me in charge of selecting the bands that will play. The show will be in Southern California. The date has not been set yet but we were wondering if you would be interested in having your band play at the event. Please let me know.

Can you #1 be a little more vague, #2 be a little more clued in that this is a website, not a record label, artist management or booking agent. If I were your Canadian friend, I'd have a lot of trust in you.