SITE
NEWS FLASH: FLASH NEWS
Please take a peek at the new flash enhanced sites of Hafler Trio and Fridge. As always, the brainwashed websites are works in progress, so please give feedback when necessary.
EXHUMED FROM THE GRAVE
Before Bedhead split up, the two Kedane brothers sent some unfinished tapes to two brothers of the Athens, GA band, Macha. Macha finished up the songs and a brand new release of all new material is due out in the next month from Jetset Recordings. "Bedhead Loved Macha Loved Bedhead,..." is the working title and there's sound clips on the website, including an unmissable version of Cher's 'Believe'!
MEAT BEAT NEWS
About time! The MBM camp has broken a long silence. The site, void of news activity since last November has finally got some official word around the split from Play It Again Sam and Nothing, new stuff in the works and some info about the 'Better Living Through Circuitry' film which includes new MBM material and footage.
NEW PICTURES
Thanks to one of our UK correspondants, Mr. Andrew Shires, we have a few new pictures in the Coil and Fridge sites. Pictures were shot at the in-store at Rough Trade and a live show from Fridge.
DANNY HYDE SPEAKS
Speaking of Coil, longtime producer, friend, collaborator Danny Hyde has finally supplied the site with biographical and photographical stuff about his life, career and activities. Also new is a picture of Thighpaulsandra - biography update due soon.
KID LIVES
Back from illness, Kid 606 has not passed up the opportunity to do a new interview for the hip online culture zine, SKINNY. He's just released "Attitude" on a highly limited and difficult to find 7" through v/vm Test Recordings and is about to depart San Francisco for a Euro tour sweep with Lesser. Don't miss the "Spice Up Your Wife" Euro tour 2000 if it comes to your town!
PINK NEWS
Mimir 3 is out, Red Letters is out and the band are ready to tour. Tear Garden is delayed, a lyric book is in the pipeline and record label publishing deals suck. All this and more can be seen at the Legendary Pink Dots online centraal.
WIRE SOUNDS
New sound samples are up in the Wire Sound Archive - the sound samples are from a new EP which was recorded at Swim studios during rehearsals for their 2000 live performances. The EP should be available from the band at various upcoming shows. Thanks again to Andrew Shires for providing the material for brainwashed.
THE WIRE SOUNDS OFF
Did you know THE WIRE sends out emails every now and again sounding off infos about events, what's in their CD players and upcoming issues? Drop them an email at the_wire@ukonline.co.uk and tell them you read about their email update list here!
JUKEBOX UPDATE
New sound samples have been added to the Brainwashed Jukebox this week from Annie Anxiety, Wire, Bedhead, Coil and GTO.
BRAIN CONTEST VII
We have two copies of a promotional Ostara CD single, "Operation Valkyrie" (from World Serpent) along with various other door prizes in a neat undetermined prize-pack to give away to two lucky winners this week. To win, come up with at least 10 anagrams (that make sense in English) from the band's name that Ostara used to play in.
People really actually do win on The Brainwashed Brain if they try hard enough.
MUSIC
IN BRIEF
SKINCAGE, "AXON"


As morbid as it sounds, rough times usually make for the most brilliant art, whether it be the tortured artist's painting, the sick obsessive's love poems or the musician's pain and loss manifesting itself into beautiful sound. It's been a rough year for 22 year-old Jonathan Ray of North Carolina, currently attending college. Over the course of the year, the progress of "Axon" has been slowed down by schoolwork, hardware failure and most importantly, the loss of his mother after a long illness. Be warned, there is deep horror in this CD but there is also great beauty. For about 72 minutes, Jon opens up his world, his nightmares and his heart onto one of the most powerful things I have heard in a long time. It bleeds with emotion without having a sung word anywhere, it moves and pulses without the need for a cliche drum machine beat, it challenges security and by the last song I am in tears, reading the interactive liner notes on the website. Currently this is only a CD-R available through him directly at his website - at skincage.infin8ty.com. I doubt this will last long before we see a professional release of this on LP and CD - so get it before it's a collector's item. - Jon Whitney
samples:
COH, "VOX TINNITUS"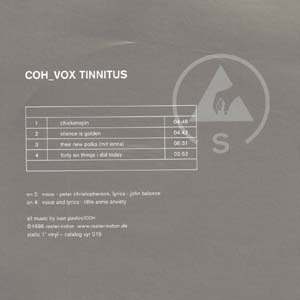 This excellent raster-noton release is really worth getting. It's a strange and intelligent little EP, with a nice balance between tightly controlled minimalism and playful goofiness. Very impressive!
"Chickenspin" is a thin and tightly controlled soundtrack for Santa's elves at work. I like the part where the boss walks in and they all get busy.
Jhon Balance's lyrics on "Silence is Golden" are wonderfully kinky, and the music on this piece, alternately jaunty minimalist pluck and dark ominous pulse, is effectively schizophrenic. As if Balance were Persephone, skipping gaily through a field of Asphodels in a little white frock, unaware of something enormous homing in... like a shift of focus from figure to ground. The way he says "My love is endless" gives me shudders. The lyrics on this are really extra-deliscious, like having phone sex with H.P. Lovecraft.
"Their new polka" is wobbly and perky, like a tightly spinning jewel giving off delighted tones as it slowly runs out of energy.
"46 things I did today" is a pretty little music box tune which turns into a frantic and tense reflection of Annie Anxiety's spoken word list of activities. Her list occasionally falls into rhymes which briefly create exciting rhythms against the music...
COH is Russian (living in Sweden) Ivan Pavlov, and I see his posts on the Coil email list now and then -- what's his story? I'm suddenly a fan. - Thomas Olson
samples:
MIMIR, "3"

The third album from post-rock post-kraut post-goth supergroup Mimir features members Christoph Heemann and Andreas Martin of HNAS, Edward Ka-Spel and The Silverman of Legendary Pink Dots with seminal guitarist/producer/noise artist/Spice Girls fan Jim O'Rourke. This LP-only release from Anomalous comes in a limited edition of 950 green vinyl copies (and 50 black). The soundscapes are wonderful and the acoustic guitar adds a dimension completely foreign to most LPD and HNAS works. The LP is released nearly 6 years after the second CD, "Mimyriad" was released also on Streamline. It's dreamy and serene, only after being harsh, percussive and abrasive for quite a few minutes. The album is very charming and hard to pinpoint exactly what happens where as nothing's labelled anywhere. Of course that's all supposed to make for a more interactive listening experience, right? Okay, I'll admit it's becoming increasingly hard to describe. Well, you'll just have to trust me on this one - don't pass the album up if you're a fan of O'Rourke or the spacious Silverman or noisy HNAS works... - Jon Whitney
samples:
SWANS, "FILTH / BODY TO BODY, JOB TO JOB"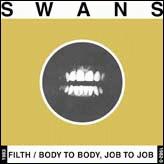 Since SWANS demise in 1997, Michael Gira has meticulously re-packaged exactly what he wants to preserve of SWANS 15 year legacy via double cd re-issues, this being the fourth and final one. This set couples the long out print 1983 debut album "Filth" and the 1982-85 studio out takes and live recording collection "Body to Body, Job to Job". In addition is a previously unreleased 25 minute live show in NYC from 1982/3 and a 9 minute live version of "Raping a Slave" from 1984. Noticeably missing are the 4 songs from the debut s/t EP from 1982. SWANS always had the potential for brutal sonic assaults throughout their life span but this era in particular focused solely on an uncompromising and unapologetic, sledge hammer sound. Melody and harmony are essentially absent in favor of pounding percussion, raw slabs of guitar and bass sound and Gira's guttural vocals. Lyrically Gira reels against authority and control, money, sex, violence, etc. with simple, receptive slogan like chants. Altogether it's a big, ugly, intense, slowed down mutant strain of punk rock that was all their own, at least, up until everyone started copying them. The 25 minute live show (indexed as 1 track) on the Filth disc is bootleg quality but in this case it doesn't much matter as it's comparable to, and just as interesting as, the numerous rare live recordings on the "Body to Body" disc. It's a bit of a challenge to listen to all of 1 disc at a time, much less the entire 2 hours and 15 minutes, but for those days when you get a traffic ticket, you're doing your taxes, you hate your job, your significant other leaves you or you just plain hate everything ... this is your soundtrack. The packaging is the same as the other re-issues with a tan and black double digipack (signed by Gira if you order direct from the SWANS web site) featuring the Filth teeth and BtB,JtJ young MG cover pictures and an insert with the Filth lyrics. Say what you will about Gira's track selection for these re-issues but he certainly did a great job of creating a great looking and sounding set of discs for old and new fans alike ... - Mark Weddle
samples:
V/VM PRESENTS FALCO & KID 606

Two brand swanking new 7" single releases are available now on vinyl from v/vm Test Recordings. First up is a two-single tribute to Falco featuring a distorted v/vm'ized interpretation of Rock Me (h)Amadeus, Vienna Calling and Jeanny part two (coming home). Goodie Pal also makes an appearance on here with Steuea with a "Falco Punishment" and a mysterious appearance from the Notorious P.I.G. echoing Falco's "The Sound of Music" with "The Sound of the Pig". Get it before it's illegal!

Next up, an even more seemingly illegal pressing is "Attitude" from Kid 606 backed/with "With Attitude?" as Tigerboy. "Attitude" is 606's impression of NWA's "Straight Outta Compton" fucked over and rematerialized. Fookin' brilliant, this track is one of those things you need to drive down the streets in the low rider with big honkin' woofers in the back proudly broadcasting the song to the streets. - Jon Whitney
samples:
WILL OLDHAM, "GUARAPERO - LOST BLUES 2"


This collection of Oldham tunes pulls a ton of stuff (16 tracks to be exact) from four track demos, home recordings, live stuff, peel sessions and other bits and pieces hanging around from the last seven years. Perhaps twangy crooning Kentucky-based country type blues isn't the typical style here on brainwashed, but Oldham's got a strong connection to M and a few other post-rockin type personna. Guests include Steve Albini, David Grubbs, David Pajo and Mick Turner among many others. Throughout the course of 65 minutes, the recordings get progressively more polished, starting off with some really scratchy tape recordings and ending up on a more professional note. Oldham's got a great sense of humor and originality with lovable singalongs like "Big Balls" or "The Spider's Dude is Often There" where he claims that Heaven's tits are teasing him. His lyrics can be simple and hillbilly sounding but almost always quite clever. Out of nowhere on this disc is an MC 900FT Jesus sample-of-a-sample coupled with the Twin Peaks theme running backwards. I can't say I'm familiar enough with Oldham and all his projects (anything with Palace in the name pretty much) to know if the out of tune clumsy sound in songs like "Every Mother's Son" and "No More Rides" is 100% intentional or not. I must admit that I can't even figure out the point of reviewing this CD since if you're a fan already, you'd buy this to compliment your collection - and if you're not (but are interested nonetheless), then it's not the most recommendable place to start. A good collection however and I find it provides for some good dinner cooking music. - Jon Whitney
samples:
IN THE NURSERY, "GROUNDLOOP"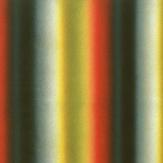 With ITN moreso than Coil and Greater Than One, I'm mildly aggrivated when I mention them to somebody and get a response like, "oh are they still around?" It's the plight of the post-WaxTrax! artists who still exist like Legendary Pink Dots or even Meat Beat Manifesto. WaxTrax! was so important in its time that when everything fell apart, when the bands ran to dry land, all of a sudden the listeners seemed to stop listening. It's truly a shame as in all cases, the bands have amazingly progressed, breaking new grounds and maintained their innovation and pride. In The Nursery has been releasing at least one album every year since those days of being distributed by those post-industrial alleged coke fiends from Chicago. The music has ineed developed and flourished, including many works for film and other professional services. 2000's offering, Groundloop sees the Humberstone twins Nigel and Klive creating a fully vocal lush breathtaking album - film music before the film as they're considering it. The vocals provided by Dolores Marguerite can be captivating and complimentary to the music, but unfortunately the word choices strike my own personal tastes in an uncomfortable way. I would (as it seems most of the time) prefer a more instrumental album, at least with the grand scale of "Groundloop". ITN have not lost their affinity for strings and various other orchestral instruments, the occasional dabbling of electronics nor the love of the war-like drums. - Jon Whitney
samples:
RECOIL, "LIQUID"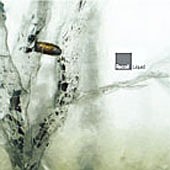 One album which should most definitely have been instrumental is the fourth full-lengther from former Depeche Mode electro wizard, Alan Wilder. There's a reason for Depeche Mode's success with Alan in the band - Martin Gore may have been a great writer but he needed Wilder's talented fingers and mechanical mind to keep the music and instrumentation fresh and exciting. Wilder also needs a good writer if he's going to pursue this career in vocal music - as basically his lyrics and choice of vocalists stinks. Even Diamanda Galas couldn't save this record, although her tracks stand out far above the rest. Some might remember Nicole Blackman as the vocalist who ruined a perfectly good instrumental Golden Palominos record with spoken word all over it, she does a good job of killing 3 out of 10 tracks on "Liquid." The Alan Wilder formula is here again almost carbon copied from the last full-lengther, "Unsound Methods," the sounds are truly excellent but the music is inherently boring and serving a purpose to back up vocalists. Please I beg, release an instrumental version of this record. - Jon Whitney
samples:
We know that sometimes these CDs are somewhat challenging to find, which is why we have a RECOMMENDED STORES section which can be used to obtain nearly everything available on the site.
NEW
RELEASES
MONDAY
Basement Jaxx - Bingo Bango 12"/CDEP (XL, UK)
Bjork - Singles Box 18xCD [collection of all of Bjork's commercially released singles with all remixes and exclusive B-sides, plus 3 bonus discs of promo-only remixes] (One Little Indian, UK)
Chthonic Force - Chthonic Force CD (World Serpent, UK)
D.J. Assault - Belle Isle Tech CD/3xLP (Mo'Wax/Booty Wax, UK)
Sally Doherty - Empire Of Death CD (World Serpent, UK)
Leutha - Plan(e)s For Empty Cities CD (World Serpent, UK)
Motion Control - Groove Tool CD (Beatservice, Norway)
Bogdan Raczynski - Ibiza Anthems Vol. 4 12"/CDEP (Rephlex, UK)
Luke Slater - Body Freefall, Electronic Inform 12"/two CDEPs (Mute, UK)
Sorrow/Various - The Final Solstice II CD [re-issue of previous limited CD-R release with some extra material added] (Piski Disk/World Serpent, UK)
Various - Mask Of The People CD [with The Young Gods, Einsturzende Neubaten, Neither/Neither World, In Gowan Ring, Ozymandias, In My Rosary, Black Rose and more] (World Serpent, UK)
* Various - What Is Eternal CD [reissue of out-of-print release with tracks from Backworld, Quartet Noir, Tor Lundvall &Tony Wakeford, The Mirror Reveals, Machine In The Garden, Loretta's Doll, Dream Into Dust, Athanor and more] (World Serpent, UK)

TUESDAY
* Air - Playground Love CDEP (Astralwerks, US)
* Fatboy Slim/Various - On The Floor At The Boutique CD (Astralwerks, US)
Kozo - Planned Penetration CD (Waveform, US)

FRIDAY
Imminent - Screenwalking 12"/CDEP (Ant Zen, Germany)
Various - Neferiu Sampler CD [with Lackluster, Lukas Nystrand, Krii, Willbe and Frank Bolero] (Neferiu, US)

For a more comprehensive release schedule stretching far into the future, please check out the NEW RELEASES brought to you by Greg and Feedback Monitor.
CONCERT
REPORT
THE DONNAS
The Donnas rock. I suppose I could end right there. But, to give more detail, I could say they rock hard and fast and don't really give a fuck about being overly poetic. I wish I was like that. That's why I like them, I guess. They're not like me and only in my wildest fantasies am I like them. And, this is made more real when I see them live. Standing up there, all defiant and screaming, they are the way I feel on a good day. The sign of a good live show, for me, is when the band has the presence to make me feel like I could get up there and rock just like them, because I want to be them, if only for one glorious night.
The Donnas do that for me. And, by the looks of things, they did for most everyone else at the show as well.
The set was, unfortunately, short-lived, only about an hour including the encore. But, since most of their songs are under 3 minutes, it sort of makes sense. The set mixed in a few songs from their first two albums, but they stuck primarily with the newest album, Get Skintight. There were a few songs I would have liked to hear, but all in all, I walked out of there wanting to call up ex-boyfriends and scream into the phone, "I DIDN'T LIKE YOU ANYWAY." And, that's a good thing. - Milcah Roden
EXTREME MUSIC FROM WOMEN
The ideas were noble, a night in the name of the recent compilation from Susan Lawly, Extreme Music From Women. The show was set out to be something out of the ordinary from some women performers. Headlining the event was Lowell-based electro goddess, Maria Morgan, a.k.a. ZIPPERSPY. Unfortunately much of the night was difficult to get through. A bass guitarist sort of just strummed the guitar into some noise boxes, a rock band opened up which was rather forgettable and a filmmaker from Maine showed her artsy film with her kids running around the house and had some pop quiz at the end with brain teasers for the audience. Not exactly "extreme" in my opinion. Sadly enough, this was on a Thursday night, so by the time Zipperspy took to the stage, many of my friends at the event were barely awake to keep their eyes open. Maria took over, the music filled the entire club and captivated me as it always does. Her own brand of drum and bass grabs a ton of influence from the old school noise and the recent gabber resurgence trend. It's never cliche, mundane or predictable and the jagged racey beats are music to my ears. Look forward to some CD reviews with sound samples of her stuff due soon. In the meantime, should Zipperspy come to your town or to your school, don't miss out. - Jon Whitney
PETER MURPHY
At first I was slightly grumpy about shelling out the high ticket price for this show, but soon thereafter I had forgotten about it. Peter has pieced together a marvelous band, featuring former Bauhaus mate, Kevin Haskins on drums (who looks about 23 still!), Eric Avery on bass (formerly of Jane's Addiction) and the former guitarist from Porno for Pyros. The band was tight, never dropping a note and Peter was in excellent form. The set consisted of many Murphy favorites, opening with the Pere Ubu cover, "Final Solution," and then going into a set of songs mainly off of Love Hysteria and Deep. It's also difficult not to be entertained at a show like this where a man on stage who looks like a cross between Annie Lennox and The Crow fronts a rock band, performing to a crowd of sad and sorrowful looking circus clowns aching with bliss. Midway through the show, Murphy broke into an acoustic set without the backing of the band, performing solo "Crystal Wrists," "Marlene Dietrich's Favorite Poem," and "A Strange Kind of Love." About the time the set was finishing up, Murphy's strong voice started to ache, he was tired, the count needed his rest. But for any former fans deciding whether or not to see the show, it's highly recommendable. - Jon Whitney
CHARLENE/ASTEROID #4/LOCKGROOVE
I saw Lockgroove open for Ui and had a great time, Asteroid #4 I heard on that Spacemen 3 tribute and Charlene I've seen listed on many shows but never heard, so there's three good reasons to see this show. I get there mid-way into Charlene's set and am completely captivated. The band was charming, introspective, melodic and pretty - things I enjoy rather than the typical rock and roll set. After the set, I went to say hi only to find out the guy I spoke with interviewed with me when I was working back at the newspaper years ago! He now co-operates the fine Sugar Free label, responsable for releasing Wheat among other bands. Small world... Asteroid #4 were next, the strongest reason I was coming to see the show since I don't know of them playing much, it was something to see now that I have the chance. Unfortunately I was disappointed. The music was rather bland and the singer's rock star attitude made me sour. Lockgroove were finally on and sounded like they typically sound - which was also a slight disappointment since their set opening up for Ui was their "experimental set." I still bought a CD and look forward to hearing it, perhaps it's more my style than their show. Charlene have a 7" single out right now and hope to release some more this year. I'll be listening for them now... - Jon Whitney
FEEDBACK
SWEET LOVIN' FROM ITALY
Subject: ask for infos

I thank you very much for giving me Labradford tour dates I'll be surely there when they are goig to be live in rome!

kranky.net is very good, clear (I don't know if the words I've written mean what I wanted to say), in few words, in italy we would say "i miei complimenti".
good sound samples nice drawings of woofers and valves.

Thanks! I'm pretty sure the diagrams were stolen.
---
Subject: Consolidated?

I am doing a Lecture on Direct Action in April 2000, I would like to reach the members of Consolidated for info. Would you happen to know a contact?

I'm pretty sure they split a while ago, either that or one of the members is still carrying on the name. Either way we have no info here about them. Sorry.
---
Subject: update

is there any chance that i can be added to some sort of mailing list or something for info about tortoise? what about more updated information about tours, releases, etc? thank you very much.

Check the website is the best suggestion.
---
Subject: SITEFEST

TrUlY tRuE! ThE pErFeCt SiTe Is A tHiNg To BeHoLd InDeEd! ThE bRiLlIaNcE pOuRs FoRtH sUbSuMiNg EvErY BrAiN iT eNcOuNtErS!

a Protean Life Forem

Why did you write your note like that?
---
Subject: GAFFER!!!!! *&@!!!!

I KNOW WHO YOU ARE YOU GAFFER!!!!!!!
you cant hide fomr me!!!!!!!!!
I Pon Wan Do To that EH You Sleem Gaff!

Okay, this isn't a contest to out-confuse the other notes.
---
Subject: Who IS Emmy Hennings, anyway?

I saw in this issue of The Brain that you didn't know who Emmy Hennings was, in response to some person looking for her writings. Just so you know, she was the girlfriend (wife?) of Hugo Ball, the Dadaist (the one you normally see in the big cylindrical paper suit in books about Dada). She wasn't a very well-known Dadaist, but was definitely there from the beginning...she was mostly known for writing some rather odd torch-like songs, which she would sing during Dada shows (don't remember if this was at the Cabaret Voltaire or not). She also made kind of grotesque little puppets and did some sort of puppet theatre. She also did poetry, which is probably what this guy is looking for.

Sadly, I don't have anywhere to send this guy...her output was rather small and not well documented. Just thought your staff would at least like to know who she was. What little information I have about the (rather cute) Ms. Hennings is from Hans Richter's book _Dada: Art and Anti-Art_. Good reading, btw.

Thanks a bunch!
---
Subject: HELLO ITS BARRY SPARKS

Hello my name is Barry Sparks, i am a guitarist. I am currently playing with German guitarist Michael Schenker from the rock band "Scorpions" i have also toured and recorded with swedish guitarist Yngwie Malmsteen and female pop vocalist Billie Myers, she had a top ten hit called "kiss the rain" last year. Anyways i have just released an instrumental acoustic cd called "Glimmer of Hope" on a Japanese label called Zain records. I have been getting great reviews, (SEE QUOTES BELOW) the music has been called "inspiring" and "very uplifting" hence the title "glimmer of hope". I think it would fit nicely in your catalog. If this interests you, I would like to send you a copy. Please let me know, thank you for your time, hope to hear from you soon.

How is Mr. Schenker doing these days? Is he finished with rehab? Didn't I see him on a "where are they now?" bit on VH1? Oh, no, my bad, that was "Who Really Cares?"
---
Subject: ORGY TIME!!!!!!!!!!!!!!!!!!!!!!!!!!!!!!!!!! .... moon's milk as semen

HAPPY VERNAL EQUINOX!!!!!!!!

DO something BIG!!!! Spring Equinox tonight coincides with the Full Moon!!!!!!!!!!!!!!

FUCK!!!!

IO PAN!!!! IO PAN!!!! IO PAN!!!! IO PAN!!!!

IO PAN!!!!!!!!!!!!!!

"The moon is a liquid ~ The dark earth is a solid!!!!"

LOVE,

ZOS

Please get out more. Turn off the computer, buy a frisbee, go play with a dog.