SITE
HAPPY BIRTHDAY BRAINWASHED!!!
On Saturday, April 15th, Brainwashed.com will be 4 years old. To celebrate the 4th year of being on the web, release number 4 from Brainwashed Recordings is being collected. The release will be a 2xCD set of all brand new and/or unreleased material from many brainwashed artists. The release will come free in the magazine The Wire for subscribers only but will be available also from us and finer record stores in a proper release w/graphics and a booklet, etc... The special retail version will be limited to 2,000 copies to celebrate the year 2000. Confirmed artists include Legendary Pink Dots, v/vm, Twilight Circus, Ruby Falls, Fridge, Michael Wells of Greater Than One, Panacea, Jessica Bailiff, Cyclobe and Windy & Carl. Confirmation is still pending for Coil, Nurse with Wound, Current 93 with Pantaleimon, Christoph Heemann of HNAS, Stars of the Lid, Bowery Electric, Little Annie Anxiety and others.
COIL SHEDS LIGHT ON DARK 2
Coil have given official word on the status of Musick to Play in the Dark vol. 2. There's also some pictures flowing in now from the live show they played on April 2nd.
606 NEW ALBUM ON IPECAC
Announcement has come in that the next full-lengther from Kid 606 will be released on Mike Patton's IPECAC label. A track listing is included on the page. Yum! tigerbeat6.com wants your cat pictures too! Check that page for other Kid 606 and tigerbeat6 related news!
LPD NORTH AMERICAN TOUR 2000
Tour dates are coming in for the North American tour for Legendary Pink Dots. The band's on tour this time around with Mark Spybey's Dead Voices on Air.
TRANS AM NEWS
Trans Am are playing a few dates with Mouse On Mars in the north east USA. Dates are be posted at the Thrill Jockey website. A new CD-only compilation of singles titled "You Can Always Get What You Want" is due for release on May 5th. An untitled as of yet album of all new material is due for release in September.
MUSIC
IN BRIEF
SIGUR ROS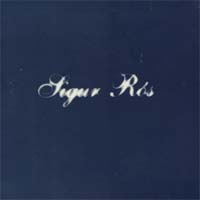 Fat Cat in the UK bring the charming and dreamy shoe gaze o'licious Sigur Ros into more homes with the release of these two EPs. While the Icelandic band have released a few long players in their native homeland, they haven't had a terrible amount of exposure elsewhere. Included on these two discs are both unreleased and preveiously released material. The first, 'Sven-g-Englar' tops 35 minutes in 4 wonderfully morphing and melding tracks. The instrumentation is a simple guitar, percussion, bass, with organs and delays. The music is slow and aches of an almost goth-like influence coupled with the beauty of droning guitars and pretty Icelandic vocals. The singer's pitch is so high that it sounds like a girl singing, but I've never seen any women in the band.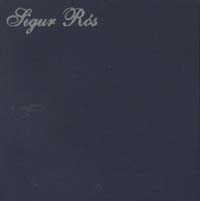 The second EP, 'Ny Batteri' continues almost as if the two could be a complete album. Once again, four tracks of dark and powerful tunes sung in Icelandic with a simple yet effective arrangement. I think I want to start using the term "Goth by association," for those who end up lumped in with the goth scene (see: Peter Murphy review) who aren't that goth - compared to something dark and ominous like this who'll be picked up more by the indie rock dreampop fans. Sigur Ros's music isn't a terribly far stretch from some of the more introspective, dark and pretty albums that get released on various labels known for their advertisements in Propaganda Magazine. Nobody in the band dresses entirely in black, wears cob-web-like gloves nor black eyeliner yet I can picture fans of The Moon Lay Hidden Beneath a Cloud or Dead Can Dance taking a liking to this stuff. - Jon Whitney
samples:
BROADCAST, "THE NOISE MADE BY PEOPLE"

Broadcast's long-awaited debut proper album on Warp will probably not disappoint fans of the 1960s retro film score sound, made popular in recent years by artists like Saint Etienne. The Noise Made By People combines moody yet enchanting torch songs (such as "Long Was the Year" and the albumís first single "Echoís Answer"), charming psychedelic pop melodies ("Come On Letís Go" and the highlight of the album "Papercuts"), and plenty of haunting instrumental pieces ("Minus One" and "Tower of Our Turning"). Broadcast have proven to be adept at blending "real" instruments with electronics, which is refreshing to hear in this type of music. With this release they seem to exhibit far more diversity than in the past, adding a maturity which was a bit lacking from the tracks compiled on Work and Non-Work, and have developed and refined their signature sound. - Jessica Tibbits
DIRTY THREE, "WHATEVER YOU LOVE, YOU ARE"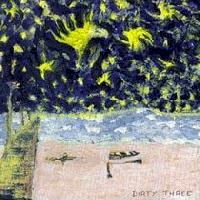 Sometimes I'm maniacally flipping through the cds at a shop when I stumble upon one that makes me stop for some unknown reason. The first thing that caught my eye here was the beautiful Van Gogh like cover. Then the name of the artist rang a few vague bells, I seem to remember it being dropped a few times on the SWANS and Scott Walker e-mail lists and in The Wire magazine, all reliable sources for great music recommendations. A half minute into the first track at the listening station I knew this was for me. Dirty Three are an instrumental 3 piece from Australia with at least half a dozen full length albums in 8 years. The music is composed solely on violin, guitar and drums ... deceivingly simple considering the rich and full sound. Each piece is slow and melancholic as the clean guitar tones, violin and light percussion gently play off each other. "I Offered It.." is the exception as it begins with several minutes of solo violin then slowly builds into a barely contained rock frenzy in the latter half. It's for the best that these tracks are instrumental because the titles and music say everything that needs to be said. "Whatever You Love, You Are" (great title) is a delicately beautiful album and I'm sure the more musically hip (i.e., fans of Nick Cave, the Legendary Pink Dots, SWANS, Godspeed You Black Emperor!, etc.) will agree. It looks like I have some back catalog catching up to do ... - Mark Weddle
samples:
LUKE VIBERT/BJ COLE, "STOP THE PANIC"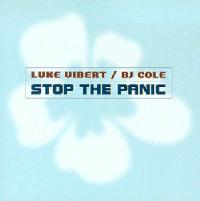 Luke Vibert (aka Wagon Christ, Plug, etc.) teams up with legendary pedal steel guitarist BJ Cole (further augmented by six additional musicians including Tom Jenkinson aka Squarepusher) for what would seem to be a bizarre and unlikely collaboration. The result is as eclectic as the back catalogs of both players and it works. The 13 tracks ignore the traditional boundaries of numerous genres, freely exploring and combining dance, ambient, lounge, country & western, Hawaian, swing, jazz, etc. Cole's pedal steel adds a unique vibe to Vibert's goofy samples and hip hop-lite beats, whether it be as ambient backing or lead licks. It almost seems as if Cole's parts are merely samples but that's the thing, they're not. The blend of 'real' and machine music is seamless and sounds natural. Three tracks also have vocals, which is unfortunate in the case of Addie Brik's whining and moaning on "Nick Cave" but funny in the case of Bobby Valentino's spoken intro and outro pieces. And with track titles like "Swing Lite - Alright", "Hipalong Hop", "This Stuff is Fresh" and "Party Animal" ... how can you possibly go wrong? "Stop the Panic" isn't mindblowing but I don't think it's intended to be. It's certainly interesting and a lot of fun. It's always good to hear talented musicians from such supposedly different generations and musical worlds collaborate. Vibert and Cole are currently on tour in Europe ... - Mark Weddle
samples:
COIL, "THE QUEENS OF THE CIRCULATING LIBRARY"

Initially released at the Cornucopia event, this CD is basically a piece performed almost entirely at the event. The disc is one track and slightly under 50 minutes and features spoken word from Thighpaulsandra's mum, Dorothy Lewis. Incidentally, April 2nd is Mother's Day in the UK and the CD is dedicated to mothers everywhere. Unfortunately the bulk of the excitement is almost entirely over after about 5 minutes when Dorothy ceases to speak, the rest of the piece simply drones on for the remaining 40 minutes. It sounds wonderful for a bit but does drag on a bit long. Fans of the Time Machines CD would enjoy this however. Don't bid for this on auction website as this is now readily available at some of your finer stores. - Jon Whitney
samples:
THIGHPAULSANDRA, "SOME HEAD" EP

Also rearing its head at the merchandise table for the concert was the first release from Thighpaulsandra on Eskaton. "Some Head" features two brand new approximately 15 minute tracks. Listening to the CD is a treat for Coil fans as bits and pieces strike a nerve, remeniscent of last year's phenomenal Musick to Play in the Dark. Quick piano strikes from "Black Nurse" echo "Red Queen" while noises echo bits from "Red Birds." Stunningly beautiful choral samples on "Tudor Fruits" aren't far from the similar choral samples heard on "The Sea Priestess" from Astral Disaster. I wish I could figure out what the items listed in "Tudor Fruits" had in common during the spoken sections. Keep in mind, however, this is not a Coil record, despite the guest vocals from John Balance. While it is does move and meld, it lacks a certain continuity apparent on nearly all Coil releases. This should also be available through many of the recommended brainwashed stores so save your bidding money. - Jon Whitney
samples:
THE DONNER PARTY, "COMPLETE RECORDINGS 1987-1989"
Before going on to be pivotal members of such bands as the San Francisco Seals and Quasi, the trio that was San Francisco's Donner Party released two albums, to very little attention. On this double Cd, those two long out-of-print albums appear in their entirety, along with a previously unreleased third album (all self-titled, by the way). Taking inspiration from folk, rock, and the more oddball indie rock that was happening at the time (The Meat Puppets and Minutemen, for example), The Donner Party crafted catchy indie rock. Sometimes humorous and playful ("Would You Like To Have Something To Eat?"), occasionally frightening, such as on the schizophrenic ramblings of "Chocolate Shake." Showing their progression from Husker Du-inspired edgy punk-pop of early Donner Party, to the more experimental leanings of their later stuff, this compilation is a great showcase to an often over-looked band. Tracks such as "Notker The Stammerer", clearly the blueprint bands such as Soul Asylum and Swell followed, rock hard without devolving into childishness plagued by some of their material. Maybe it's that divide, between Dead Milkman-like immaturity and honest punk-pop tunes with loads of hooks, that made The Donner Party not get the attention they deserved (a lot of people, critics especially, like their music straightforward, with no surprises). Let's hope with the re-release of this old material, history will be corrected. - Jason Olariu
JOSEPH ARTHUR, "COME TO WHERE I'M FROM"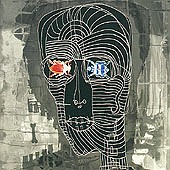 Following up his "Vacancy" mini album from last year, Joseph Arthur returns to the scene a bit wiser. Lacking a lot of the sound experimentation featured on his debut album, "Big City Secrets", the theme of "Come To Where I'm From" seems to be perfecting the art of song craft. Beginning with the bittersweet acoustic-led "In The Sun", which has been a long-time live favorite of Joe's fans and was also recorded by his mentor/label boss Peter Gabriel for a Princess Di tribute album, I had a bad feeling J.A. has gone soft and has given up his cutting edginess for more AOR-driven pop balladeering. "Chemical" and "History", with their flickering sounds fluttering around the song's jangly pop heart like butterfly wings of distortion, are refreshing reminders that no matter how radio-friendly Joe gets, he's still head-and-shoulders above most of his pop-driven peers. Giving further props to Tom Waits, such as "Bottle Of Me" from "Big City Secrets", "Invisible Hands" is a late-night lovers lament, with it's big drums, echoey guitar, and whispered vocals - personal, sensual, and enticing. "Come To Where I'm From" is, essentially, both homage to the genius of the late Jeff Buckley and a promise to carry on in the creation of ecstatic, groundbreaking music. Beautifully honest and sublime. - Jason Olariu
PETER MURPHY, "WILD BIRDS: 1985-1995"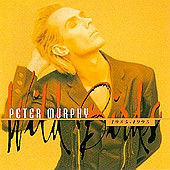 While this is a collection of some excellent songs, I'm disappointed with the presentation and execution. Yes yes I know I'm bitching, but when ten years of an artist are collected, there should be something for the fans on here. This collection isn't much more than straight album tracks in a random order with shortened versions in the interest of saving time. Beggars Banquet could have taken a better route and included some obscure tracks or b-sides along with arranging everything nicely and neatly in chronological order, perhaps I'm being nitpicky. For those not in the know, Peter Murphy relinquished his cape and black hair dye when he went solo, incorporated middle-eastern sounds, acoustic guitars, lush keyboards and rich arrangements to compliment his deep, masterful voice and introspective lyrics. On this release are some excellent songs collected from his five full-length solo albums, including all of his radio and MTV hits coupled with a few popular album tracks. The retrospective is recommendable for somebody who wants a place to start with Peter Murphy or one compact collection of hits rather than splurging for the albums. If you're a fan, hold out for the video compilation which should be out soon. I know I will. - Jon Whitney
samples:
We know that sometimes these CDs are somewhat challenging to find, which is why we have a RECOMMENDED STORES section which can be used to obtain nearly everything available on the site.
NEW
RELEASES
MONDAY
Chicks On Speed & V/Vm - split 7" [ltd to 250 copies] (Jonathon Whiskey, UK)
Gus Gus Vs T-World - Gus Gus Vs T-World CD (4AD, UK)
Ovuca - King Stacey 12"/CDEP (Rephlex, UK)
Bogdan Raczynski - Thinking of You CD/LP (Rephlex, UK)
Speedy J - A Shocking Hobby CD/2xLP (NovaMute, UK)
Various - Cataract Beats CD/2x12" [with V/VM, Funkstorung, Michael Fakesch, Datathief, Multicast, M-Tec, Accelera Deck, Yunx, Woodenspoon, Max Tundra, & Commercial] (Pitchcadet/aii, US)
Various - The Forgotten Sounds of Tomorrow CD (Ersatz Audio, US)
V.L.A.D. - Motion Institute 12"/CDEP (Warp, UK)

TUESDAY
Taylor Deupree - .n CD (Ritornell/Mille Plateaux, Germany)

WEDNESDAY
Multicast - untitled 7" (Obliq, US)

For a more comprehensive release schedule stretching far into the future, please check out the NEW RELEASES brought to you by Greg and Feedback Monitor.
CONCERT
REPORT
TIME MACHINES
For years the question has been asked "when are you going to do something live?" On 2nd of April, 2000 the answer was given. Coil walked onto the stage in front of a nearly sold-out crowd at the Royal Festival Hall in London approximately 7:10pm. They dressed in fuzzy white suits with mirrors, the stage was lit by black lights and waiting for them were four stations, one with a Mac laptop, the others with other knobs, dials and gadgets. This was it! A pregnant pause left enough time for the band to hug each other, position them at their gear, an impatient audience could be heard shouting "get on with it." They did, the set lasted almost an hour and consisted of low frequency tones, pulses, bird noises and vocals from John Balance. Ambient, no, the music was swelling, moving, charming, hypnotizing. When asked about the show and other future live prospects, Coil said they don't want to repeat their live shows. They do want to play more places however, with a date in the works for the Sonar festival in Barcelona for June and an anticipated US trip some time next year. Their set was part of the second night of Julian Cope's "Cornucopia" festival. Also on the bill that night were Ash Ra Temple and Julian Cope. I caught neither. - Jon Whitney
GODSPEED YOU BLACK EMPEROR/SIGUR ROS
Difficulties delayed this show as the band were late getting out of Dublin the day of the gig. As a result, Fly Pan Am did not perform a set sadly enough. Sigur Ros took the stage late but played a wonderful one-hour set which consisted of three songs. The music was pretty and the sound was thick and filled the sold out Royal Festival Hall. I had heard the songs before on the college radio station, WZBC but never knew who the band was. The show was a pleasant surprise. Godspeed's set was cut short due to the curfew imposed by the venue management. The set was incredible as ever but the large space of the Royal Festival Hall made it difficult to see the band from the seats far from the stage. I have yet to see this band put on a 'bad show,' and it was wonderful despite all the shit they went through the previous night with the theft in Dublin. Euro tour dates can be found on the Kranky website. - Jon Whitney
KID 606 AND FRIENDS
We arrived, cold, wet and hungry. Having travelled from Nottingham, we had major problems on the motorway when our car broke down. My friend Chris took the car back while me and Xtina hitchhiked the rest of the way. We arrived just in time however, to have a really good night...
CK Dexter Haven, a solo female 'composer' from Edinburgh was first up, producing a wierd set half-way between Bernhard Gunter and Aube. Sub-atomic sounds mixed with heart monitors produced an almost halucenogenic feel. Very cool.
Stuart of 555 recordings played a quirky guitar electro set next up, followed by Lesser, who was unfortunately having technical problems, which spoilt his set (the music went quiet, and we could just hear him shout "Shit!" every ten minutes).
But Kid 606 was the jewel in the crown. Anyone coming to the gig after listening to the recent Fat Cat 12" would be surpised, the set was much more an evolution of"Don't Sweat the Technics" than his recent electro forays. He created a huge psychodelic gabba feel, which really entertained the crowd. A million different beats every minute showed that this was the sound of a kid who can't stand still. Tour dates can be found on the Kid 606 website. - Ian Smith
DIRTY THREE
The three charming lads from Australia performed a set which wasn't entirely unlike their albums nor the Mick Turner set during his tour late last year. As described above, the band can create quite a delicious wall of sound while only consisting of violin, guitar and drums. Shannon Wright and Storm and Stress opened up the night, so it was quite a heavy, smoky smelly nightclub by the time Dirty Three took the stage, and I could't hang around till the end of the show. It was quite incredible however, I must say that much... Tour dates are available at the Billions website.-
BOOK
REVIEW
A LOVELY TALE OF PHOTOGRAPHY: A FILM NOVELLA


There are plenty of critics out there who'd be happy to savage this book. The kind who love to take any opportunity to trivialize experimental writing, even while granting that it may, in more benighted times, have served a purpose--though god knows it's only an indulgence today. These are the critics who point out their beloved naturalistic moments in David Foster Wallace then heave a sigh at having to sidestep all the metafictional masturbation to get to a moment or two of sharply rendered detail. Nothing wrong with enjoying a moment of recognition, but I can't help but think that something has damaged these critics' sense of curiosity.
Anyway, Peter Nadas is well-known for his hefty A Book of Memories, but I read this work instead to see what he's up to--it's short, at least. A Lovely Tale, translated from Hungarian by Imre Goldstein, hovers around Kornelia, a photographer, and her time spent in a sanatorium surrounded by a cast of cipher-like characters. Her problems evidently come straight out of commedia dell'arte: she is engaged to a baron who wants her money, yet she loves a young writer she cannot have. So she escapes into illness. She may, in fact, be a creature narrated by another photographer who seems to be finding a way to tell his own death. If so, it helps explain the stilted portentousness which sometimes weighs a bit heavily in this work:
"Whenever I think of my future, I think of your fate."
"Neither has anything to learn from the other."
"And if I combined the two?"
"My fate would still not save you from your own."

In any case, whether or not Kornelia is some third party's fabrication, the book itself is written as a description of a film, giving it the chance to remark on the voices of narrators as they appear, or mention what can and cannot be seen. I first read it at work, in bits and pieces, without much concentration, and it only annoyed me. But reading it again, in one sitting, with a bit more attention to Nadas's film conceit, I enjoyed A Lovely Tale; it opened up for me. Sections that had earlier seemed like perfume ads struck me as more playful, and the weighty dialogue eventually served a purpose. In part this is because as narrators multiply, the story removes itself from the voices telling it. The book starts and ends with helicopters, and some of its best scenes occur in a balloon (along with one of its greatest lines, "This request is not made by a man in love, but by a concerned balloonist.") It is full of surreal set pieces--a formal dinner in which half of those at the table are rained upon then covered in snow; Kornelia speaking to a graveyard statue; an attempt to walk into a camera obscura's image. In the end, A Lovely Tale is prey to mood; it is interesting and irritating, evocative and pompous, but short enough, definitely, to make it worth sitting through this strange film of words. - Paul McRandle
FEEDBACK
UPLOAD
Subject: Brainwashed.com

Hello, I saw your site listed in the Indie Contact Bible in the "Experimental Music" division of the "Sites That Will Allow You to Upload Information About Your Band" chapter.

Sorry we don't.
---
Subject: Song....

I have a question about a song,.... I think it was Consolidated but the lyric went like this: "R U 482, yes I am sir......" got any clue?

Well, "RU 486 Is the Answer" is the line from a Consolidated track called 'Butyric Acid' from the Business of Punishment album. RU 486 is the 'Day After' pill, still banned in the USA.
---
Subject: Consolidated heh

Not that it matters but I noticed for some odd reason someone asked you about Consolidated.. They arent as "hard" sounding now and still exist. They are still run by the original founding members: Adam Sherburne and engineered by Mark Pistel. They just came out with a new album on a new label. They sound like Jimi Hendrix/70s rock now though.

The site they are at is: http://www.sol3records.com/

Just so you know not that this matters.

Of course it matters. To somebody I'm sure...
---
Subject: tapshoes

i love 2 c a pic of u wearing tapdance shoes

Must be them hap hap hap hap happy feet!
---
Subject: Volcano the Bear

Referring to a recent enquiry in the "comments" section of the last issue of The Brain, partial discography info, a couple of sound samples and an article from The Wire about the first official release of Volcano the Bear (a 12" from 98) and concerts can be found at: http://dspace.dial.pipex.com/town/estate/nigel.t/volcanothebear.htm

Merci beaucoup.
---
Subject: merchandise

Hello, and sorry to take up your time.

I am looking for merchandise (t-shirts and posters) on several of my favorite bands. I have searched the web extensively and come up with a bunch of bullshit. I want Skinny Puppy/Download/Doubting Thomas/LPD/Tear Garden/Ministry/Thrill Kill Kult/Coil etc shirts and posters. If you would be kind enough to direct me to a site or sites that could assist me in locating and purchasing said merchandise, I would be most appreciative.

Thank you for your time!

There's a place in NYC called Generation Records, and I know they do mail order. Last I knew they didn't have a website. But whenever I'm in NYC and check them out, they always seem to have NWW, C93, DIJ, Coil, Non and other shirts like that. They don't seem to tell me where they get them from so I can't find out who's distributing them and if they have a website or not, but call Information for NYC - Generation is on either Sullivan or Thompson St. in The Village. Best of Luck!
---
Subject: Nurse With Wound-aranos

Hello,

What a lovely site brainwashed. As I am sure you know already Steve and I are preparing a new Nurse With Wound -Aranos release called "Lena Santoor Bicycle", which will be available only directly from us as it will be in a personalised packing so that every purchaser will become a proud owner of our handiwork, not just a piece of plastic with music (or noise, depending on your individual definition). As for myself, I have released a CD of my songs called "Making Love in Small Spaces" and would be grateful if you could let me know of anybody who would help me to get live gigs anywhere.

Anyway, I hope my unsolicited e-mail does not bother you too much.

All the best,
aranos

Thanks for the note, I'm sure there'd be a good amount of people who would be interested in seeing you perform live, however all of my personal contacts for booking are within the USA - and booking an experimental tour isn't the most lucritive experience I'm guessing unless you're Panasonic. For the record, I have both of the first two Aranos releases and love them! Please let everybody know how we can get the new stuff!
---
Subject: Hey MBM rocks

GLAD the website has finally been updated, and Im glad to hear Jack is back in the studio. Id like one thing to appear here on the site and I know Im not alone in this opinion-how bout sum Lyrics? MBM fans everywhere would luv to read the lyrics of MBMs music and itd be great to see them in print!

Aye laddie, MBM lyric project is in the pipeline, we here at the website are patiently awaiting the submission from Mr. Jack Dangers, the relatively unknown MBM lyricist for the last couple records.
---
Subject: boo-ya!

I walked around London by myself this evening and decided its quite a lonely (and bleak and miserable) place without anyone to go around with, and every time i saw a Brainwashed sticker (which was pretty damn often, you vandal) i was like "sigh". heheh...

oh, and someone saw the sticker on the back of my jacket and was like "hey, i've seen those all over London, what are they for?" hahaha

Hope you had a good story, more exciting than the truth with any luck...
---
Subject: Angelic Conversation

Hey,

It seems the Mystic Fire Video edition of Derek Jarman "The Angelic Conversation", featuring soundtrack by Coil, is out of print now. I'm not sure if anyone else is reissuing it in NTSC format. But anyone interested might be advised to pick it up where they can find it while it still might be floating around. We have no more here.

Thanks, I noticed this a while ago and was still able to order one from *gasp* Amazon! Although I hate advertising evil empires it might still be available there while supplies last...
---
Subject: EMP

I am about to depart from Seattle, and thought you might want to know a little about the Experience Music Project. They are building the most godawful lump of multi-colored toothpaste gobs- shaped "building" at the base of the Space Needle, and running the monorail through it. It truly is one of the uglier things I've ever seen, and I guess may be a permanent fixture in this city on the decline.

The EMP is an indulgence of a Microsoft exec foisted upon the public, probably at their own expense. I believe this is the same work of the guy who convinced the city to demolish the Kingdome in favor of a new stadium with NO ROOF, what a perfect choice for a city that's so damn wet all the time.

Eeewwwwwwwww.
---
Subject: Thanks

Hi. I've just received Ka-Spel's "Share the Day/Dream Stealer" and wanted to say thank you. I have found the postcard artwork a lovely surprise.I'd like to mention that I enjoy your site tremendously and look forward to it weekly. Thanks for throwing in some stickers,too.

Thanks for the note, it's wonderful to have been part of something that will sit in peoples record collections for a while. The charming thing about vinyl is that it's the most delicate of currently manufactured formats and always gets special tender loving care in anybody's collection.
---
Subject: brainwashed ftp

Hi :))

I've tried to login to your ftp server (ftp.brainwashed.com), but I could not to - I dont know user name and password (anonymous and mail address as a password doest not work). I just wanted to get some mp3 samples.

Is is possible to get to ftp in any way?

Unfortunately anonymous ftp was disabled. It was only good for uploading anyhow and not downloading...