MUSIC
IN BRIEF
LEGENDARY PINK DOTS, "A PERFECT MYSTERY"
For those of you who have the opportunity to see the tour for this new album, take it, and experience the unique space rock jam sessions that focus on this new material. Their new direction is improvisation and all-out jamming, and the music on this disc is some of a very joyous and new nature to the Pink Dots. The lyrics are wonderful, of course, sticking to Edward's excellent story-telling style, but most of them have a more rhyme-schemed, verse, chorus, verse style that is very out of the ordinary for him. Niels van Hoornblower's winds are throughout the disc, as well as Ryan Moore's distinct dub style and The Silverman's wonderfully eerie and spacey keyboards and effects. Martijn de Kleer mostly plays guitar, it seems, but also adds in superb violins on such tracks as "Skeltzer Spletzer." The CD really brings you back to the show, with a spellbinding and uplifting feeling - upbeat and more solemn tracks alike. As Edward said in a recent interview, a lot of the music on this disc "could never, in fact, be repeated." - Daniel McKernan
samples:
MARTIJN DE KLEER - FLOW, "SONGS AND PIECES"
This is the short and sweet solo debut from the guitarist of the Legendary Pink Dots. It's very simple, but beautiful, and at times reminds me of if the late Nick Drake would have had a slightly more country feel to him. Throughout the disc, Martijn plays acoustic guitar, fiddle, banjo, and handdrums. He also sings very simple lyrics that have a warm flow to them, about the road, birds, and the reflection of the moon in his lover's eyes. His solo style is very different from how he plays with the Dots, as I did not expect such a blend of acoustic rock, folk, and country. The result is surprising, but ultimately good and filled with a very down and out emotion. This CD-R was "recorded at home with 2 microphones & tapedeck, March 2000." It is limited to 100 copies, which are only available on their current tour. - Daniel McKernan
samples:
NICK CAVE, "THE SECRET LIFE OF THE LOVE SONG"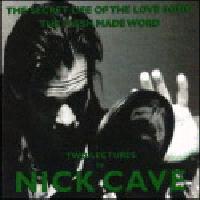 This disc on the King Mob label couples two spoken word lectures written by Cave: "The Secret Life of the Love Song" and "The Flesh Made Word", the former originally for the 1998 Vienna Poetry Festival and the latter for a 1996 BBC Radio broadcast. "The Secret Life.." is 48 and 1/2 minutes of Cave casually explaining the inspirations and minutiae of his proudest achievement: the love song. Cave deftly describes how the void left by the death of his father and the influence of the Bible drive him to write his love songs ... "my gloomy, violent, dark-eyed children. They sit grimly on their own and they do not play with the other songs." For Cave the love song is by definition sad, has a life of it's own and is ultimately a search for God: "the love song exists to fill, with language, the silence between ourselves and God." To help illustrate his points, music is interspersed with the spoken passages: the brief new song "West Country Girl" and beautifully sparse (vocal/piano/violin/bass/drums) new recordings of "People Ain't No Good", "Sad Waters", "Love Letter" and "Far From Me" with Susan Stenger of Band of Susans and Warren Ellis and Jim White, both of Dirty Three. The entire piece is indexed as 1 track. "The Flesh Made Word" is 17 minutes of just spoken word. Here Cave goes into great detail about his relationships with the Bible and his father and his growth as a writer and as a person. The disc comes packaged in a cd sized hardback book that contains 6 in studio b/w pictures and printed excerpts from the lectures. Nick Cave is a truly learned and brilliant artist ... this is a very interesting and insightful work that bears repeated listenings. It is absolutely essential for Cave fans and anyone else interested in passionate songwriting and the genius behind it ... - Mark Weddle
samples:
PLUXUS VS FRIDGE VS PLUXUS
Somebody musta missed announcing this release as it sort of magically appeared without warning. The music consists of three tracks totalling approximately eight minutes. The tracklisting merely only suggests that the second track is a Fridge track while the first and last are Pluxus - but with some kind of Fridge interference. It's a charming instrumental interplay of pretty melodies and electronic beats, but it's over all too quickly. Judging from the liner notes, Pluxus looks like a Swedish group, the record label (based in Philadelphia, PA) appears to be a collaborative effort between Box Theory Records and Space Foundation and this single is limited to 1,000 copies. Best of luck getting this one. - Jon Whitney
samples:
WHEN, "WRITER CAKEBOX - 1983-1998"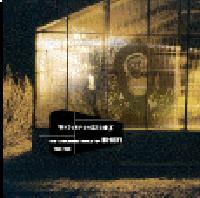 When is Lars Pedersen, longtime solo artist and former member of '80s experimental/industrial pioneers Holy Toy. Pedersen began recording as When in 1983 and to date has a back catalog of 7 albums. "WriterCakebox" is a 2 disc retrospective of those albums as well as a collection of numerous soundtrack, compilation and/or previously unreleased tracks. There's a lot to explore here with over 148 minutes of music spanning 15 years and numerous projects. I first became aware of When via the bizarre collage and pop of 1999's "Psychedelic Wunderbaum", also on Norway's Jester Records. When's previous work is in the same sort of surrealist sample vein, minus the psychedelic pop aspect. Anything and everything is a source for sound: orchestras (sampled and 'real'), drones, whistles, bells, rain, footsteps, music boxes, typewriters, animals, acoustic guitar, choirs, dialogue, chants, noise ... the list is practically endless. Pedersen's talent really shines on the soundtrack minded collage/soundscape pieces. He skillfully pieces together cohesive and dynamic tracks, some dark and ominous, some subtle and beautiful, others cartoon like or just plain weird. The songs from the '80s (ten of which have English vocals) are hit and miss and most sound dated now due to the gear used. I prefer the more recent 'pop' oriented songs like those found on "Psychedelic Wunderbaum". The packaging for this set is very sharp, as is all Jester product, with a 10 page insert with full color collage artwork and brief comments on many of the tracks. Altogether, "WriterCakebox" is a fascinating journey through an artist's repertoire, an artist you've most likely never heard and should. When's past only makes me more curious as to what When's future has in store ... - Mark Weddle
samples:
PANACEA, "BRASILIA"
What surprises me is that with all the different aliases Panacea goes under, this one didn't get a new alias. Reason being is that the music is quite an alarmingly different direction than Panacea, Squaremeter, Problem Child, or any other releases. It's out in the USA through Caipirinha (the follks who brought you the "Modulations" film) and is volume four in their Architettura series. It's minimal to the core and is absent of punchy beats, creepy samples and apocalyptic music, so fans of Panacea should bear that in mind. While it's a great background CD to listen to, there's not an incredible amount of variance between the tracks. The sounds he's come up with for the disc however are pretty unique and original for this disc, and I'd really enjoy for future releases to incorporate more of a mix between these sounds and the abrasive high energy stuff I've grown to know and love about him. - Jon Whitney
samples:
IAN BODDY & CHRIS CARTER, "CAGED"
Also on the minimalist rhythmic tip this week, Chris Carter & Ian Boddy have joined together for the "Caged" CD release. The mesmerising and decadent low cool rhythms and music run deep and delicious throughout the entire disc. It amazes me that Chris Carter has pulled through in the last few years to release some of the mose surprisingly excellent music in his entire career. I have to admit I had not been a big fan of his post-Throbbing Gristle works alone or with Cosey Fanni Tutti until the 90s. "Small Moon," "Disobedience," and the live CD recorded at the Festival of Drifting, "Union" have all astounded me and solidified a place in my heart for them. According to their website, there's a renewed possibility of a collaborative recording with another post-TG band whose name begins with C!!! Well, back to this release, unfortunately it's limited, but should not be avoided. For all I know, it's only obtainable through www.chrisandcosey.co.uk. - Jon Whitney
samples:
KID KOALA, "CARPAL TUNNEL SYNDROME"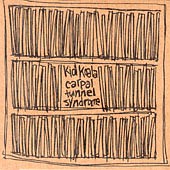 Montreal's scratchmaster Kid Koala brings this tasty treat of 14 new tracks of grooving melodies, peculiar samples, breakbeats and scratches. It's entertaining, varied and linear from start to finish, featuring two tracks by Bullfrog, a rhythmic band in which Kid Koala fronts at the turntables. It seems like it would music to just chill out to, but the odd clips and effects thrown in add a lot of humor to the mood. Most of the tracks have tons of samples throughout, rewound and sped up and scratched about to mix right in with the groove of the back beats. One track even samples a man imitating a chicken, and somehow combines it with It falls short of 40 minutes however, but is good enough to keep going. Also included is a cute comic book starring Kid Koala and some Ninja Tunes. - Jon Whitney / Daniel McKernan
samples:
PAN SONIC/CHARLEMAGNE PALESTINE
Again on the minimalism tip, but this time completely absent of rhythm, this limited release is the result of another "Mort Aux Vaches" program on Holland's VPRO Radio. The problem with this release is that over the course of five tracks, just topping an hour, the notes barely change. It's almost as if somebody decided to hold down one note for the duration of the program and add a couple other notes here and there to make it slightly less boring. If you're a huge fan of either and need this in your collection, go right ahead, but it could easily be hacked up into a 5-10 minute track and sold at a discounted rate. - Jon Whitney
samples:
CALIFONE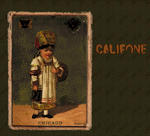 Bridging the gap between twangy country, 70s glam rock and modern electronics, Califone (which features ex-members of Red Red Meat) present this 20 minute 5-track EP. Heavily influenced by both Bowie indie rock dreaming, the songs are fun and light. Brought to you by Road Cone (that mysterious label out of Portland with other exciting greats like Jackie-O Motherfucker and Loren Mazzacane Connors) this is what I believe to be their second release (following a debut long-player a couple years back). Califone are on the road right now with the highly popular Modest Mouse and should be pretty fun to catch. - Jon Whitney
samples:
MIKA VAINIO, "KAJO"
For this full release, this half of Pan Sonic once again goes minimal, but never boring. For nine distinct tracks, Vainio chooses differing instrumentation, pulse, approach and feel. While the drive and beat from Pan Sonic albums is not here, the sonic excitement is. Tones ring out, vibrating various hairs inside the inner ear, creepy noises and soundscapes act as perfect sci-fi b-movie soundtrack contenders, while glitches indeed get worshipped. The disc was recorded in both NY and Mika's current home town of Barcelona and for the first time features English translation of the song titles. To be honest, it's more enjoyable than the Mort Aux Vaches but less entertaining than any full force Panasonic long-player. - Jon Whitney
samples:
"SWIM TEAM #1"
All new for 2000 is the latest collection from Colin Newman's Swim label. Featured here are 17 tracks from all the bands on the current roster of champions. Sold at an affordable rate, this collection isn't one to miss, featuring Silo, Steve Gears, Lobe, Legion of Green Men, Ronnie and Clyde, Symptoms along with family members Malka Spigel (Colin's wife and ex Minimal Compact) and their 11 year-old son, Ben (recording as Bumpy). Plus, of course there's a couple Colin Newman and Immersion tracks tossed in, one being a Mick Harris remix. Colin truly has an ear for great music and this showcase is a perfect place for beginners into the Swim label. Most of the music runs a line between electronic, beat friendly, rock-oriented and instrumental head bobbing tunes. While I've heard and grown fond of most of these artists, a shocking surprise is "Pizza," the track from Ben Newman as Bumpy, both entertaining and alarmingly mature for someone his age, but then again I guess growing up around Colin and Malka it's somewhat inevitable. - Jon Whitney
samples:
MISTRESS OF STRANDS, "S/T"
It's unfortunate that many listeners are unfamiliar with Ventricle, a small Seattle-based label devoted to the female voice. Mistress of Strands, Ventricle's newest project, is an excellent introduction that will hopefully serve to lure in the attention the label deserves. This release belongs to Ventricle's "silver series," which features CDs packaged with beautifully crafted metallic sleeves. Musically, Mistress of Strands resides in uncharted territory between "ethereal" and "ambient", but can be limited to neither. Group members Tali Braun, Dusty Lee, and Dana Devereaux create atmospheric collages of crystalline strings; eerie, yet alluring vocals; and lush, dreamy drones. As with other Ventricle sirens, Tali's haunting voice compliments rather than dominates its surrounding layers of sound, and the singer exhibits her versatility by ranging from infinitely delicate echoes to spoken word to outright melody. Dusty's deluge of psychedelic noise on the mellotron is equally enchanting, and the gauzy distortion leaves the listener pleasantly suspended in a state somewhere between waking and dreaming. - Jessica Tibbits
samples:
coming later this week, hopefully ...
We know that sometimes these CDs are somewhat challenging to find, which is why we have a RECOMMENDED STORES section which can be used to obtain nearly everything available on the site.
CONCERT
REPORT
LEGENDARY PINK DOTS/DVOA
Dead Voices On Air was fantastic. This is the first time I've seen Mark, and it's definitely turned me on to his music. He performed a souped-up version of Download's "Base Metal" which was very, very cool. LPD's own Niels was the perfect foil to his deadpan, serious demeanor - they had a fun sax duel in the middle of the show (real sax vs. a delayed version of the sax). Mark said at the beginning, "You would not believe the trouble we had setting this up," but declined further comment on the basis that it was "too personal." He made a comment later on about no longer being a citizen of Canada. I'm sure many were drawing their own (and probably wild) conclusions about that statement! In short: yes, DVOA, very very good.
In terms of merchandise: most of the Dots CD catalogue was there (though not "Malachai" which I heard a lot of people asking for). "Farewell, Milky Way," and the new Tear Garden were nowhere in sight. One T-Shirt, quite cool, says "I'll Not Interfere" and has a little God-face on it. I thought I spotted the "Textures of Illumina" vinyl in there someplace, the Martijn solo CD-R, which I haven't had a chance to listen to yet, plus the Mimir #3 vinyl.
Now, onto the Dots. Edward said that we were the "guinea pigs" for the new material, and everything sounded great. On a first listen to "A Perfect Mystery," I can confidently say they played the first four songs. They also performed "Space Captain" in a creepy, wonderful, slo-mo version (yay!), and "Disturbance." They also played "Evolution," during which Martijn played the violin. Didn't hear "Grain Kings," though. The music-box sample from "Doll's House" got some of us excited, but it didn't actually happen.
The encores: "Nine Shades" (this time Ed's a dog for a day, apparently) and "Premonition 13" without the slow bits and ending with a ginormous psychedelic weird-out. Their sound was great. Martijn sounded totally integrated with the rest of the band. Niels, of course, hamming it up and having fun and (yes) parting the crowd with his saxophone. Did anybody else notice his funky blue-suede boots? Ryan was shockingly subdued compared to the other shows I've seen, at the end of "Premonition 13" placing his bass in front of his amp and playing with the feedback. Silverman was really getting into it, and Edward was Edward. Just a wonderful, wonderful show, I'd have to say the best Dots show I've seen so far, all the more amazing considering their troubles with their equipment and the fact that it's the first on the tour.
If they keep this up for the rest of the tour, you're all in for a treat! If you haven't bought your tickets yet...buy them now. - Muffy St. Bernard
THE CURE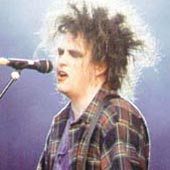 When I was nine, I attended a Paula Abdul/Color Me Badd concert. I would be honest in saying that it was far more emotionally moving than the Cure. I expect many of you will read this and think "He's not a REAL Cure fan." Trust me; I was. The band played at the Saenger Theatre in downtown New Orleans on May 22 and the 23. I was there for the 22. The Cure opened with "Fascination Street," which was pleasing but somehow devoid of any real energy. The concert was all downhill from there. I recognized roughly 50% of the songs they played, some of which included "Cold", "Sickness", "100 Years", "In Between Days", "The Same Deep Water As You", "At the Edge of a Deep Green Sea." Most of the songs I didn't recognize had to have been from the Pornography, Faith, Kiss Me Kiss Me Kiss Me, and Head On the Door albums, which I disliked in the first place. There were quite a few songs from the new album as well like "Maybe Someday", "39", and "Bloodflowers". Almost every song contained excruciatingly long breakdowns, which reminded me of Wesley Willis' work: it left me alternately shaking with annoyance and yawning from boredom. And then there was Robert Smith himself. The man is aging badly. His famous cleft chin is now a double chin, his face was covered in stubble, and his belly is making him look more and more like Humpty Dumpty. Someone who saw the same concert as I put forth an interesting theory regarding the obscure setlist and Mr. Smith's increasing weight: "Maybe he ate all the good songs."
There were a few high points to the show however. The crowd, as one would expect from many Cure fans, was very calm and polite. The lighting was spectacular. There were something like four towers of lights, and for certain songs, they emitted random second-long bursts of silvery light. They were like starbursts going on in the background. There were a few artsy photographs (black and white cityscapes, etc.) projected for some songs, which I thought worked well for the material.
Overall, I'm glad I went, considering this is quite possibly the last tour they will ever do. Was forty dollars a fair price to pay? No. - Sam Houston
FEEDBACK
LOST IN THE PARK
Subject: TrailerPark People Page

If you follow your link of the week thingey to the Trailer Park People page, there's a picture of a guy with a hat that says "Richmond" on it with a ZZ Top beard. I've seen this guy on a few pages out there. He runs some really wierd stuff out there, most of it aimed at kids into 3li73 crap and such. I seem to recall him having some sarcastic page up about wanting to get laid within the next six months or something and asking people to send him pictures. In any case, this guy is some kind of low-grade Ad Busters kinda guy, generally fucking us all discordia stylee. This leads me to believe the Trailer Park People page is linked to him somehow or friends of his, but I doubt it's the real deal.

On the other hand, the NRA want to set up a theme park / restaurant in Times Square. That shit is fucked up.

Fucked up indeed. Thanks for the note.
---
Subject: Battlefield Earth

I usually dig your graphic design, maybe a few too many javascript mouseovers, but usually entertaining. I went to the Coil site as I do from time to time, and you, student of the "keep it simple, stupid" school seem to totally stop me in the middle of my tracks...

GOOD GOD, a huge Java app?! Have you slipped old man? Maybe a scrolling ticker of some sort, MAYBE, but a huge-ass cliche of an app? Bad sport.

I don't know, maybe I'm being too harsh, you are a busy man after all. Perhaps it was a matter of "I have all this stuff to do, but yet, I need to throw an update on the Coil site, here, this looks pretty, Jhon won't notice 15%+ of his system resources wasting away." (excuse the over comma-sizing)

If you're in fact to blame, I just wanted to let you know that I did indeed notice. If you're not, ignore this email.

Oh, and Battlefield Earth seriously blew on all fronts.

Are you even remotely surprised? I think "Written by L. Ron Hubbard" and "Produced, Directed by and Starring John Travolta" could have tipped you off.
---
Subject: Moon Music Intro Applet

Absolutely beautiful!

Kudos!

Cheers!
---
Subject: Coil cover scan as a screensaver?

I love that new intro. to the Coil page. Can I get a copy of that animated cover scan as a screen saver? It would make a great one.

Dunno how to turn it into a screen saver, sorry. Maybe a kind reader might wanna do it for us...
---
Subject: help me?

sorry to contact you with my problems but i'm getting anxious and i can't post to cloud-zero for some reason. do you know anything about the pink dots show in rochester, ny? i can't find any info on it. i've checked ticket master and i've also checked the yellow pages to try to contact the venue but i came up empty there as well. i'd be grateful if you could help me with this one. thanks

Water St. Music Hall is at 204 North Water St. in Rochester.
---
Subject: ANTONY AND THE JOHNSONS

After reading the review, I eagerly clicked on the links to hear some samples.
Are you sure these are the right mp3's and not something off of a Meatloaf album?

Fairly certain. Although I've never seen the two together at the same place and time... One must wonder.
---
Subject: inf

Hi you dont happend to have shipp cds for sale like any leftover ect,ect. thank you.

I don't know what you're asking but the answer is most likely no. We're a website, not a store, not a label, we don't have CDs except for the ones we own personally and aren't selling.
---
Subject: Album Art

I am a sixth form student at Altrincham Grammar school for boys, currently researching information for a project involving redesigning casing for music (vinyl, CD, Tape and MiniDisc cases) and also working in the graphic design of the artwork used to promote a band, a local one in this case. Could you possibly send me any information you have which you feel I would be able to put to good use in this project.

Thank you

Keep it interesting and tasteful and not too busy.
---
Subject: a perfect mystery in US

hi,
Has LPD's "a perfect mystery" been released in the US and if so where can I get it. I have already checked Tower Records, but didn't ask anyone, and the few places online that I have checked have no mention of it.
Also, that CD that is written totally in Russian on the cover that was released last year... is that any good?? I did actually see that one today!

A Perfect Mystery hasn't surfaced in the shops yet. The Russian CD is a collection of previously released materials, coupled with a few extra new gems.
---
Subject: Short question concerning Throbbing Gristle

I have a short question concerning the TG logo (this lightning that appears almost on every records). I think it comes from a modern English painter, but I would like to be sure of that. Unfortunately, I have not got this information on the site dedicated to the group. Could you tell me where it comes from or indicate me how to get the information?

Thank you very much in advance.

"The TG flash was the result of a brainstorming session at GPO's house in Beck Rd, probably circa 1977 (maybe 76). We all drew rough sketches and mine was the one we decided on. I went home and produced a master, with a Rotring pen/inks and Lettreset. All TG flashes were derived from this original drawing. Peter refined it slightly once or twice, at the Hipgnosis studio in Denmark St. for different TG releases and projects.
So nothing to do with "a modern English painter", Nazi's, or the power company, boring but true." - Chris Carter
---
Subject: thankyou

h e l l o -
I would like to thank you for turning the world on to some of the most interesting music ever created. On a non profit type of flow I would love to put my musik out there , do you guys put out full length lp's, if so I would be very interested in sending you some material.

thank you for your time.

Thanks for your note, but the Brainwashed label is merely an extension of the website, with no intentions of releasing full-length LPs from new artists. Sad but true, we just don't have the time, energy or manpower to promote new acts nor the willingness to do it under the brainwashed moniker.